Senate Democrats Want Federal Reserve to Probe Trump, Kushner's Deutsche Bank Relationship
Senate Democrats requested Thursday for the Federal Reserve to open an investigation into the relationship between Deutsche Bank, President Donald Trump and his son-in-law, senior adviser Jared Kushner.
The lawmakers want the federal banking agency to probe whether Deutsche Bank may have violated anti-money laundering laws, according to a letter sent by the Democrats to Federal Reserve Board Chairman Jerome Powell and New York Federal Reserve President John Williams, over a report that the German-based financial institution ignored suspicious activity alerts associated with the accounts of Trump and Kushner.
"Only by conducting a thorough review of the full range of this activity can we better understand what happened in these cases," they wrote. "What practices, procedures, or personnel may need to be changed at the bank; and what regulators should do to ensure the Federal Reserve's ability effectively to monitor compliance with Anti- Money Laundering laws."
The Democratic lawmakers who penned the letter were all members of the Senate Banking Committee. They included ranking member Sherrod Brown of Ohio, Chris Van Hollen of Maryland, Jack Reed of Rhode Island, Bob Menendez of New Jersey, Elizabeth Warren of Massachusetts, Catherine Cortez Masto of Nevada and Tina Smith of Minnesota.
Deutsche Bank executives ignored suspicious activity reports compiled by anti-money-laundering specialists who were wary of certain transactions associated with the accounts of Kushner and Trump, according to a New York Times report last month.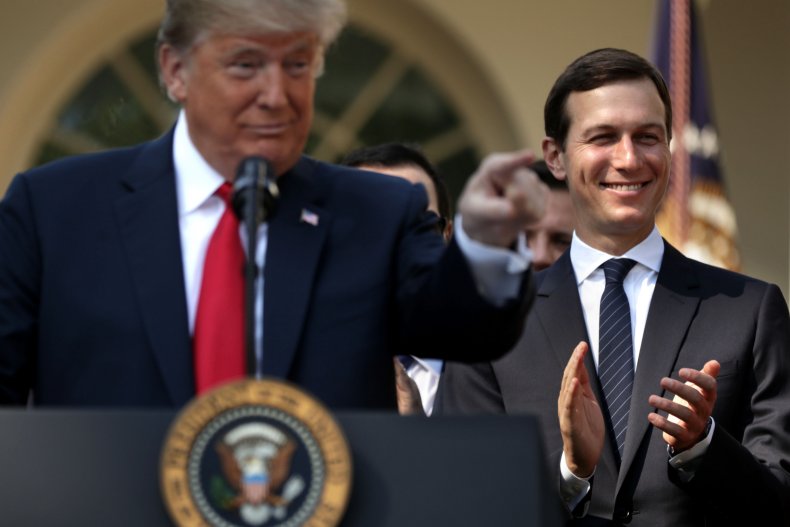 Trump is a longtime borrower from Deutsche Bank, an institution of which has found itself embroiled in numerous financial wrongdoings in recent years. They include a $10 billion Russian money-laundering scheme that in 2017 resulted in a more than $600 million fine from the U.S. government, which was preceded by a $7.2 billion settlement in 2016 for the role Deutsche Bank played in selling mortgages that contributed to the housing market crash of the late-2000s.
Tammy McFadden, a former Deutsche Bank employee and longtime anti-money laundering specialist, told The Times that one of the suspicious activities with Kushner's accounts included a transaction to Russian individuals. Bank managers in New York reportedly felt the concerns were not warranted to require the suspicious activity be submitted to the government.
"In light of these most recent press accounts, and Deutsche Bank's extensive history of violations, which have prompted huge penalties for the bank," the senators wrote to the Federal Reserve leaders, "we urge you to undertake a thorough evaluation of the Bank's compliance with Bank Secrecy Act and Anti- Money Laundering regulations with respect to the Trump and Kushner-related activities identified by Deutsche Bank compliance staff as suspicious."
The senators also requested whether the Federal Reserve has met with the whistleblowers, how many other suspicious activity reports were "quashed" by bank officials, whether the bank was required to undergo an internal audit, if any of the suspicious activities were from Russian transactions and, based on Deutsche Bank's history of wrongdoing, what "plans do regulators have for reforming Deutsche Bank's management?"
A spokesperson for Kushner said in a statement that, "Any allegations regarding Deutsche Bank's relationship with Kushner Companies which involved money laundering is completely made up and totally false."
The White House did not respond to Newsweek's request for comment.
Trump addressed the allegations that were laid out in The Times report last month by tweeting that the outlet and "others of the Fake News Media, keep writing phony stories about how I didn't use many banks because they didn't want to do business with me."
"WRONG!" the president continued. "It is because I didn't need money. Very old fashioned, but true. When you don't need or want money, you don't need or want banks. Banks have always been available to me, they want to make money."
In a legal victory last month, a federal judge ruled that Deutsche Bank and Capital One, another financial institution with deep ties to the president, could comply with a congressional subpoena from House Democrats to turn over years' worth of Trump's personal and business finances. Trump had filed a lawsuit seeking to block such an effort. He has appealed the judge's ruling.
This story was updated to include comment from a Kushner spokesperson.