Former Massachusetts Governor Deval Patrick has said he will accept support from super PACs so he can "catch up" with his competition in the 2020 Democratic primary.
The latest entrant into the primary field told Chuck Todd on NBC's Meet the Pressyesterday that he was "not crazy" about support from super PACs but said he would not ask one to stop supporting his candidacy.
He also said he would like the sources of money funneled into any super PAC independently campaigning for his candidacy to be "fully disclosed."
A super PAC can spend limitless sums on promoting a candidate but must do so independently, meaning they cannot directly donate to, or coordinate with, a campaign without breaking the law.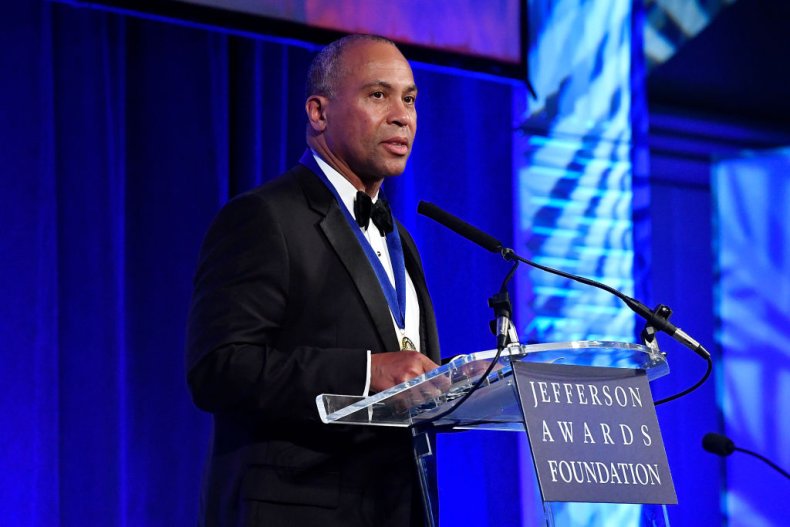 Candidates do not have control over super PACs, so cannot stop one from supporting them, but they can ask that the super PAC cease backing them or disavow it entirely should they wish.
Patrick's comments on super PACs put him at odds with other candidates in the Democratic primary field, such as Sens. Elizabeth Warren and Bernie Sanders, who have both distanced themselves from super PAC support.
"I'm not crazy about super PAC money either," Patrick told Meet the Press. "I'm not sure, if I understand the rules correctly, I can even have a say about that.
"I think we need to do some catch up, so I think we got to follow and find all sorts of above board strategies to do that."
Asked if he would tell a super PAC to stop putting its weight behind him, Patrick replied: "No I'm not. I will say that I'd like to see any contributions to such a PAC fully disclosed."
He went on to say there was "too much money" in politics, adding that he wanted the sources of any super PAC money sent his way to be "fully disclosed."
Patrick revealed that he was joining the Democratic primary field last week, taking the number of candidates actively in the race up to 19 if you count former New York City Mayor Michael Bloomberg, who has indicated he will join the race imminently.
The former governor's primary campaign launch last Thursday was not met with great forecasts. Speaking to Newsweek after the announcement, Democratic strategists suggested Patrick had joined the race too late and would have a "near-impossible" battle to become a primary frontrunner.
The candidate could also face scrutiny from the progressive wing of the Democratic Party over his career in the corporate world, having worked for the oil firm Texaco and Mitt Romney's private equity firm Bain Capital.
Bain Capital was the subject of an Obama re-election campaign attack advert against his Republican challenger Romney in 2012. Patrick has resigned from his job as a managing director at the company, which has also since removed his profile page from its website, according to Fast Company.