Two different pet owners have come forward with allegations that their beloved dogs passed away while under the care of dog sitters that they had hired online.
Danielle Andrade of California and Diego Chaves of New Jersey both claim their beloved pets had died while they were left with dog sitters each individually hired online. The alleged incidents occurred just one month apart.
Speaking with Newsweek, Andrade explained how in early June, she used the dog sitter and dog walker app Rover to get pet care for her dog Lucky while she went out of town. She noted that prior to leaving her dog Lucky, who she has had since she was 15 years old, she met with the pet sitter privately and hired her without formally logging it into the app.
"I was going out of town to a wedding...I didn't know anyone, I wasn't too sure about actual vets watching [Lucky]," she explained. "I found [my dog sitter], and I interviewed a couple people and I came across her.
Upon leaving Lucky with the sitter, she got a call shortly after claiming Lucky had gone missing and "got out of the house."
"Unfortunately, [the dog sitter] wasn't much of a help," Andrade claimed. "When I got there, she was waiting on the porch for me, I guess she didn't know what else to do."
Andrade and her boyfriend reportedly stayed out all night searching, before they were able to print fliers and ask locals if they had seen Lucky. "Unfortunately later that evening, I saw her on the side of the road, she was run over by multiple cars," Andrade confirmed with Newsweek.
Andrade also took to Instagram to share the tragic news of Lucky's passing, calling her "the love of my life."
"She was more than a best friend to me she was apart of me. I honestly don't know where I would be today without her. She was the one thing I loved most in this world," she wrote.
"This isn't the way she was supposed to [pass]. It was way too soon. I was supposed to have at least 5 more years with her. It kills me inside just thinking about how lost and scared she was that night," she added. "I loved her so much it hurts my heart."
A spokesperson for Rover told Newsweek an internal investigation was conducted, and the pet sitter Andrade had is no longer available for bookings on the platform.
"We are deeply saddened by Lucky's passing and extend our deepest condolences to Danielle," he said. "Although the service wasn't booked through our platform, we investigated the situation and removed the pet sitter from our community."
The Rover representative also told Newsweek this tragic incident is very rare when booking through their services, noting that "over 40 million stays have been booked through Rover, with 97 percent of reviewed stays receiving 5 stars."
"Because no one knows a pet's needs better than their pet parent, [Rover has] developed unique tools that empower owners to find the best sitter for their pet," the spokesperson added. "Pet parents can search for a variety of experiences, skills, and read honest reviews from verified stays. Before booking a service, we encourage sitters and owners to schedule a meet and greet through our platform for everyone to get to know each other, make sure the sitter is a good fit for the pet, and vice versa."
Over the Fourth of July weekend, Chaves' mini goldendoodle Mac passed away under similar circumstances. According to a report from WABC, he left Mac on June 30 with a sitter he found through an undisclosed website that had reportedly had positive reviews.
"No red flags, everything seemed great, she was kind, seemed genuine," he told the outlet.
However, upon returning home and reaching out to the dog sitter to coordinate a time to pick up Mac, Chaves claimed that all communication suddenly stopped.
Chaves took to social media on Monday to desperately ask his followers to help search for Mac. "Living a nightmare right now. I was waiting to pick Mac up this morning when the sitter stopped responding," he wrote in a since-deleted Instagram post. "Mac has an easy to see pink spot on the right side of his lower lip. If anyone has seen Mac, or knows anything that could help find him or her please let me know. Please share!!"
Later that night on Facebook, Chaves shared that Mac had been found, but sadly passed away after he was rushed to a veterinarian.
"At around 6:30 pm we received a phone call that Mac has been brought into the vet. After rushing down to the vet we were informed that Mac had unfortunately passed away," he wrote in a since-privatized post.
The Rover spokesperson also shared with Newsweek that at one point in time, Chaves' dog sitter was available for hire on their platform, again emphasizing Chaves did not book her through Rover.
"In regards to Mac, while the sitter was allowed to list her services on Rover for a short period of time, when we learned of this separate incident, we deactivated her from our community, cancelled her future stays, and prevented her from accepting any new bookings through the platform," he confirmed.
Rover's website also includes information for users regarding the platform's commitment to safety, and notes they offer a 24/7 Trust and Safety team for pet owners and pet sitters. They also note that individuals that book through them are privy to a Rover Guarantee, which offers financial support for emergency vet care and property damage.
A Rover spokesperson confirmed with Newsweek, however, that as Andrade did not book through a Rover link, she did not have a Rover Guarantee going into the pet sitting agreement.
Andrade claimed in her statement to Newsweek that while she did utilize Rover to find the dog sitter, she had not confirmed the booking on her end, hence why the agreement was not considered bound by platform.
"Everything would have been booked through Rover," Andrade said. "Time just went by, I didn't realize it was so time-sensitive because you don't really think this situation will happen. By the time I dropped her off, got home and packed, all of that went down. That's Rover's side of why it wasn't booked through them...a tiny loophole of that action."
Chaves, like Andrade, also uploaded a thoughtful memorial post reflecting on Mac's impact on his life. "Mac, my lucky pup, I'll love you forever," he wrote on Instagram. "He was the kindest pup, full of energy and life. He loved to give kisses and was always down for a snuggle.
"Our time may have been short but it was full of memories we will always cherish and never forget. Rest easy my sweet boy, till the day we meet again," he added.
While Chaves encouraged followers to not "harass or threaten" the sitter in question, Andrade has since become an advocate for safer pet care online. She created the Change for Lucky Facebook page, and started a petition to encourage apps like Rover to implement more stringent safety features for pets.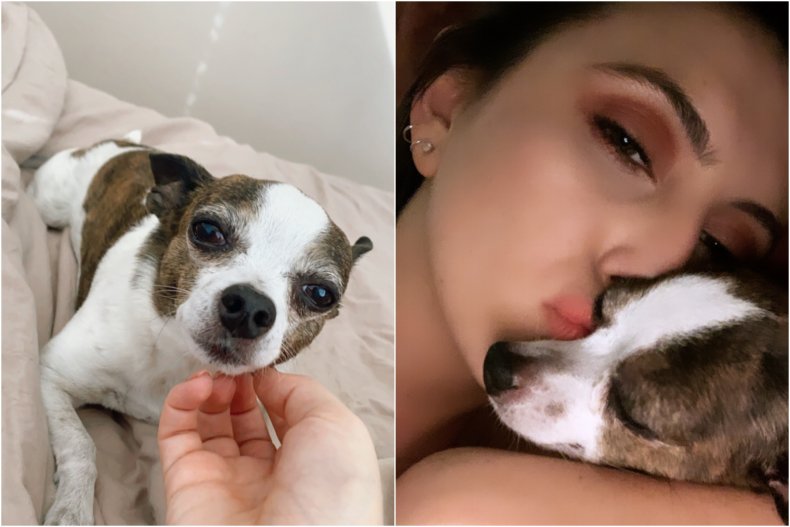 "We need to improve the qualifications on becoming a Rover Dog Sitter," the petition read. "They need to have at least a virtual home check with specific security measures on all exits. They need a mandatory course on what to do IF a dog were to escape. There needs to be some set of procedures Rover sitters must agree to follow to use the Rover app."
Andrade told Newsweek she fervently believes Lucky would still be alive had additional safety precautions been instituted for dog sitters through Rover.
"It's just simple actions that can save a dog's life, a pet's life. There's just little safety precautions that could be saving a bunch of these dogs' lives," she said. "If it's something that Rover would recognize...they can add that to their new sitters' [requirements]."
"To be honest, if there was some more safety regulation, if there was even a gate [in the house], my dog would be alive," Andrade reflected with Newsweek. "I don't just leave my dog with anyone...I wasn't just dropping my dog off carelessly."
Newsweek reached out to Chaves for comment on the situation, but he did not immediately respond in time for publication.