'Devastated' Wife Urged To Leave Husband After Finding Compromising Photo
Before tying the knot, many engaged couples will say goodbye to their respective single days in a last hurrah with their closest friends.
The number one location for bachelors tends to be Las Vegas, according to a Wedding Wire study from 2019. The wedding planning website found that the parties aren't cheap for men as 60 percent of its 1,000 participants revealed they spent around $1,000 on average for the trip.
For one man, however, his bachelor party was organized by his best man who decided to surprise him with a visit to a strip club and a lap dance. His now-wife had no idea about this until their wedding day when it was mentioned in the best man's speech.
Now, two years on, Mumsnet user Quandary45, has turned to the U.K.-based advice forum after finding a photo of her husband with two naked women.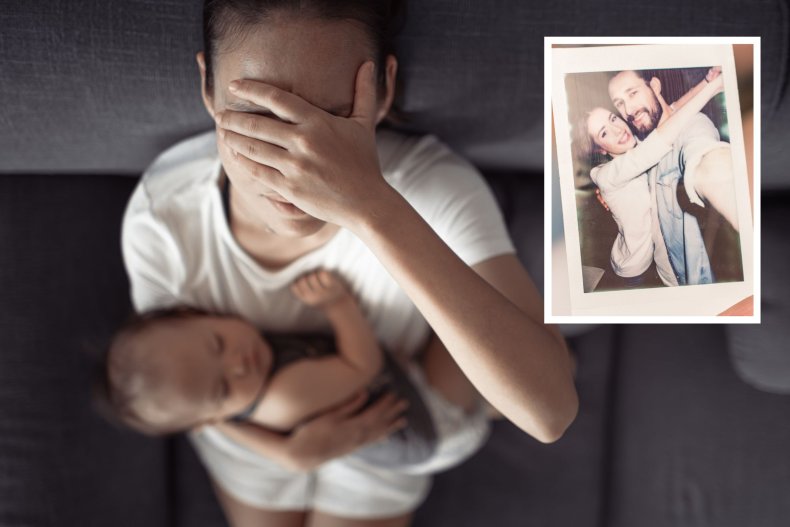 Describing the photo, she explained he was "topless" with his "trousers down." She explained that the image made her feel "disgusted and sick to my stomach."
In the comments, the woman said: "There aren't any other issues in our marriage. He's loving and a really good dad. Everything is 50/50 in our house. I genuinely got over the dance and had forgotten about it until seeing the photo."
Describing the image, she said: "It looks like one of those photos you get on holiday or from a theme park, signed by the club. So he's obviously had his photo taken by them and someone thought it was hilarious to buy it as a souvenir."
The wife told other users on the platform that she confronted him about the compromising image and stated he was "horrified."
Later on, the woman commented: "We had a chat and he was really apologetic. Explained that the photo was part of the "experience" and he doesn't think of it as sexual at all—said it was humiliating and embarrassing. Essentially he was on stage with two other [grooms-to-be] and they put ice cubes down his trousers and hit him with his belt. Doesn't sound very appealing, though I suppose some people enjoy that!"
Sally Baker, a licensed therapist, based in London, U.K., told Newsweek that the Mumsnet user shouldn't let this image "ruin" their marriage.
She said: "It was in very poor taste, to say the least, and too many men see a bachelor party as an opportunity for dubious, passive-aggressive rites of passage where the groom-to-be is encouraged to drink to excess and be ritually humiliated.
Baker, who is also a therapist advisor to the mental health app, Orpheus Mind Technologies, added: "I understand she is feeling devastated finding the photograph but she should try to not let this one event ruin her relationship. If possible, she should talk to him about finding the photograph and explain how it made her feel. The fact it wasn't very well hidden could mean he feels very conflicted about that night too."
What Do the Comments Say?
Some Mumsnet users aren't as understanding and have encouraged the woman to leave him.
One user said: "This would be a huge deal breaker for me but my partner knows I see strip clubs etc as cheating so if I found out he'd done it, I would count it as being cheated on."
"I would never have got past the fact that he never told me. Lying is a huge no. I got rid of my first husband for lying over something trivial," said another.
Another said: "He's a pig. Divorce him."
But they aren't all negative comments. One user said: "Is it likely he kept the picture because he thinks he looks particularly handsome in it? Just trying to think out of the box because it does seem like he's keeping it as a memento for some reason."
Another commented to say: "I think if this was me, I'd want to know more about his attitude to it. Was it something his friends organized, [and] he was already p***** and went along with it? Or did he agree in advance and engage with it wholeheartedly? It would actually take quite a lot of balls to refuse if your friends had organized a strip club visit on a [bachelor party], you'd be souring the atmosphere and looking a bit ungrateful for what they'd organized. Overall I don't think I'd be that fussed unless he was going to make a habit of it."
Newsweek was not able to verify the details of the case.
Have you noticed any red flags that made you end a relationship? Let us know via life@newsweek.com. We can ask experts for advice, and your story could be featured on Newsweek.