'The Devil All the Time' Character Guide: Meet the Cast of the Netflix Movie
The Devil All the Time has now been released onto Netflix, with Tom Holland leading the cast in a role very different from his role as Spider-Man. The Netflix movie is a violent Southern gothic ensemble piece about bad preachers, serial killers and trauma, with Holland playing Arvin, a traumatized young man "who did a lot of awful things" (per director Antonio Campos' interview with IndieWire.)
Joining the actor in the cast is a host of stars more used to darker roles, like Robert Pattinson, Bill Skarsgard and Jason Clarke.
The Devil All the Time cast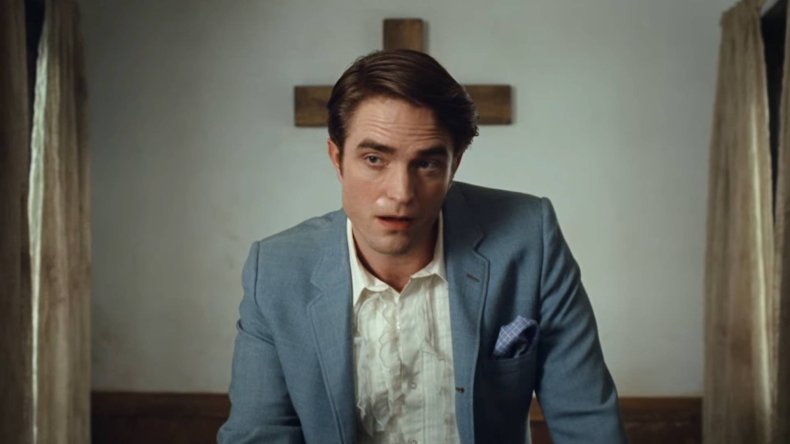 Robert Pattinson - Preston Teagardin
Who is Preston: A predatory preacher who is new to the town of Knockemstiff and may have evil motives
Who plays him: Robert Pattinson, the soon-to-be Batman who has become an in-demand actor in arthouse films like The Lighthouse, Good Time and High Life since breaking out in the Twilight franchise.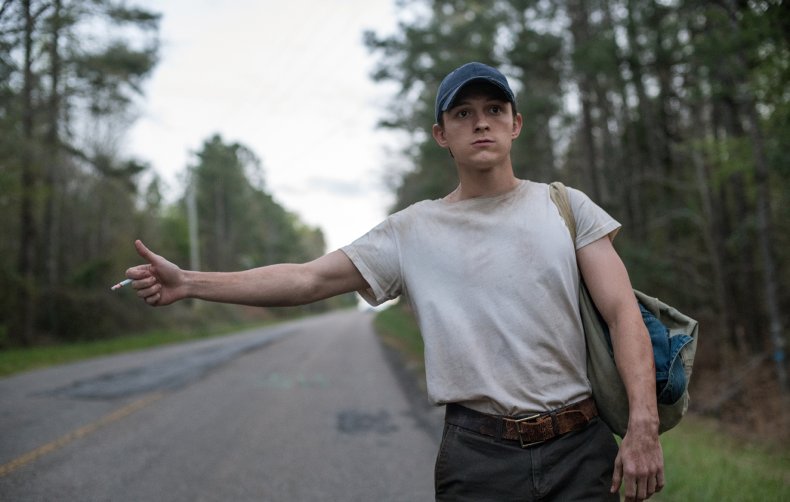 Tom Holland - Arvin Russell
Who is Arvin: A young man with unspecified trauma after growing up with a World War II veteran father.
Who plays him: Tom Holland, better known as the friendly neighborhood Spider-Man in the MCU. He has, however, previously starred with Pattinson in The Lost City of Z, and has also starred in Spies in Disguise, BBC drama Wolf Hall and the upcoming Uncharted adaptation.
Bill Skarsgard - Willard Russell
Who is Willard: Alvin's father, whose fragile psyche gets worse after he has a breakdown when his wife gets some bad news.
Who plays him: Bill Skarsgard, who terrified thousands around the world as Pennywise the Clown in the two It movies. The actor has also been in Hulu's Castle Rock, Deadpool 2 and Netflix's Hemlock Grove.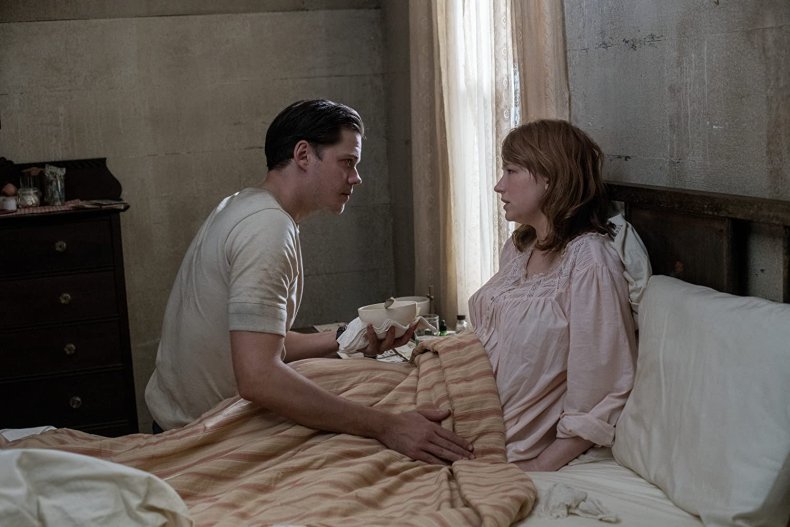 Haley Bennett - Charlotte Russell
Who is Charlotte: Willard's wife and Arvin's mother, whose cancer diagnosis have terrible repercussions for the entire family.
Who plays her: Haley Bennett, whose previous films include The Girl on the Train, The Equalizer and Hardcore Henry.
Riley Keough - Sandy Henderson
Who is Sandy: Part of a duo of serial killers, who baits hitchhikers into a car in order to take them to the woods, torture and kill them.
Who plays her: Riley Keough, the granddaughter of Elvis Presley who has made a name for herself in her own right thanks to roles in American Honey, Mad Max: Fury Road and Logan Lucky.
Jason Clarke - Carl Henderson
Who is Carl: Sandy's co-killer, an amateur photographer who likes to film his victim's final moments.
Who plays him: Jason Clarke, who previously starred in Netflix movie Mudbound and has also recently been in Catherine the Great, the Pet Semetary remake and First Man.
Harry Melling - Roy Laferty
Who is Roy: A showman-preacher who puts live spiders onto himself as part of his sermon.
Who plays him: Harry Melling, last seen in Netflix movies The Old Guard and The Ballad of Buster Scruggs but best known as Dudley Dursley from the Harry Potter movies.
Sebastian Stan - Lee Bodecker
Who is Lee: The corrupt local sheriff of Knockemstiff, whose sister is serial killing Sandy.
Who plays him: Sebastian Stan, who has taken the place in The Devil All the Time cast left free by his former co-star Chris Evans when he had to leave the movie due to scheduling conflicts. Stan starred alongside Evans in Captain America: The Winter Solider and is soon to appear in Disney+ spin-off The Falcon and the Winter Soldier.
Mia Wasikowska - Helen Hatton
Who is Helen: The wife of Roy, who may come to a tragic end in the movie.
Who plays her: Mia Wasikowska, who broke through as Alice in the live-action Alice in Wonderland remakes. Since then, her career has been similar to that on Pattinson, who she starred alongside in film Maps to the Stars. She has appeared in a number of films from major auteur directors like Crimson Peak, Only Lovers Left Alive and Stoker.
Eliza Scanlen - Lenora Laferty
Who is Lenora: The daughter of Roy and Helen, who is bullied for her religious devotion.
Who plays her: Eliza Scanlen, the young actress who has received ecstatic praise from critics for her work in Little Women, Sharp Objects and Babyteeth.
Also starring in the movie are:
Douglas Hodge - Tater Brown
Drew Starkey - Tommy Matson
Given Sharp - Susie Cox
Lucy Faust - Cynthia Teagardin
Abby Glover - Pamela Sue Reaster
Pokey LaFarge - Theodore
The Devil All the Time is streaming now on Netflix.