'Devil May Cry 5' Release Time: When and How to Download
Capcom's first big release of 2019 is Devil May Cry 5, a return to the saga of Dante and the rest of the demon hunters.
This installment of the action series lets players control three different characters all with their own quirks and playstyles. Nero returns with his new Devil Breaker (to replace his missing arm) which adds new wrinkles to his fighting style, while Dante's usual gun and swordplay comes back.
And then there's V, the new mysterious character who summons three different demons to do the fighting for him.
If you're looking to download the new Devil May Cry when it drops, here's all the information you'll need including what time it'll be available and what can be obtained through various pre-orders.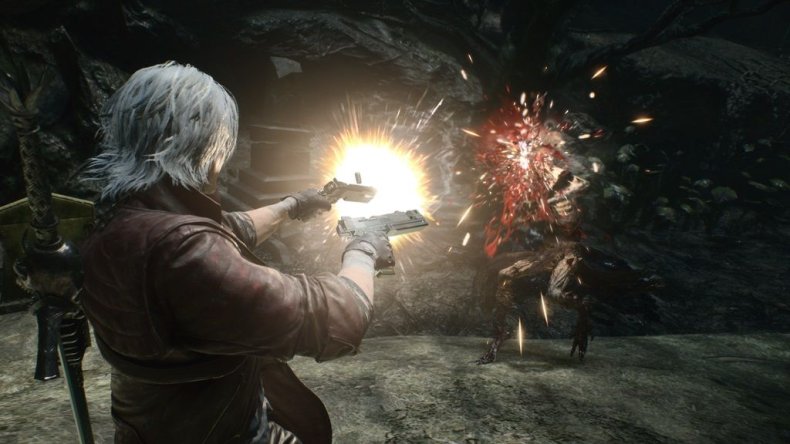 WHAT TIME CAN YOU DOWNLOAD DEVIL MAY CRY 5?
If you're looking to download Devil May Cry 5 for PS4, Xbox One you can do so starting Friday, March 8. The official PlayStation Store page for Devil May Cry 5 states it will be available starting at 12 a.m. EST, which means fans in other time zones will be able to download the game late Thursday night.
The same is likely for Xbox One players.
As always, we recommend hooking up your system to an ethernet connection if possible, since Wi-Fi downloads can take hours.
DEVIL MAY CRY 5 PRE-ORDER BONUSES
Capcom is offering various pre-order bonuses for Devil May Cry 5. If you pre-order the game for PS4, you'll receive the following bonuses:
Alternate Hero Colors (Nero, Dante)
Alternate Heroine Colors (Nico, Lady, Trish)
Devil May Cry 5 theme
If you purchase the Deluxe Edition you receive the above bonuses as well as 100,00 Red Orbs, used to purchase abilities and skills for all three characters. And believe us, Red Orbs are very important especially if you want to increase your vitality or Devil Trigger Gauge.
The $69.99 Deluxe Edition also gives the following additional content:
Devil Breaker weapons: Gerbera GP01, Pasta Breaker, Sweet Surrender, MEga Buster
Dante weapon: Cavaliere R
Three tracks from each of the previous Devil May Cry games
Alternative voices and live action cutscenes
Are you excited to play Devil May Cry 5? Let us know your thoughts in the comments section below.