Deviled Egg Recipes for Easter 2018: Five Easy Ways to Enjoy Hard-Boiled Eggs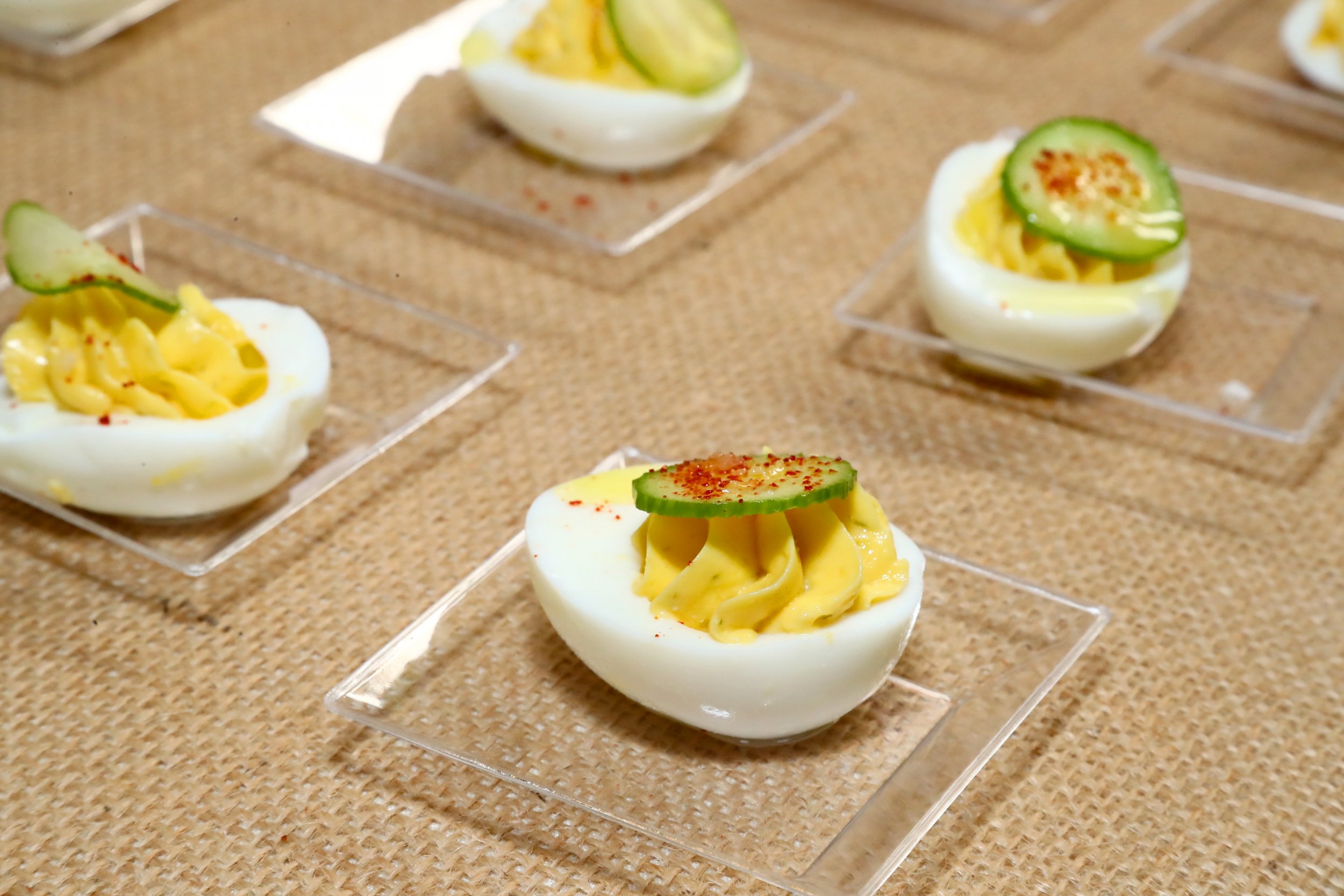 When it comes to holiday food, more is more. Proof: the traditional Easter deviled egg, an appetizer re-imagined over and over by chefs and home cooks alike. For as long as people have been blending a hard-boiled yolk with some mayonnaise and spicy cayenne or hot sauce (hence "deviled"), there have been permutations.
To celebrate Easter, here's a roundup of five of the best deviled egg recipes from food magazines and restaurant blogs. They range from classic, to Southern-influenced, to one that features the cheffy addition of crispy chicken skin. What they all have in common are simple but elevated ingredients sure to impress at Easter brunch.
But first: As creative and freewheeling as deviled eggs can be, there is some science behind getting the perfect hard-boil. Follow this guide from Epicurious, which advises starting with old eggs (a week old is the sweet spot) and gently lowering them into a pot of boiling water to cook for 12 minutes. You should end up with that perfect, just shy of completely hard-boiled egg yolk.
Classic Deviled Eggs from The New York Times
If it's not broken, don't fix it. That's the thinking behind these no-frills eggs, topped with the quintessential sprinkle of paprika. Adapted from U.S.A. Cookbook by Sheila Lukins, the recipe only uses seven ingredients (eight if you want to get fancy and garnish with chives).
Fine Deviled Eggs from Garden & Gun
Deviled eggs are synonymous with the American South, and this recipe, adapted from one at Fine & Dandy in Jackson, Mississippi, relies on the magic bullet properties of equally Southern ingredients: Duke's mayo, Louisiana Hot Sauce and pickle brine. The recipe advises filling the eggs using a pastry bag and star tip. If you don't have one, snip off the tip of a resealable plastic bag, fill with the mixture and pipe.
Smoky Deviled Eggs from Food & Wine
This twist on the classic uses pimentón and cornichons plus both crème fraîche and mayo, so it's extra decadent. Pimentón is paprika's smoky Spanish cousin. It's made from peppers that have been slowly dried over oak fires.
"The Greatest" Deviled Eggs from Bon Appétit
There are two types of people in the world: Those who like a creamy deviled egg yolk and those who like it chunky. For those in the second camp, this recipe forgoes blending the egg yolks for a coarse mash with celery, relish and scallion.
Red Rooster Deviled Eggs from Marcus Samuelsson
Two ways to enjoy deviled eggs from star chef Samuelsson this Easter. First, head to his Harlem restaurant Red Rooster, where the comfort food menu features a deviled egg with crispy duck and onion jam. Second, make this version, presented on a bed of fried chicken skin and Japanese Kewpie mayo. Kewpie mayo has more umami than its American counterpart. If you can't find it at your local grocery store, use this dupe recipe from Food52.