Video: Devin Booker and Gorgui Dieng Get Ejected, Run Into Tunnel to Fight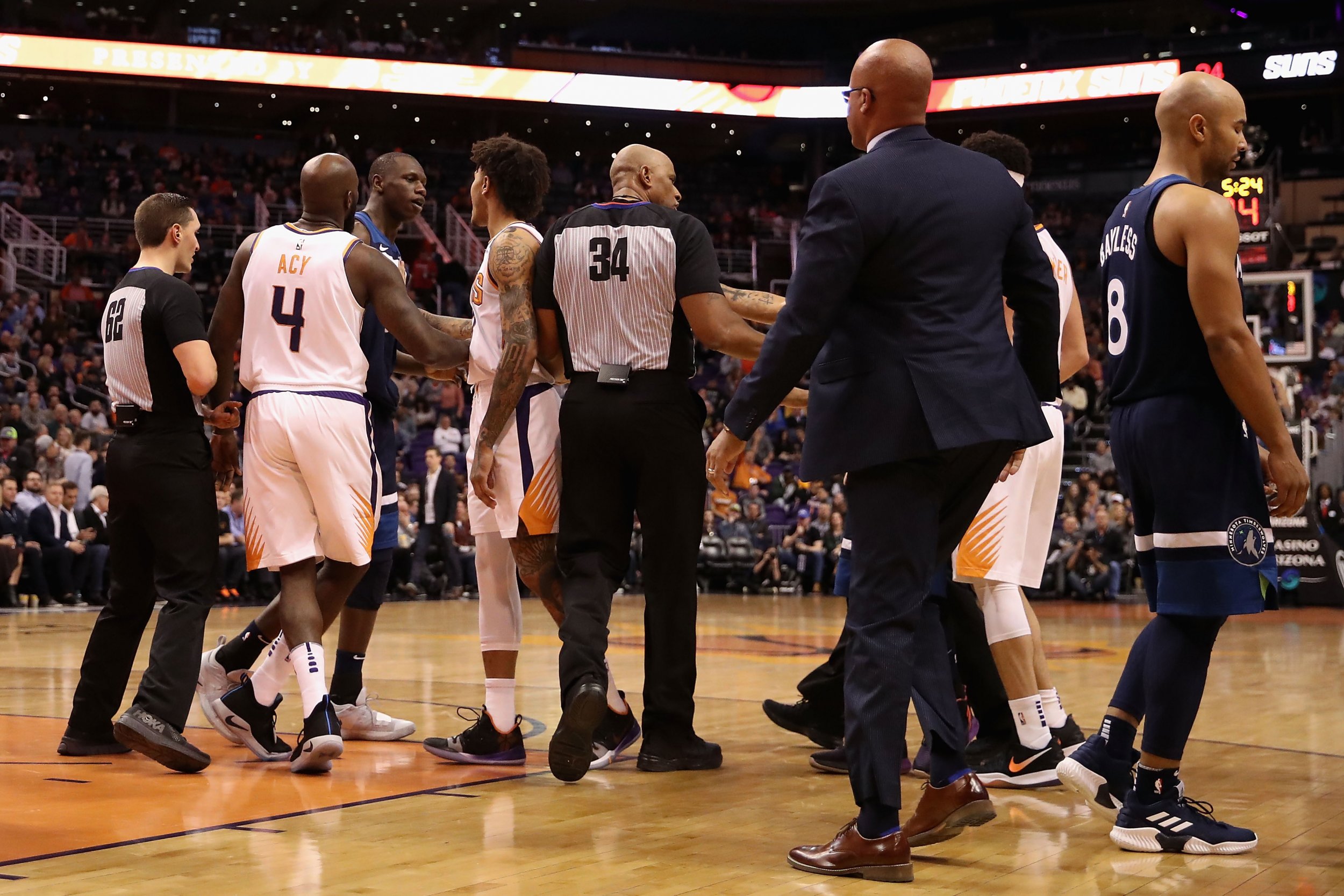 The matchup between the Phoenix Suns and the Minnesota Timberwolves on Tuesday got a little heated after Devin Booker and Gorgui Dieng were ejected and promised each other to continue their argument elsewhere.
In the third quarter of the Timberwolves' 118-91 win in Phoenix, Dieng caught Booker in the face with an elbow after a Suns turnover, much to the latter's annoyance. The two then confronted each other during the dead ball reset, when Booker put his hand on Dieng's face after the Senegalese seemed to utter words in his direction.
Read more: Warriors guard Klay Thompson ties NBA record with 10 three-pointers
Booker then appeared to shove the Timberwolves' big man away, prompting him to stagger back somewhat theatrically. With the situation dangerously close to boiling point, teammates and referees intervened to separate the two. However, officials had clearly seen enough and ejected both players after assessing them with double technical fouls.
Any hope that would defuse the altercation, however, was short-lived as Dieng seemingly challenged Booker to meet him in the tunnel. The Suns' guard was only too happy to oblige and had to be held back by a security guard as he was running off the court, presumably to ensure Dieng did not have to wait too long.
"He talked to me, I talked to him back," Dieng was quoted as saying by The Associated Press. "I think he tried to hit me. Everybody could see I didn't throw a punch. In this league a lot of guys think they are tough and they are not."
Katherine Fitzgerald, a Suns reporter for The Arizona Republic, later reported that security staff at the Talking Stick Resort Arena were on all high alert after the incident and locked both locker rooms to prevent further incidents.
On the court, Booker finished with 14 points, four assists and three rebounds, while Dieng had three rebounds and zero points in five minutes of action.
The 27-point blowout stretched the Suns' losing streak to five games, leaving them rooted to the bottom of the Western Conference with an 11-38 record. Aside from the New York Knicks and the Cleveland Cavaliers, the Suns have the worst winning percentage of any team in the league.
Minnesota, meanwhile, improved to 23-24 after picking a second consecutive win but remain two games behind the Los Angeles Clippers, who currently occupy the last playoff berth in the Western Conference.
Karl-Anthony Towns top-scored for the Timberwolves, finishing with 25 points, 18 rebounds and seven assists, while rookie guard Josh Okogie scored a career-high 21 points.