Devin Booker Makes NBA History With 59 Points in Loss Vs. Utah Jazz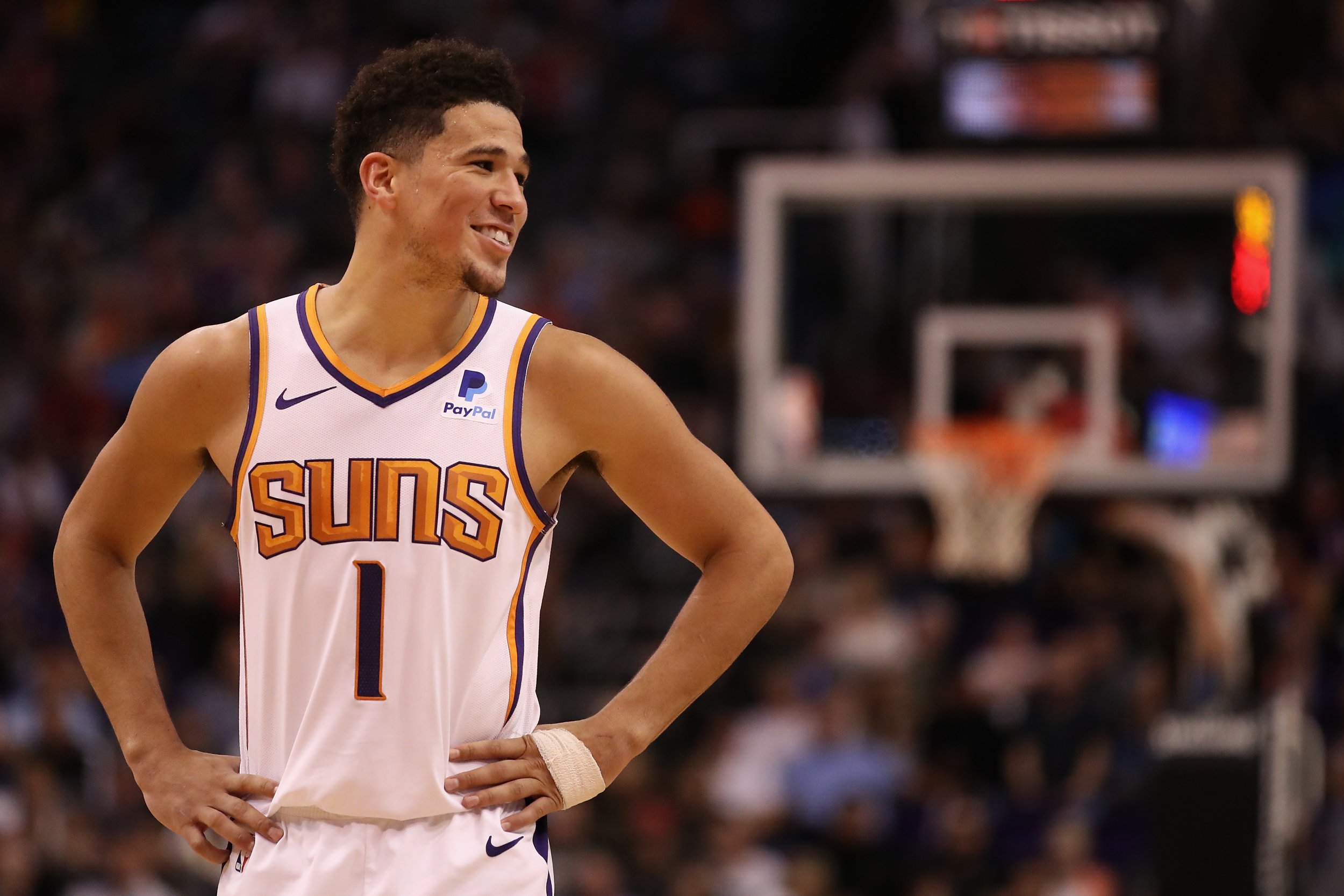 Phoenix Suns guard Devin Booker broke a series of NBA records on Monday night but could not prevent his team from losing a fourth game in a row.
The 22-year-old finished with 59 points, shooting 19-of-34 from the field, as the Suns were thrashed 125-92 by the Utah Jazz in Salt Lake City.
Booker's 59 points were his season-high and the third-highest total in Suns' history and it was only prevented from reaching the 60-point milestone by the Jazz's systematic double-teams.
"Devin is the face of the franchise," Suns head coach Igor Kokosov said after the game. "He's the present and future of this team."
Booker's was also the third-best individual performance in the league this season, behind James Harden's two 61-point efforts and Kemba Walker's 60 points against Philadelphia in November last year.
He is the 12th different player to score at least 50 points this season, but Harden alone has reached the milestone nine times already.
Despite his scoring spree, Booker became the first player in NBA history to record at least 50 points in a game in which his team lost by at least 30 points.
That wasn't the only unwanted accolade for Booker. Data compiled by ESPN Stats & Info shows the 15th overall pick of the 2015 NBA draft became only the fifth player in NBA history to lose the first two game in which he scored at least 50 points, joining Bob McAdoo, Hakeem Olajuwon, Michael Redd and LeBron James.
However, Booker also became only the fourth player in NBA history to score 50 points in two separate games before his 23rd birthday. Rick Barry had seven before turning 23, while LeBron and Kyrie Irving achieved the feat three and two times, respectively.
According to Elias Sports Bureau, the former Kentucky student is also only the third player after Kobe Bryant and David Robinson to score 50 or more points in a game in which none of his teammates reached double figures.
To put things into context, the Suns' other four starters combined for a meagre 14 points on Monday night, while the bench produced a total of 19 points.
The figure meant Booker scored 64 percent of Phoenix's points, the second-highest percentage over the last 25 seasons, bettered only by Bryant's 81-point game in 2006, which amounted to 66 percent of the Los Angeles Lakers' total points.
Phoenix, admittedly, was without the injured T.J. Warren and Kelly Oubre Jr, who average 18 and 15.2 points per game this season, respectively. Josh Jackson and Tyler Johnson, who contribute 11 and 10.9 points per game on average, were also missing.
Booker, who in 2017 became the youngest player to score at least 60 points, also set a new scoring record at the Vivint Smart Home Arena. In the Jazz's home court's 22-year history, nobody had scored more than 51 points—a record held by Karl Malone, LeBron and Mahmoud Abdul-Rauf.
Despite Booker's brilliance, Phoenix slumped to a fourth straight loss, their seventh defeat in the last eight games. The Suns remain bottom of the Western Conference with a 17-58 record, the second-worst in the league after the New York Knicks' 14-60.