Devin McCourty Hopes George Floyd Protests Are 'Tipping Point' For Racism as NFL Players Take a Stand
New England Patriots safety Devin McCourty has said he is cautiously optimistic the sheer scale of the protests in the wake of George Floyd's death will finally pave the way for meaningful changes.
"I hope so," the two-time Pro Bowl selection tells Newsweek when asked whether the events of the last two weeks could represent a tipping point in the fight for social justice.
"I have told numerous people this is not new. Racism has been alive in our country since the origin of the country, but people want to avoid it."
The NFL's sensational decision to admit it had for too long ignored the plight of African American players only added to the sense the tide may be turning.
On Friday night, league commissioner Roger Goodell released a video in which he condemned racism and acknowledged the league had not done enough to heed black players' calls for justice.
He also encouraged players to "protests peacefully."
"We are listening. I am listening," Goodell said. "And I will be reaching out to players who have raised their voices and others on how we can improve and go forward for a better and more united NFL family."
Goodell's words carried a far bigger weight than the statement he released last week, when he said Floyd's death and the ensuing protests were a reminder there was plenty of work to be done to bridge the racial divide in the country.
Well-intentioned as the statement was, the NFL commissioner's words were predictably dismissed as little more than lip-service in some quarters, with critics pointing out that as Colin Kaepernick began his peaceful protest four years ago the league commissioner stood against the same protesters he now backed.
Kaepernick became a global icon in 2016, when he first refused to kneel for the national anthem to raise awareness against police brutality and racial discrimination. The gesture split the public opinion and swiftly became a political drum that President Donald Trump has banged relentlessly in the intervening four years.
In 2018, the NFL approved a new policy that would require all players to stand during the national anthem or be given the option to stay in the locker room. Crucially, the motion was passed without consulting the NFL Players Association.
Kaepernick, meanwhile, hasn't played professional football since leaving the San Francisco 49ers to become a free agent at the end of the 2016 season.
In February last year, he reached a settlement with the NFL over his lawsuit against the league's 32 team owners, whom he had accused of colluding to keep him out of the sport.
Goodell did not directly address Kaepernick nor the anthem issue in the video, but McCourty suggested a new wind could soon be blowing through one of the sport more traditionally associated with white spectators.
"Kaepernick led a movement [for] a couple years and people refused to listen," the three-time Super Bowl winner explains.
"Players in the Players Coalition have been impacting communities all over the country in their three pillars—community and police relations, education and economic advancement and criminal justice reform.
"So, yes, I hope this is the tipping point, and we have everyone involved, including our most popular and powerful players and coaches."
From Dallas Cowboys linebacker DeMarcus Lawrence to Houston Texans star J.J. Watt and from Cleveland Browns star receiver Odell Beckham Jr. to Tennessee Titans quarterback Ryan Tannehill, the list of NFL players demanding justice for Floyd is ever-growing.
Miami Dolphins head coach Brian Flores echoed the stance as did Las Vegas Raiders owner Mark Davis, who said he would support a fresh set of protests by NFL players.
On Sunday, Atlanta Falcons head coach Dan Quinn and general manager Thomas Dimitroff and members of the team joined a peaceful demonstration in Atlanta.
In a development that would have been unthinkable up until last month, Goodell's statement on Friday matched almost word for word the requests a host of NFL stars, including Super Bowl LIV winner Patrick Mahomes and Houston Texans quarterback Deshaun Watson, made last week in a video addressed to the NFL.
In the clip, the players called on the league to support the Black Lives Matter movement and to acknowledge it had silenced players who have protested against racism and the oppression of black people.
"We, the National Football League, condemn racism and the systematic oppression of black people," Goodell said in his response.
"We, the National Football League, admit we were wrong for not listening to NFL players earlier and encourage all players to speak out and peacefully protest. We, the National Football League, believe that black lives matter."
New Orleans Saints quarterback Drew Brees, meanwhile, swiftly backtracked on the comments he made on Wednesday, when he claimed that he would "never agree with anybody disrespecting the flag of the United States of America" and vowed to "do better" and listen to the voices calling for change.
Predictably, both Goodell and Brees were rebuked by Trump, with the president warning the commissioner's statement left the door ajar for players to kneel during the anthem again in the upcoming season.
On Friday, Washington Redskins veteran Adrian Peterson told the Houston Chronicle that he would "no doubt" kneel during the anthem this season.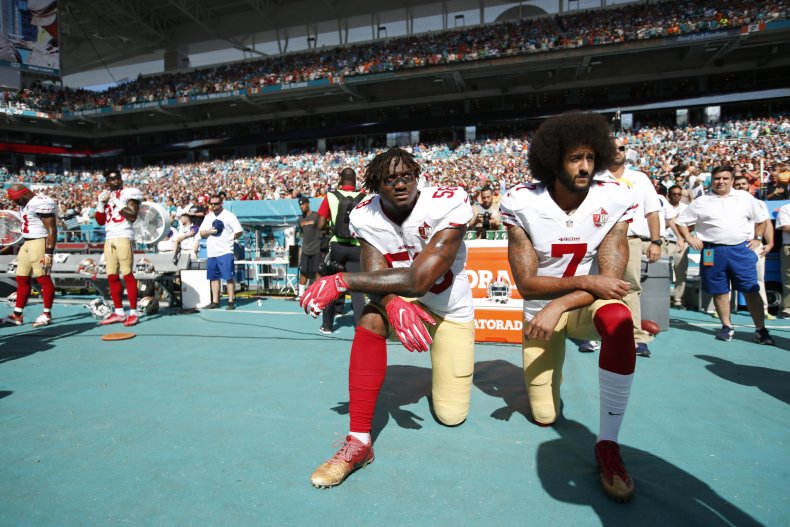 Through his collaboration with Boston Uncornered, McCourty has a first-hand taste of the impact of social inequality.
The organization aims to get gang members off the street and into college, in the hope they can go on to graduate, earn a living wage and have a positive impact on their communities.
It is one of the non-profit organizations the Patriots contribute to through their social justice fund, which receives donations from franchise owner Robert Kraft, players and coaching staff.
The challenges, however, are plentiful. According to official figures, gang members are just one percent of Boston's youth, but they are involved in 50 percent of the homicides and control the five percent of city corners on which 70 percent of the city's violent crimes take place.
McCourty, however, believes the organization is on the right track, despite focusing on the kind of "task that many probably felt was a waste of time".
It has proved to be anything but. Some 70 percent of Boston Uncornered students matriculate to college, as opposed to less than one percent of youth involved with gangs on a nationwide basis.
Figures provided by the organization indicated it could save the Commonwealth of Massachusetts $70,000 each year per each individual, as education is less expensive than incarceration or being involved in the judicial system.
Boston Uncornered has open talks with researchers from Northeastern University to evaluate the program in the hope of rolling it out on a national scale.
"I am a huge fan of education changing someone's life," the Patriots defensive captain continues.
"When I read that they give people $400 a week as a stipend, I knew they had the right idea."
The novel coronavirus pandemic has hit the foundation hard, particularly as many of the students do not have homes in which to "shelter-at-home" and many did not have access to the government stimulus checks.
To alleviate the impact of the COVID-19 outbreak, McCourty and Pro Football Hall of Fame broadcaster Andrea Kremer will be joined by a series of surprise high-profile guests in an hour-long charity event on Tuesday aimed at raising $500,000.
As ever, the 32-year-old will tackle the challenge head on.
"I have learned over my 10-year career that if you find something that inspires you and makes sense, then you make it work," he says.
"As a community, we have to continue to pour into individuals that society tells us to disregard. These people will have a tremendous impact on our community."