Devin Nunes' Attorney Argues @DevinNunesMom, @DevinCow Parody Accounts as Dangerous as Guns
Republican Rep. Devin Nunes from California is suing Twitter as well as a GOP strategist and two anonymous parody accounts. According to the lawsuit, the Twitter parody accounts, @DevinNunesMom and @DevinCow, are involved in "an orchestrated defamation campaign of stunning breadth and scope, one that no human being should ever have to bear and suffer in their whole life." Nunes' lawyer said that Twitter allowing the parody accounts to exist was equivalent to negligently giving them a gun.
Earlier this year, Nunes filed a $250 million lawsuit against Twitter, anti-Trump Republican strategist Liz Mair, and the anonymous authors behind @DevinCow and @DevinNunesMom. Nunes claims that the three accounts posted "hundreds of egregiously false, defamatory, insulting, abusive, hateful, scandalous and vile statements about" him.
The suit also claims Twitter is "shadow-banning" conservatives — or refusing to distribute their posts, despite no official ban — a claim Twitter denies.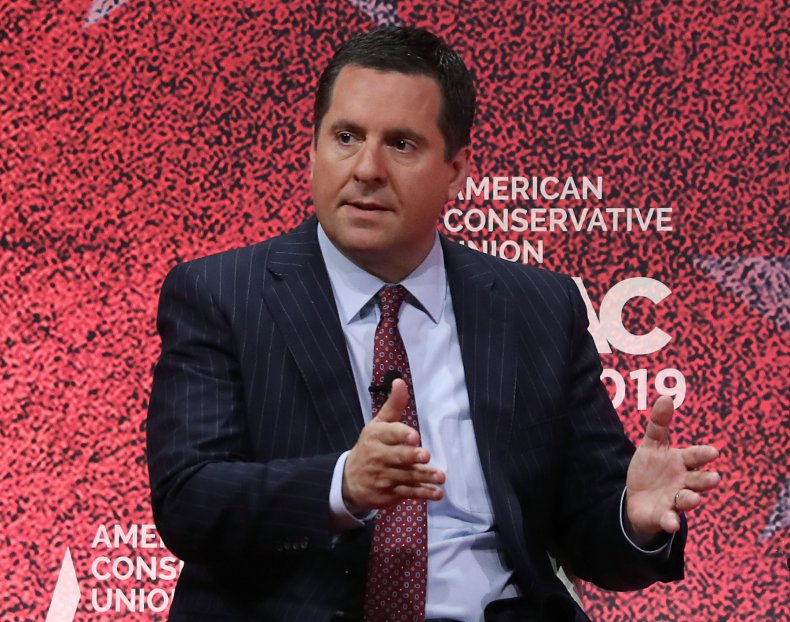 Newsweek subscription offers >
Nunes filed suit in Virginia, the home state of Mair. On Friday, Twitter asked Judge John Marshall to dismiss Nunes' lawsuit as Twitter has no business dealings in the state, thus rendering the complaint invalid. Twitter's user agreement requires all lawsuits against the company be filed in California.
According to the Fresno Bee, Nunes' attorney, Steven Biss, argued that the case was filed in Virginia because it is Mair's home state and Nunes suffered harm there, due to the fact that federal intelligence agencies are based in Virginia. Nunes was the chair of the United States House Permanent Select Committee on Intelligence until January 3.
In court, Biss argued that Twitter was responsible for the posts that offended Nunes. Biss said that Twitter allowing the posts on its platform was comparable to giving a person a gun.
"What if you set a fire on your property and I told you it was choking my baby?" Biss asked Judge Marshall, "You should have to put it out."
Newsweek subscription offers >
According to the lawsuit, the tweets that upset Nunes included one from Mair sharing an article from the Fresno Bee about a winery that was partly owned by Nunes being sued for sexual harassment.
According to the lawsuit, the now-suspended @DevinNunesMom account shared tweets alleging that Nunes had obstructed justice in his defense of President Donald Trump, and that Nunes was too busy "cradling the president's balls full time" to take care of his constituents' concerns. The account also shared a meme referencing the cult horror film The Human Centipede.
The lawsuit blames @DevinCow for referring to Nunes as a "treasonous cowpoke," and writing, "Nunes needs to be investigated. He knew the truth, yet conspired with a criminal, @realDonaldTrump, to conceal the facts from the investigation. Nunes is a criminal too."
Though the parody accounts do post material critical of Nunes, parody has been historically protected by the First Amendment. The lawsuit as also given the accounts more attention. At the time of the lawsuit, @DevinsCow only had 1,204 followers. But as news of the lawsuit broke, the account gained in popularity, and is currently at 615,675 followers. Comparatively, Nunes' official account has 561,363 followers.
Judge Marshall said he was not ready to rule. However, the decision as to whether or not the case can be heard in Virginia should be made within the next seven to 10 days.
According to the Bee, this is the third lawsuit Nunes has filed this year alleging that anti-Republican activists have conspired against him. Nunes is also suing McClatchy, the owners of the Fresno Bee, alleging that the winery article shared by Mair was defamatory. A third suit has been filed against four Californians who challenged the ballot description that identified Nunes as a farmer.
Devin Nunes' Attorney Argues @DevinNunesMom, @DevinCow Parody Accounts as Dangerous as Guns | News