On Tuesday, a Trump-appointed Iowa federal judge threatened to dismiss a defamation lawsuit brought by the family of California Republican Representative Devin Nunes against Hearst Magazines, the publisher of Esquire, and journalist Ryan Lizza.
Trump-appointed U.S. District Judge C.J. Williams said he'll throw out the lawsuit if the family doesn't specify precisely how Lizza's article in Esquire magazine inaccurately portrayed the congressman and his family.
The lawsuit involves a September 30, 2018 Esquire article entitled "Devin Nunes's Family Farm Is Hiding a Politically Explosive Secret." The article said that Nunes' parents and brother "covered their tracks" after "quietly moving" the family's dairy farm from California to Iowa, suggesting that the family had tried to hide the farm's relocation. The article also alleged that the farm has used undocumented laborers.
Collectively, the Nunes family filed two lawsuits against Hearst and Lizza: Nunes' father and brother sought $25 million in damages, and Nunes himself sought $77.5 million. The two cases were combined in April 24.
But while the Nunes family suit cited 16 statements in Lizza's article that it alleged were defamatory, they didn't provide any facts to disprove her allegedly defamatory statements.
"The remainder of plaintiffs' complaint is bereft of any factual allegations pertaining to the truth or falsity of the challenged statements," Williams wrote in his ruling. "Rather, the remainder of plaintiffs' complaint is conclusory in nature."
"Without knowing which of the facts plaintiffs allege are actually false," he continued, "defendants are left not knowing how to answer the complaint."
While the judge's ruling applies only to the family's suit, he said he'll rule on Nunes's later. Williams has given Nunes' father and brother 14 days to file an amended complaint "specifically identifying the facts in the contested article they allege are false, and to allege facts which, if proven, would show those facts to be false."
"If plaintiffs do not file an amended complaint," the ruling states, "the court may dismiss this matter without further action by defendants."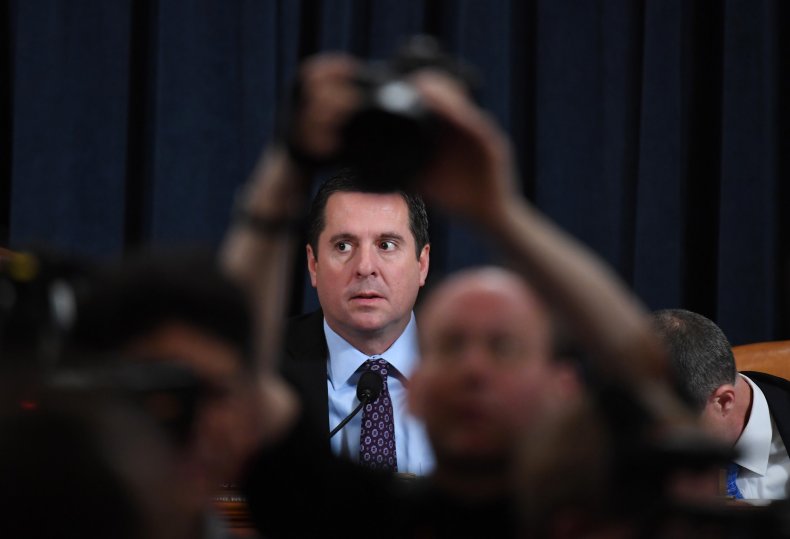 Nunes' 25-page lawsuit against what he called the "Lizza Hit Piece" claimed the article sought to sink his chances in the 2018 Congressional election and interfere with his work as Chairman of the House Intelligence Committee to investigate Russian interference in the 2016 Presidential election.
Nunes made similar claims in March 2019 when he filed a $250 million defamation lawsuit against two parody Twitter accounts: one claiming to be written by his mother and another claiming to be written by a cow from his dairy farm.
Nunes's lawsuit further claimed that the Esquire article sought to "advance the left-wing goals of Nuzzi and Hearst." He said the writer and publication targeted him as retaliation for his "exposing corruption" in the Democratic National Committee and the 2016 presidential campaign of Hillary Clinton.
According to his lawsuit, Nunes claimed that Lizza "stalked and intimidated" his "grammar-school aged nieces" and "behaved like a sex offender or pedophile cruising the local neighborhood for victims."
Newsweek reached out to Nunes for comment. This story will be updated with any response.