Devin Nunes Says Media, Twitter Users Can Say 'Mean Things,' but Can't Accuse Him of Federal Crimes
Republican Representative Devin Nunes of California appeared on Fox News Wednesday and claimed he is set to file lawsuits against several "fake news" media outlets just one day after filing a $150 million defamation suit against the McClatchy Co.
Nunes repeatedly told Fox & Friends co-host Steve Doocy he's fine with news outlets saying "mean things" to him or other public figures, but he refuses to be accused of federal crimes. Nunes filed the $150 million lawsuit in Virginia, which the California-based newspaper company mocked in a statement, after McClatchy ran a story last year through The Fresno Bee connecting Nunes to a yacht with prostitutes present.
Nunes' lawsuit accuses McClatchy of "character assassination," and he says it's just the first "fake news" media outlet he plans to see in court.
"What we're doing is, we sued Twitter because they were shadow-banning me. They're banning conservatives a few weeks ago. We're taking it to the courts," Nunes told Fox & Friends.
"Now, we're looking at McClatchy, but we're actually going to go after several news media outlets. It is not OK—we're public figures. I'm a public figure. You're a public figure. You can say mean things to us all you want, but you cannot accuse us maliciously of committing federal crimes over and over again—you know this. Don't forget, McClatchy, they're the biggest perpetrator of fake news. They're the ones who said Cohen was in Prague, and they need retract those stories."
A claim in the controversial dossier compiled by former British spy Christopher Steele was that President Donald Trump's former personal lawyer Michael Cohen traveled to Prague in the summer of 2016 and struck a bargain to coordinate with the Russians in an effort to elect Trump. Cohen said under oath to the House Oversight Committee in February that he had never been to Prague.
Nunes' lawsuit prompted widespread mocking from Twitter users Tuesday, with the hashtag #YachtCocaineProstitutes trending on the social media outlet named in the lawsuit. Others joked about two parody Twitter accounts Nunes specifically wants to delete—Devin Nunes' Cow and Devin Nunes' Mom—which have since amassed hundreds of thousands of followers in the publicity quicksand.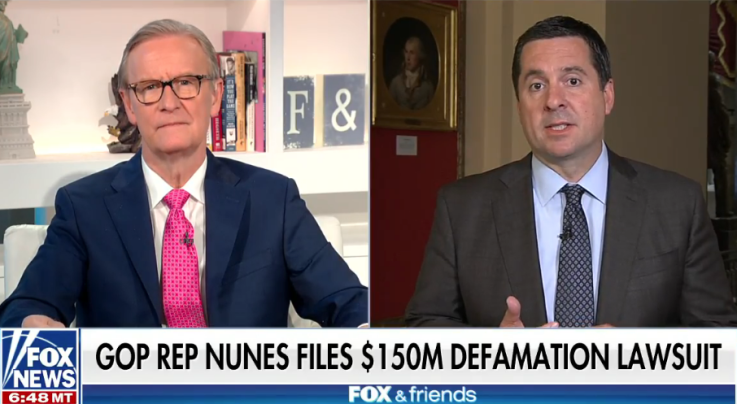 McClatchy defended The Fresno Bee, a daily newspaper serving Fresno, California, and stood by its publishing of the story in a statement. The Bee calls itself Nunes' hometown newspaper, given he represents the area in Congress.
"The lawsuit represents a baseless attack on local journalism and a free press," McClatchy wrote in response to the lawsuit. "At a time when local journalism is facing more pressing and urgent challenges, the lawsuit is an unproductive distraction and a misuse of the judicial system."
The statement continued, appearing to ridicule Nunes for filing the lawsuit in the wrong state, despite being from California. "He filed his lawsuit in the state of Virginia," the statement read. "California law applies to this case, and it outlines steps to demand corrections for the benefit of the individual who feels he or she has been libeled. In the over 10 months since the winery article appeared, Mr. Nunes has not once availed himself of the statute by writing to the Fresno Bee to demand that it publish a correction to any statement made about him. He did however find the time to produce a video and a 40-page mailer distributed to constituents attacking the Fresno Bee."
Nunes responded on Fox News Wednesday, saying he'd love to find out the sources of their reporting, and challenged several other stories run by the national news media company.
"I am absolutely sure they don't want this to get to discovery so we find out who their sources are," Nunes said. "Somebody gave them the phony information that the National Rifle Association was involved with Russian national collusion, somebody gave the phony info on Cohen, somebody gave them on me, that they ran across all their platforms and digitally, that's not OK. They can talk all they want, but we'll see them in court."
The California Republican has long denounced the special counsel investigation into President Donald Trump and recently said he believes Robert Mueller's report should "be set ablaze."
Devin Nunes Says Media, Twitter Users Can Say 'Mean Things,' but Can't Accuse Him of Federal Crimes | U.S.