Devin Nunes' Home State Newspaper Says Republican 'Has Betrayed The Truth And, Quite Possibly, Betrayed Our Country'
Representative Devin Nunes is facing criticism from a newspaper in his home state for dismissing the allegations against President Donald Trump that led to his impeachment although he "knew they were true."
"Devin Nunes has betrayed the truth, betrayed the trust of voters and, quite possibly, betrayed our country," the Sacramento Bee editorial board wrote Monday.
On Friday, the House Judiciary Committee released text messages between Derek Harvey, Nunes' aide, and Rudy Giuliani associate Lev Parnas. The documents show the claim Parnas made earlier that Nunes was "involved" through Harvey in the plan to dig up dirt on former Vice President Joe Biden's dealings in Ukraine as it related to his son, Hunter Biden.
Trump's pressuring of Ukraine to investigate Biden is at the center of the impeachment proceedings against him, a process Nunes labeled a "hoax" motivated by party politics. After staunchly dismissing the allegations against Trump, the release of the text messages showed he "lied" to the American people, the Sacramento Bee editorial board claimed.
"Nunes knew the Ukraine allegations were true because his office was involved in the same plot. But he used his position in Congress as a platform to spread lies and mislead the public," the editorial board wrote.
Newsweek reached out to Nunes' office through email but did not receive a response in time for publication.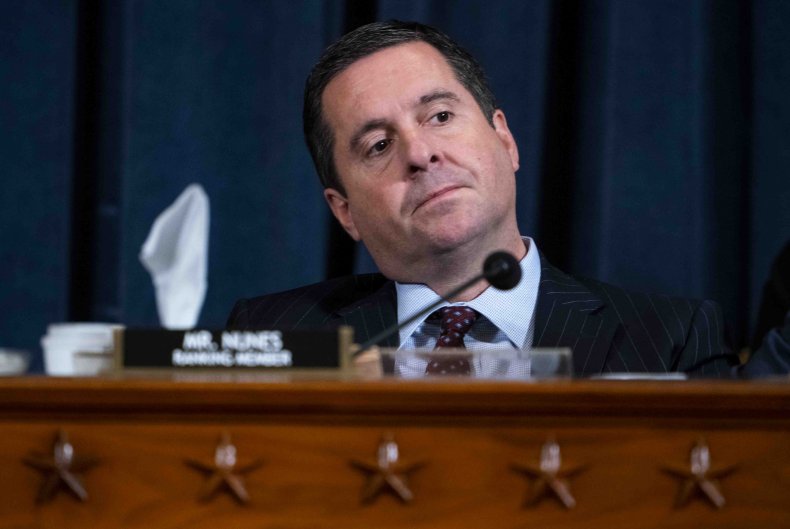 Nunes initially denied knowing Parnas, but phone logs released in December suggested the two spoke several times on the phone. On Wednesday, Nunes told Fox News' Martha MacCallum that after reviewing his own records, he remembered the call was "odd" and involved talking about "random things."
He added that Parnas had a "real problem with the truth" and floated the idea that he was after an immunity deal. Parnas faces federal charges in connection with attempting to funnel money from a foreign government to U.S. politicians.
Logs showed only that Parnas and a person using Nunes' phone number spoke, not what was discussed. The Sacramento Bee editorial board acknowledged this but said Harvey's conversations with Parnas showed "an incisive focus on using Ukrainian connections to find dirt on Biden."
"We don't know exactly where this new evidence will lead, or what fate has in store for Nunes, but we do know this: The people of California's 22nd congressional district deserve better," the editorial board wrote.
Nunes is up for re-election in November and Andrew Feldman, the campaign spokesman for Phil Arballo, a Democratic challenger, told the Fresno Bee his challenger raised $450,000 between mid-November and early-December. The money came during the height of the impeachment process in the House and Arballo continues to capitalize on Nunes' involvement in the impeachment proceedings, using it as a fundraising tool.
The incumbent congressman is still favored to win, though, according to the Sacramento Bee.