Devin Nunes Lawsuit Against Twitter Over Fake Cow Thrown Out by Judge
California Representative Devin Nunes was prohibited from suing Twitter in his quest to find out who began parody accounts about him, one of which purported to be authored by his cow.
Nunes named Twitter in a $250 million lawsuit in June, claiming the social media platform allowed the parody accounts to spread misinformation about him, harming his reelection campaign. Along with Twitter, Nunes sued the users behind the accounts "Devin Nunes' Cow" and "Devin Nunes' Mom." Republican strategist Liz Mair was also named in the suit.
In a Friday ruling, Virginia Judge John Marshall said Nunes could not sue Twitter because the platform was not liable for what people posted under federal law. Marshall wrote that Nunes "seeks to have to court treat Twitter as the publisher or speaker of the content provided by others based on its allowing or not allowing certain content to be on its internet platform. The court refuses to do so."
Newsweek reached out to Representative Nunes' office and Twitter for comment. This story will be updated with any response.
The Devin Nunes' Cow account reacted to the court's decision by posting a manipulated photo of Nunes covered in milk. "I had to hide the [ice cream emoji] so they didn't throw it as well," the account tweeted.
Although Twitter has been removed from the lawsuit, Nunes is still suing Mair and the creators of the two parody accounts. However, the names of the creators have remained anonymous despite Nunes' attempts to make Twitter reveal them.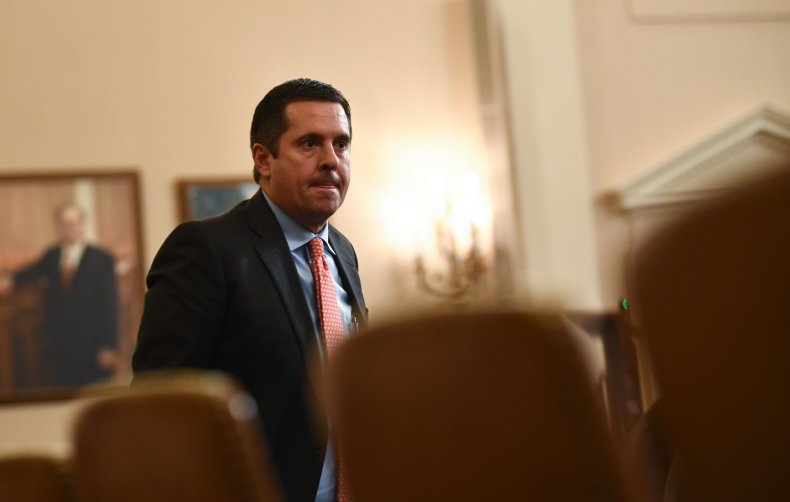 "Defending and respecting the user's voice is one of our core values at Twitter," said a Twitter spokesperson in September. "This value is a two-part commitment to freedom of expression and privacy."
Nunes' lawyer, Steven Biss, alleged in June that Twitter was involved in censorship. "They're promoting an anti-Nunes agenda," Biss said. "They're banning conservative accounts and they're knowingly encouraging it."
Representative Nunes has filed lawsuits in the past against entities who attempted to connect him with actions in Ukraine that factored into impeachment proceedings against President Donald Trump. Nunes filed a defamation lawsuit in the amount of $435,350,000 against CNN in December after a story on the network said he had traveled to Vienna for a meeting with Viktor Shokin, the former prosecutor general of Ukraine, about obtaining information about Joe Biden and his son, Hunter.
In December, Nunes threatened to sue California Representative Ted Lieu after Lieu suggested Nunes may have been involved with events in Ukraine that factored into impeachment proceedings against President Donald Trump. Nunes was implicated by Lev Parnas, an associate of President Donald Trump's lawyer Rudolph Giuliani, as being part of a campaign to gather information on the Bidens. In May, the case was relocated from the Virginia court system to the Southern District of New York.
Nunes admitted that he had spoken to Parnas during a January interview with Fox News.
In a December letter, Nunes' attorney claimed that Lieu was trying to take away Nunes' "unimpaired reputation" and asked for a public apology.
Lieu responded in January, writing that he welcomed the lawsuit and looked "forward to taking discovery of Congressman Nunes. Or, you can take your letter and shove it."