Republican Devin Nunes Says Liberals, Antifa Are 'Causing All of These Riots' Because 'We're Winning'
Top Republican congressman Devin Nunes claimed during a speech earlier this month that liberals "have antifa" to cause riots and that the left had increased protests recently because the GOP's side was "winning."
California's Nunes, who heads up the House Intelligence Committee, was speaking at the Center for Security in Washington while accepting an award from the organization, according to The Washington Post. He also stressed the importance of Republicans maintaining majority control of both chambers of Congress in the upcoming midterm elections.
"I will close with this, and you guys are going to think that I might be a little crazy, and maybe sometimes I am," Nunes said.
He continued: "This election is really about the future of this country and what we need the base—for all of you that are out there across the country—to understand is: The reason they're putting up this fight, the reason that they have antifa, the reason that they're protesting, the reason that they're causing all of these riots, the reason that they're doing, you know, things that you normally wouldn't think you would see in this country—the reason that they're willing to actually corrupt the FBI and the DOJ? They're doing it because we're winning, folks."
Earlier in the speech, Nunes spoke about committee rules and how he and fellow Republican members on the committee had worked to declassify materials related to the FBI's investigation of President Donald Trump's campaign and Russia's interference in the 2016 election, including those involving Trump campaign aide Carter Page.
"Without that rule and without the colleagues and the Republicans on the committee voting to exercise that rule, we would have never been able to declassify what you guys all know now was the dirt that was used, generated by the Clinton campaign, fake news stories created and used to spy on American citizen and a Trump campaign associate," Nunes said.
The speech was released on YouTube just after Trump had ordered Monday the declassification of documents that pertained to the Trump-Russia probe, which the president has labeled a "rigged witch hunt."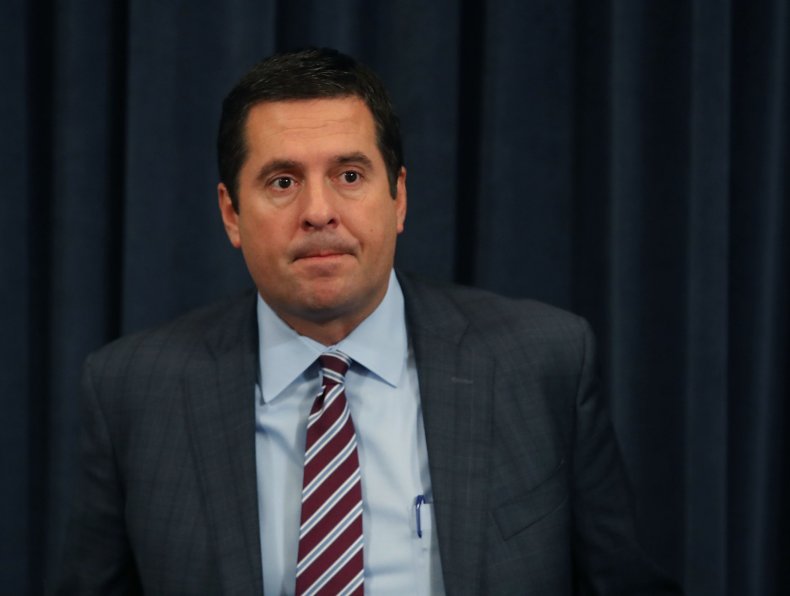 Along with transcripts and text messages, Trump ordered to make public parts of the FISA warrant used to surveil Page. Trump, Nunes and other Republicans have accused the FBI of mainly relying on the infamous Trump-Russia dossier to spy on Page and for not being forthright with the FISA judge about the dossier.
The text messages expected to be released were sent by former FBI officials James Comey, Andrew McCabe, Peter Strzok and Lisa Page, as well as Justice Department official Bruce Ohr. Each had drawn the president's wrath for their work on the probe, and for what Trump has called political bias against his administration and campaign.