Devin Nunes Predicts GOP Will Be Pressured to Impeach Biden If They Take the House in 2022
California Representative Devin Nunes said Wednesday that if the GOP gains control of the House in 2022, Republicans could face pressure to impeach President Joe Biden.
Democrats in the House impeached former President Donald Trump in February for allegedly inciting the January riot at the U.S. Capitol building. Some Republicans have said that Trump's rhetoric, which included unsubstantiated claims of voter fraud, did not constitute an impeachable offense. In an interview with Fox News host Sean Hannity, Nunes said that the reestablishment of certain social media platforms could allow the GOP to disseminate "good information" to the American people.
"If we start to get good information out to the American people," Nunes said, "Republicans have a good chance of taking the House in 2022. Now, if that happens, and let's— for example, we don't know what's gonna happen to Hunter Biden's laptop. We don't know what's gonna happen with the Durham investigation. But I could see the pressure would become great for us to actually have to impeach Biden."
"Now look, I don't want to do that, but you're going to have people that are going to be saying that," Nunes added.
On Wednesday, the National Republican Congressional Committee (NRCC) released a list of 47 Congressional seats it believed it could regain in the 2022 elections. "House Republicans start the cycle just five seats short of a majority and are prepared to build on our 2020 successes to deliver a lasting Republican majority in the House," said NRCC Chairman Tom Emmer in a statement.
Newsweek reached out to the Democratic Congressional Campaign Committee for comment.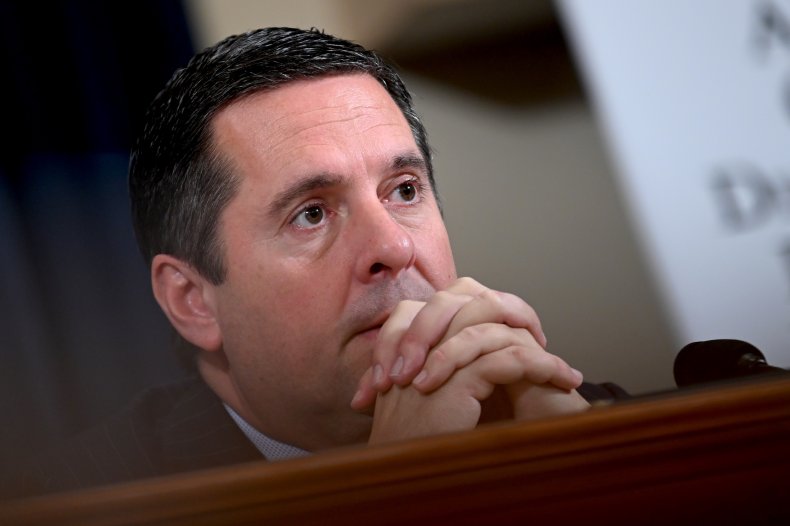 Nunes said that other Democratic members of the House, including House impeachment managers and those who publicly criticized Trump, could also lose their House committee appointments.
"Every one of those damn guys could be removed from their committee in 2 years," Nunes said. "That's where we're headed if the American people don't stand up to this nonsense."
In February, House Democrats removed Georgia Representative Marjorie Taylor Greene from her positions on the House Committee on Education and Labor, as well as the House Budget Committee. House Republicans had declined to censure Greene for her pre-election comments which appeared to embrace conspiracy theories. Greene also indicated support on social media for executing Democratic lawmakers before they were able to take office.
Trump, the only U.S. president to be impeached twice, is currently the subject of a Senate trial. Democrats allege that Trump's unsubstantiated claims of voter fraud riled up his supporters and incited violence. After Trump gave remarks at a Stop the Steal rally in Washington, D.C. in January, his supporters stormed the U.S. Capitol building in an attempt to prevent the certification of Biden's win.
During his rally remarks, in which he claimed the Democrats had stolen the election, Trump told the crowd "if you don't fight like hell, you're not going to have a country anymore."
On Tuesday, Texas Senator Ted Cruz criticized the impeachment charge levied against Trump. "Nothing he said meets the legal standard for incitement," Cruz told Fox News.
Biden has not commented extensively on Trump's impeachment. "The Senate has their job and they are about to begin it and I am sure they are going to conduct themselves well," Biden said Tuesday. "And that's all I am going to have to say about impeachment."