Devin Nunes Rails Against Trump Impeachment, Says 'All Presidents Make Mistakes'
California Republican Representative Devin Nunes, a ranking member of the House Intelligence Committee, said Tuesday that President Donald Trump "makes a lot of mistakes," but described impeachment proceedings being considered against Trump by lawmakers were "nonsense."
Democrats in the House are expected to take up articles of impeachment against Trump on Wednesday. Included among the articles is a segment alleging Trump incited violence against the U.S. Government, a reflection of the opinion held by many lawmakers that Trump incited his supporters to swarm the Capitol building in January.
Rioters descended upon the Capitol during the Congressional certification of President-elect Joe Biden's win in the Electoral College. In a speech given at a Stop the Steal rally before the riot, Trump encouraged his supporters to "walk to the Capitol" and support Republicans who had promised to issue objections to the electoral vote count.
While speaking on Fox News host Sean Hannity's program on Tuesday, Nunes decried the impeachment process.
"Look, the president makes a lot of mistakes," Nunes said. "All presidents make mistakes, but the bottom line is to do a snap impeachment has real consequences."
Nunes said that some of his constituents had spoken to him about the futility of the impeachment as Trump has only a few days remaining in his term.
"For the first time the last few days, I have had people coming up to me that have never come up to me before and said, 'What on earth are you guys doing back there? Why would you?'" Nunes said. "Even people that don't support the president say, 'Look, I don't like what he did and I didn't vote for him but why would you impeach him? He's almost gone. People don't understand any of this nonsense."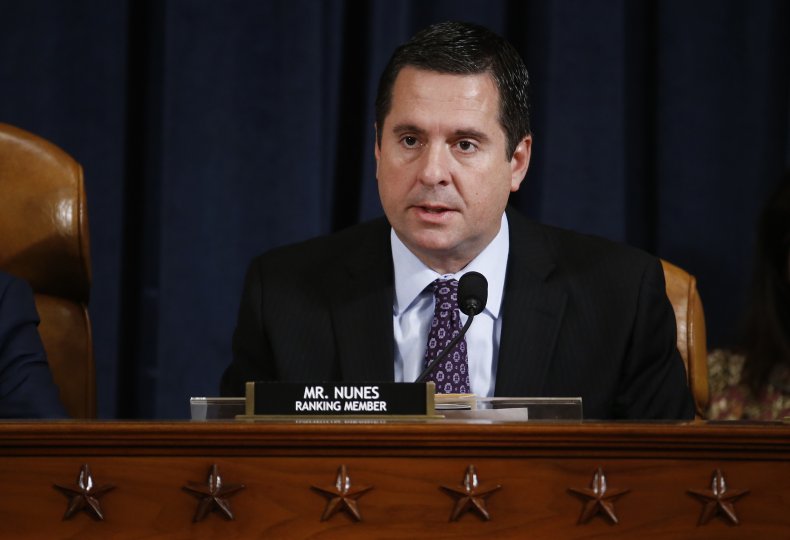 In January, Nunes received the Presidential Medal of Freedom for Trump. Referencing Nunes's help during Trump's 2019 impeachment proceedings, the White House called Nunes "a public servant of unmatched talent, unassailable integrity, and unwavering resolve."
On Tuesday, the House voted to pass a resolution calling on Vice President Mike Pence to use the 25th Amendment of the Constitution to temporarily replace Trump on the grounds of Trump being unfit to hold office. In a Tuesday statement, Pence declined to invoke the Amendment hours before the House voted.
"Last week, I did not yield to pressure to exert power beyond my constitutional authority to determine the outcome of the election," Pence wrote, "and I will not now yield to efforts in the House of Representatives to play political games at a time so serious in the life of our Nation."
If impeachment proceedings against Trump are successful, then Trump would be the first U.S. president to be impeached twice. In December 2019, Trump was impeached on counts of abuse of power and obstruction of justice in connection with an alleged request made to Ukraine president Volodymyr Zelenskiy to investigate Biden's financial dealings. Neither count received the two-thirds required to oust Trump from office. In February 2020, Trump was acquitted.
On Tuesday, Trump denied any responsibility for the Capitol riots and called impending impeachment proceedings against him "ridiculous."
"It's really a continuation of the greatest witch hunt in the history of politics," Trump said.