Devin Nunes Steps Away From Russia Election Probe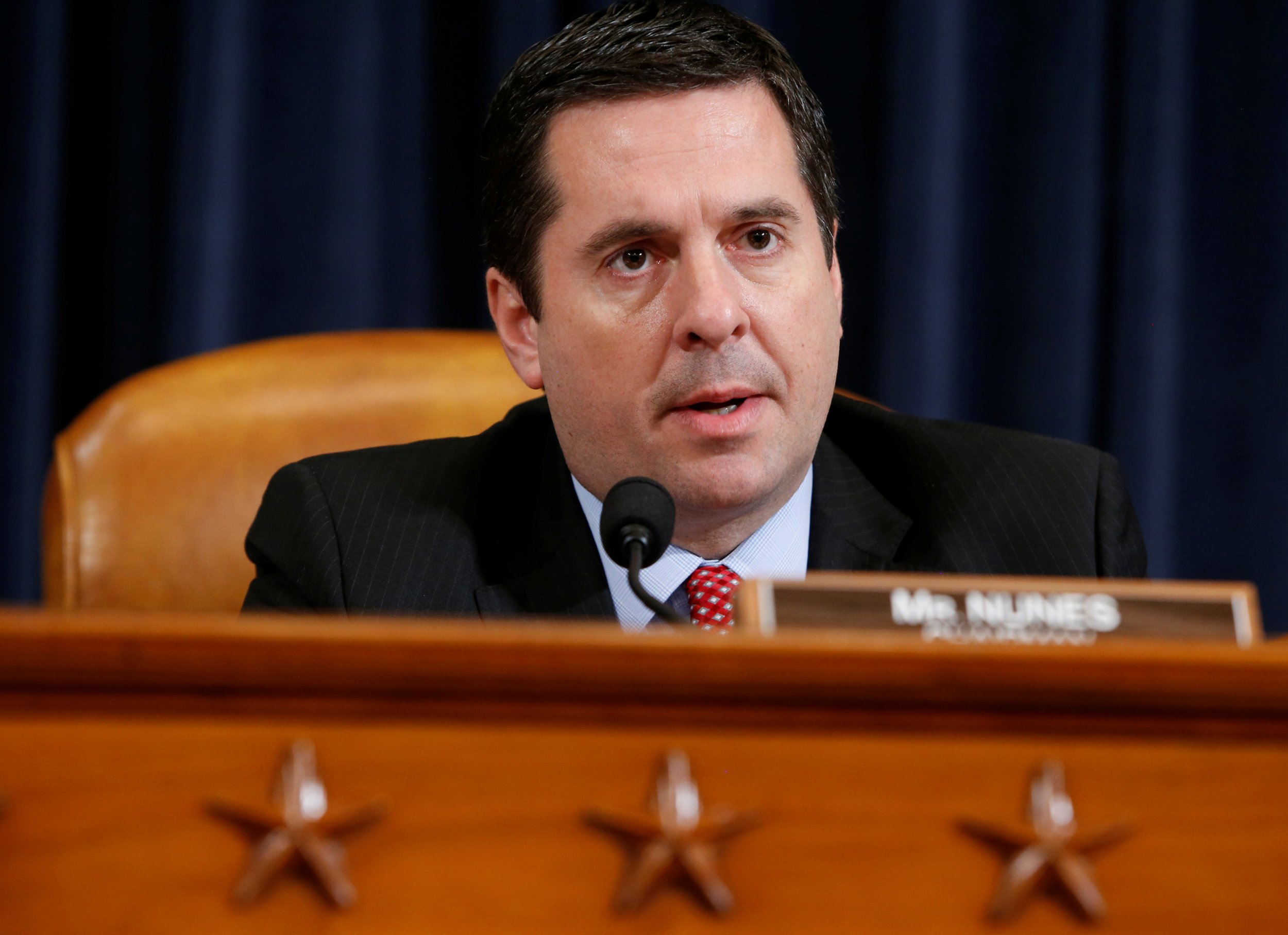 Representative Devin Nunes has stepped aside as leader of the House investigation into possible Russian meddling in the U.S. election amid accusations he was doing the White House's bidding.
"Several left wing activists groups have filed accusations against me with the Office of Congressional Ethics," Nunes said in a statement on Thursday. "The charges are entirely false and politically motivated, and are leveled just as the American people are beginning to learn the truth about the improper unmasking of the identities of U.S. citizens and other abuses of power."
Nunes, the Republican chairman of the House Intelligence Committee, went on to say that he would temporarily step aside from his role heading the investigation.
The House Committee on Ethics simultaneously announced that it is investigating allegations that Nunes "may have made unauthorized disclosures of classified information, in violation of House Rules, law, regulation or other standards of conduct."
The ethics probe stems from a late night trip Nunes made to the White House on March 21 to view classified intelligence reports. The next day, he told reporters the reports detailed how President Donald Trump and his transition team were "incidentally" swept up in American agencies' foreign surveillance. Nunes said all the surveillance he had seen was done legally and had nothing to do with the Russia investigation.
Nunes briefed Trump on the findings and kept the information from his committee colleagues. Trump then said the information "somewhat" vindicated claims he made on March 4 that President Barack Obama had illegally "wiretapped" his election campaign. FBI Director James Comey and the Justice Department refuted that claim in testimony to Nunes's committee on March 20.
It was disclosed this week that Obama's former national security advisor, Susan Rice, had unmasked the names of Trump associates who were caught up in surveillance. On Wednesday, Trump said without giving evidence that he thought Rice had committed a crime.
Related: Nunes apologizes for handling of Trump surveillance claim
All of these recent events are connected to investigations into Russia's alleged interference in the 2016 U.S. election. U.S. intelligence agencies concluded in early January that Russian President Vladimir Putin had sought to help candidate Trump and hurt his Democratic rival, Hillary Clinton, through a misinformation campaign and by spreading hacked emails from her campaign.
During his testimony, Comey said members of the Trump campaign and some of the president's associates are under investigation. Contacts between several Trump campaign team members and Russian officials have come to light despite the president's claim that there were none.
The House Intelligence Committee's top Democrat, Representative Adam Schiff (D-Calif.), has also seen the documents referred to by Nunes, but has refused to say what they showed. President Trump has offered to show the documents to the rest of the Intelligence Committee, but Schiff has said White House staff are fighting its release. Nunes decision, Schiff said, represents an opportunity to put the House investigation "fully back on track" and "move forward in the unified and nonpartisan way that an investigation of this seriousness demands."
House Speaker Paul Ryan defended Nunes on Thursday, saying he "has earned my trust over many years for his integrity and dedication to the critical work that the intelligence community does." He said Nunes is "eager to demonstrate to the Ethics Committee that he has followed all proper guidelines and laws."
Representative Mike Conaway of Texas will now head the House investigation in Nunes's place. Nunes will otherwise continue on as the committee's chairman. "I am requesting to speak to the Ethics Committee at the earliest possible opportunity in order to expedite the dismissal of these false claims," he said.