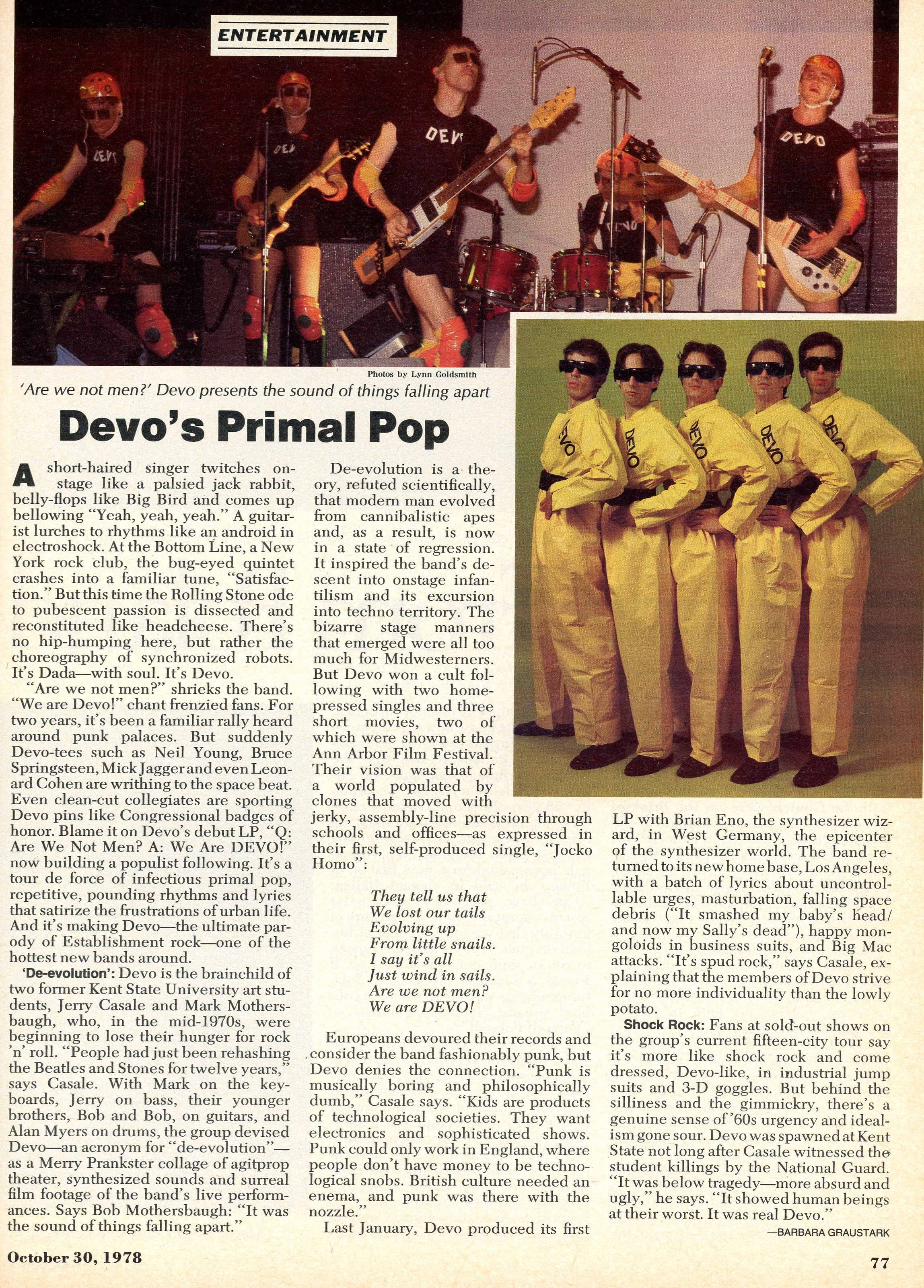 Founding Devo guitarist Bob Casale died suddenly on February 17th of heart failure at age 61, reports Rolling Stone.
Here's our Devo profile from the October 30, 1978 edition of Newsweek: "Devo's Primal Pop" by Barbara Graustark.
A shart-haired singer twitches onstage like a palsied jack rabbit, belly-flops like Big Bird and comes up bellowing "Yeah, yeah, yeah." A guitarist lurches to rhythms like and android in electroshock. At the Bottom Line, a New Yourk rock club, the bug-eyed quintet crashes into a familiar tune, "Satisfaction." But this time the Rolling Stone ode to pubescent passion is dissected and reconstituted like headcheese. There's no hip-humping here, but rather the choreography of synchronized robots. It's Dada - with soul. It's Devo.
"Are we not men?" shrieks the band. "We are Devo!" chant frenzied fans. For two years, it's been a familiar rally heard around punk palaces. But suddenly Devo-tees such as Neil Young, Bruce Springsteen, Mick Jagger and even Leonard Cohen are writhing to the space beat. Even clean-cut collegiates are sporting Devo pins like Congressional badges of honor. Blame it on Devo's debut LP, "Q: Are We Not Men? A: We Are DEVO!" now building a populist following. It's a tour de force of infectious primal pop, repetitive, pounding rhythems and lyrics that satirize the frustrations of urban life. And it's making Devo - the ultimate parody of Establishment rock - one of the hottest new bands around.
'De-Evolution': Devo is the brainchild of two former Kent State University art students, Jerry Casale and Mark Mothersbaugh, who in the mid-1970's, were beginning to lose their hunger for rock 'n' roll. "People had just been rehashing the Beatles and Stones for twelve years," says Casale. With Mark on the keyboards, Jerry on Bass, their younger brothers, Bob and Bob, on guitars, and Alan Myers on drums, the group devised Devo - an acronym for "de-evolution" - as a Marry Prankster collage of agitprop theatre, synthesized sounds and surreal film footage of the band's live performances. Says Bob Mothersbaugh: "It was the sound of things falling apart."
De-evolution is a theory, refuted scientifically, that modern man evolved from cannibalistic apes and, as a result, is now in a state of regression. It inspired the band's decent into onstage infantilism and its excursion into techno territory. The bizarre stage manners that emerged were all to much for Midwesterners. But Devo won a cult following with two home-pressed singles and three short movies, two of which were shown ar the Ann Arbor Film Festival. Their vision was that of a world populated by clones that moved with jerky, assembly-line precision through schools and offices - as expressed in their first, self-produced single, "Jocko Homo":
They tell us that

We lost our tails

Evolving up from little snails.

I say it's all

Just wind in sails.

Are we not men?

We are DEVO!
Europeans devoured their records and consider the band fashionably punk, but Devo denies the connection. "Punk is musically boring and philosophically dumb," Casale says. "Kids are products of technological societies. They want electronics and sophisticated shows. Punk could only work in England, where people don't have money to be technological snobs. British culture needed an enema, and punk was there with the nozzle."
Last January, Devo produced its first LP with Brian Eno, the synthesizer wizard, in West Germany, the epicenter of the synthesizer world. The band returnded to its new home base, Los Angeles, with a batch of lyrics about uncontrollable urges, masterbation, falling space debris ("It smashed my baby's head/and now my Sally's dead"), happy mongoloids in business suits, and Big Mac attacks. "It's spud rock," says Casale, explaining that the members of Devo strive for no more individuality than the lowly potato.
Shock Rock: Fans at sold-out shows on the group's current fifteen- city tour say it's more like shock rock and come dressed, Devo-like, in industrial jump suits and 3-D goggles. But behind the silliness and the gimmickry, there's a genuine sense of '60s urgency and idealism gone sour. Devo was spawned at Kent State not long after Casale witnessed the student killings by the National Guard. "It was below tragedy - more absurd and ugly," he says. "It showed human beings at their worst. It was real Devo."