DEVO Responds to John Hinckley, Would-Be Reagan Assassin, Over Song Royalties
DEVO's Gerald V. Casale said that it was "always the unpleasant things that never go away" after John Hinckley Jr., the would-be assassin of former President Ronald Reagan, complained about alleged unpaid royalties for a song he says he "co-wrote" with the band.
Hinckley shot Reagan and three others during a failed assassination attempt on March 30, 1981, outside the Washington, D.C. Hilton hotel. DEVO, often known for the 1980 hit "Whip It," obtained permission from Hinckley to use part of a poem that he had written in lyrics for the song "I Desire," which appeared on the band's 1982 album Oh, No! It's DEVO. On Sunday, Hinckley took to Twitter to claim that he had not received royalties from the song for decades.
"Back in 1982 I co-wrote a song with DEVO called 'I Desire". It is on their album 'Oh No, It's DEVO,'" Hinckley tweeted. "The album is still selling worldwide, especially in Japan and Europe. I haven't seen royalties in 35 years. What's the deal?"
Hinckley was listed as the song's co-writer alongside DEVO founders Casale and Mark Mothersbaugh. Casale told Newsweek over the phone on Tuesday that the unusual songwriting partnership happened after a tabloid published the Hinckley poem following the assassination attempt.
The poem was an obsessive verse written to actress Jodie Foster, who Hinckley had been stalking and hoped to impress by assassinating Reagan. Casale said that DEVO was "blown away by the poetic sociopathy" of Hinckley's poetry.
"I saw it and I showed it to Mark Mothersbaugh," Casale said. "We couldn't believe how inspired and pathological the poetry was, given what he had done. And this poetry was all love poems to Jodie Foster."
"We did take two verses from one love poem and then I wrote subsequent verses that completely twisted the meaning of his verses on their head," he added. "So that the [narrator] is telling the girl... to run from him because he's a dangerous guy."
In addition to getting permission from Hinckley, Casale said that DEVO sought and received permission from Foster before moving forward with the song, with the understanding that the band was not "endorsing" Hinckley or his actions.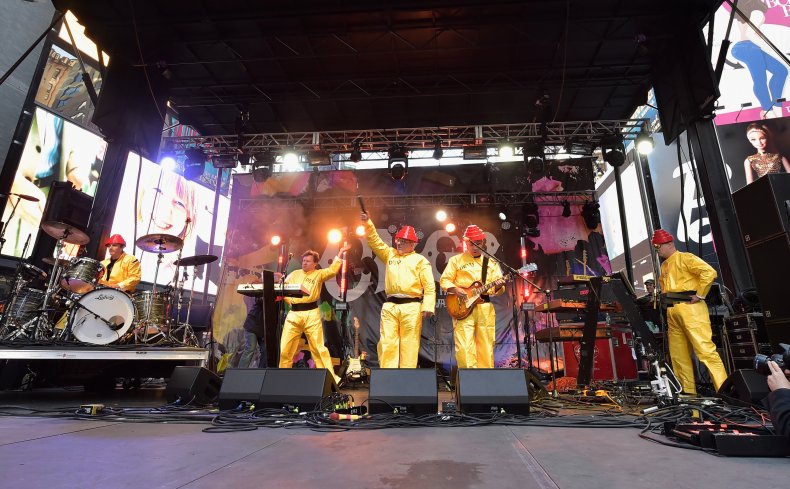 Casale said that he did not know whether Hinckley's claim of not having received royalties was true. In any case, the band had little to do with the disbursement of royalties, which are instead handled through record companies, publishing companies and performing rights organizations.
Casale said that Hinckley established his own publishing company at one point and that the small portion of whatever royalties were owed "should have been going straight to him."
"It's possible that he's not lying," said Casale. "We're not talking about a lot of money here. Believe me, it wasn't a hit. But certainly it's not because of DEVO that he didn't get his money."
Hinckley may have received at least some royalties for his part in the song. What appears to be a 1983 Warner Bros. Records royalty check to Hinckley for approximately $610 was offered for sale on eBay in 2017.
Casale said that the purported check was "odd" because Hinckley should not have been paid by Warner Bros. since he did not perform on the song. He speculated that the check could been for written lyrics published in "song books" sold by Warner Bros.
In comments to Rolling Stone, Mothersbaugh said that using the Hinckley poem in a song may not have been "the best career move you could make," noting that the band "had the FBI calling up and threatening" them after it was released.
Hinckley was enthusiastic about his role in the song at the time it was released. One month after the Oh, No! It's DEVO album came out, Hinckley wrote a letter to Dallas radio station KZEW's "morning zoo" show to request that "I Desire" be played "58 times each day," according to Dangerous Minds.
A Change.Org petition demanding that "DEVO pay John Hinckley royalties NOW" was launched shortly after Hinckley's tweet. Only 10 people had signed the petition as of Tuesday afternoon.
Hinckley reportedly described the Reagan assassination attempt as "the greatest love offering in the history of the world" not long after the shooting took place. He was found not guilty by reason of insanity in 1982. Following decades of treatment, he was released under supervision from St. Elizabeths psychiatric hospital in 2016 after it was determined that he was no longer a threat. Hinckley was granted an unconditional release this September.