Devolver Digital may not be the biggest video game publisher at 2019's Electronic Entertainment Expo, but they've always punched above their weight at their annual E3 press conferences. This year should be no exception. Devolver Digital's E3 2019 press conference will be held on Sunday June 9 at 7 p.m. PDT. The press conference will be livestreamed for anyone not in attendance at E3 in Los Angeles.
Watch Devolver Digital 2019 E3 Press Conference
To watch the Devolver Digital E3 presentation, tune into Twitch, or watch right here:
Devolver Digital's E3 presence has been legendary since their 2017 press conference, which starred actor Mahria Zook as Devolver's increasingly frustrated "Chief Synergy Officer" Nina Struthers. Rather than running through the year's upcoming game releases, Struthers fired a pistol into the air and ran through a litany of satirical buzzword announcements. The pre-taped conference ended with her head exploding.
Struthers returned in 2018 for a similarly bloody and absurdist press conference, which ended with her receiving Robocop augmentations. If the Devolver Digital announcement for 2019 (above) is any indication, Struthers will be returning as some sort of cyborg this year.
"E3 is the single most important thing in the world for one week in June and who are we to deny participation in this annual explosion of reveal trailers, hands-on demos, and business cards," Devolver Digital announced on their official propaganda page. "Devolver Digital will be in attendance again—sort of—and we wanted to share our plans."
Who knows, maybe they'll even make some game announcements. According to Devolver, "there will be four game reveals with one being available to purchase with money immediately and another releasing later but priced at something like $5,000." Upcoming games from the company include Serious Sam 4: Planet Badass, The Talos Principle 2, Metal Wolf Chaos XD, old-school RPG Sometimes Always Monsters and the side-scrolling shooter My Friend Pedro.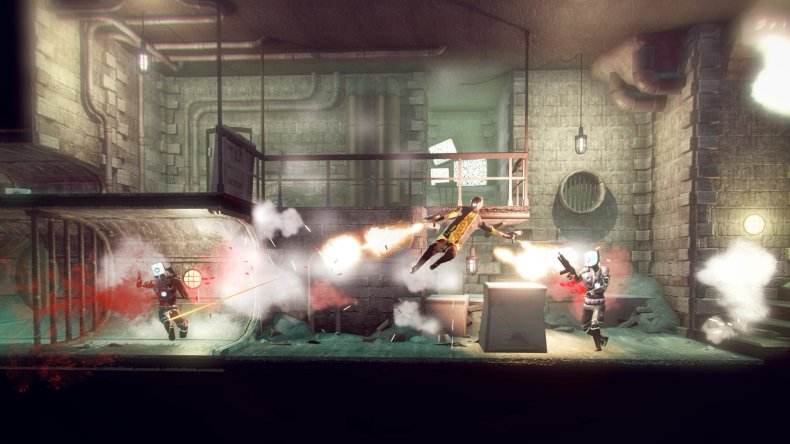 Even if the E3 conference is mainly a platform for jokes at the game industry's expense, Devolver Digital will still showcase games at the "Digital Trailer Park" on-site at the convention, including unannounced titles. In addition to the Devolver Digital E3 Twitch stream, Devolver will also be making E3 announcements on their Discord.