DeVos, Education Department Sued for Rescinding Obama-Era Guidelines for Sexual Assault Investigations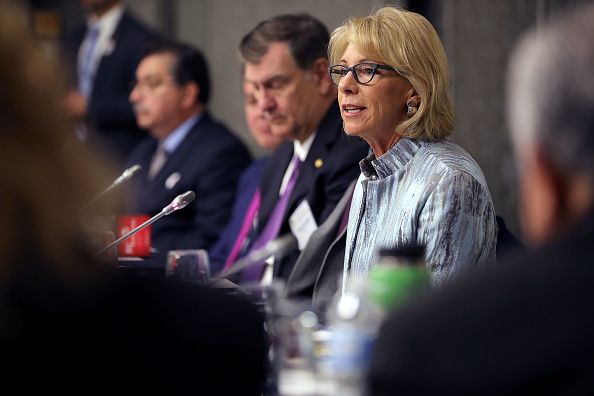 Advocates for sexual violence victims sued Department of Education officials on Thursday in a call to reinstate Obama-era guidelines that, among other things, tasked schools with swift and low-burden-of-proof investigations.
SurvJustice in Washington, Equal Rights Advocates in San Francisco and the Victim Rights Law Center in Portland, Oregon— the plaintiffs in the lawsuit that was filed in U.S. District Court for the Northern District of California—claim the current administration's rollback of Title IX-linked policy demonstrates discrimination against students who report sexual assault.
The lawsuit also accuses education department leaders of re-enforcing a "discriminatory–and baseless–gender stereotype that many women and girls lack credibility with regard to sexual harassment." Defendants in the case are the department, Secretary of Education Betsy DeVos and Candice Jackson, acting assistant secretary for civil rights.
A spokeswoman for the department did not respond to immediate requests for comment.
The lawsuit comes after the department in September rescinded the 2011 "Dear Colleague" letter that required schools to respond promptly to sexual violence reports and demanded the lowest standard of proof, known as "preponderance of the evidence," during sexual violence investigations. The department also rescinded a 2014 Q&A document that outlined schools' obligations under Title IX, a federal law that prohibits sex-based discrimination in education.
DeVos denounced the Obama-era guidance as "a failed system" that impeded due process rights for the accused. Jackson also made a controversial statement to The New York Times that 90 percent of accusations "fall into the category of 'we were both drunk.'" She later apologized.
An interim "Q&A" document that the department presented later in September does not allot a "fixed time frame" for what qualifies as a prompt investigation and allows schools to use a higher burden of proof —the "clear and convincing" standard— among other things.
"There will be no more sweeping [these crimes] under the rug," DeVos said in a statement announcing the new guidelines. "But the process also must be fair and impartial, giving everyone more confidence in its outcomes."
Los Angeles-based group Equal Means Equal and three individual women from Massachusetts filed a lawsuit against the department in October, stating that these interim guidelines violate Title IX laws in nine different ways, including the application of "a tougher standard of evidence for sex-related abuses than for race or nationality-related ones," The Hill reported.