Betsy DeVos Says She Knew of Potential Harms—Like Anxiety, Depression, Lower Test Scores—When She Rescinded Obama-Era Protections for Transgender Students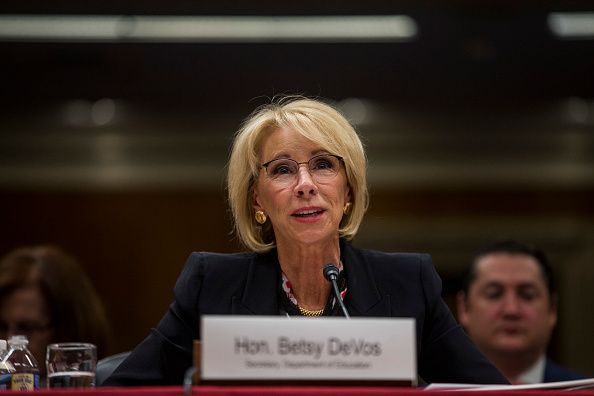 Education Secretary Betsy Devos told lawmakers that she knew the harms of rolling back the Obama administration's protections for transgender students before she rescinded them.
DeVos appeared before the House Education and Labor Committee on Wednesday to testify about the Department of Education's policies and priorities. Representative Suzanne Bonamici, an Oregon Democrat, pressed DeVos on how her department was protecting transgender students from discrimination since the revocation of the 2016 protections. The Obama-era rule extended Title IX rights to students who were transgender and directed public schools to allow students to use bathrooms that aligned with their gender identity even if that conflicted with the gender on their birth certificates.
"When you rolled back that guidance, did you know that the stress of harassment and discrimination can lead to lower attendance and grades as well as depression and anxiety for transgender students?" Bonamici asked.
DeVos started to explain that the Office for Civil Rights was "committed" to protecting all students and making sure they were given equal access to education before Bonamici quickly cut her off.
"I'm sorry, but I would really like an answer. Students and families need to know this," Bonamici said. She then repeated her previous question of whether DeVos knew of the consquences for transgender students of rolling back the Obama administration's guidance.
"I do know that," DeVos said. "But I will say again that [Office for Civil Rights] is committed to ensuring that all students have access to their education free from discrimination."
Bonamici then asked DeVos if she knew about a study published by the American Academy of Pediatrics that revealed "alarming levels" of attempted suicide among transgender youths when she rolled back the guidance.
"I'm aware of that data," DeVos responded.
DeVos recently came under intense scrutiny when she proposed an $18 million cut to the Special Olympics. The planned cuts came as part of the Trump administration's 2020 budget proposal, which sought to eliminate at least $7 billion from education programs.
Amid the backlash, DeVos doubled down on the proposal to cut federal funding for the Special Olympics, saying that while the government was "committed" to students with disabilities, it "cannot fund every worthy program.
"There are dozens of worthy nonprofits that support students and adults with disabilities that don't get a dime of federal grant money. But given our current budget realities, the federal government cannot fund every worthy program, particularly ones that enjoy robust support from private donations," she wrote.
But President Donald Trump quickly backed off the budget demand, essentially contradicting his education secretary as he told reporters that "the Special Olympics will be funded, I just told my people."
DeVos later issued a statement on Trump's remarks, writing that she was "pleased and grateful the president and I see eye to eye on this issue, and that he has decided to fund our Special Olympics grant. This is funding I have fought for behind the scenes the last several years."