Education Secretary Betsy DeVos has said the Trump administration is looking at withholding federal funds from schools that refuse to reopen amid the ongoing coronavirus pandemic.
Speaking to Fox News host Tucker Carlson on Tuesday night, DeVos said there was "no reason to withhold full-time education" as she said withholding funding from closed schools was "definitely" something to be considered.
The education secretary also lashed out at "fearmongering" adults that were "making excuses" for not opening schools as the U.S. has witnessed growth in the number of new COVID-19 cases.
Asked if the Department of Education could withhold federal funding to schools that won't reopen, DeVos said: "Well, that's definitely something to be looked at. The reality is most of the education funding comes from the state and local level, so in excess of 90 percent of it does.
"But what the president and all those at a roundtable today made very clear is the expectation that kids have got to continue their learning. There is no reason to withhold full-time education."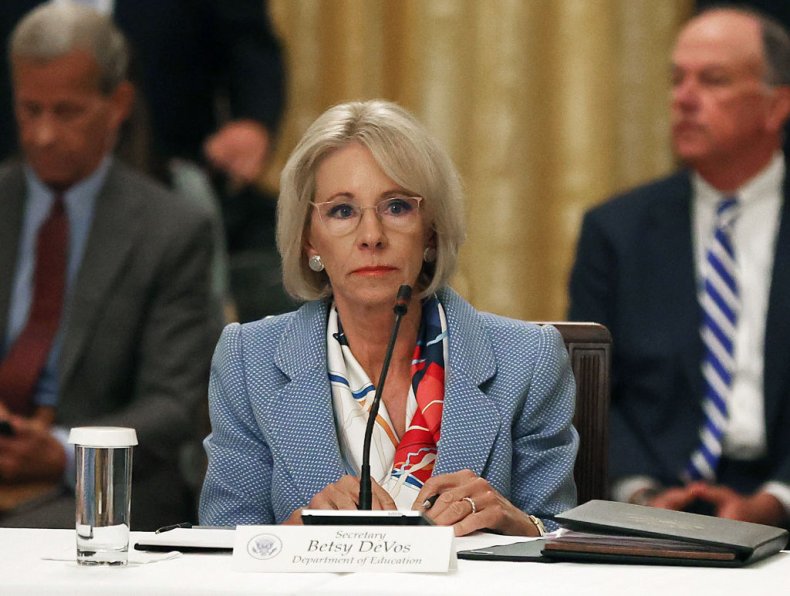 Later pressed on how seriously she was looking at withholding federal funding from schools, the education secretary said: "We are looking at this very seriously. This is a very serious issue across the country.
"Kids have got to continue learning, schools have got to open up. There has got to concerted effort to address the needs of all kids, and adults who are fearmongering and making excuses have simply got to stop doing it, and turn their attention on what is right for students and for their families."
Earlier in the interview, she added that pushback against schools reopening amid the continued spread of COVID-19 was "more an issue of adults who are more interested in their own issues" than those of their pupils.
DeVos said her department was "very seriously" looking with withholding federal funds from schools that remain closed despite President Donald Trump pressing for them to be reopened in the fall.
The New York Times reported on Tuesday that the education secretary, the president and other officials had begun urging state and city officials to mandate the return of in-person classes later this year.
"We're very much going to put pressure on governors and everybody else to open the schools," Trump said at the White House. "We want our schools open in the fall."
Teachers unions pushed back against the proposal in a joint statement released yesterday, saying educators and pupils could be put in danger without a "comprehensive plan" for a safe return to schools.
"Throughout this pandemic, the administration has failed to address the needs of students, especially those students who need the most support," the statement published by Politico read. "They have failed to listen to families and public school educators who have been on the frontlines serving their communities."
Newsweek has contacted the Department of Education for further comment. This article will be updated with any response.