Who Are the New Characters in 'Dexter: New Blood'—And Who's Returning?
Dexter (played by Michael C. Hall) is out for New Blood, as the new spin-off comes to Showtime. This time, the serial killer has moved from the heat of Miami to Iron Lake, New York, a place that really puts the "cold" into "cold-blooded killer."
Hall is returning as Dexter, and he is not the only guy to return from the original show. Jennifer Carpenter is back as Debra Morgan, returning somehow from beyond the grave to act as the killer's conscience. John Lithgow confirmed to Newsweek he was returning, as is Dexter's son Harrison—though a new actor (Jack Alcott) is playing him.
Mostly, though, the show has an entirely new cast, none of whom truly know what Dexter is capable of—though as the trailer hints that people in the town start to go missing, they might find out soon.
Read on for our full guide to who's who out of the new characters in the show.
Meet the new cast of Dexter: New Blood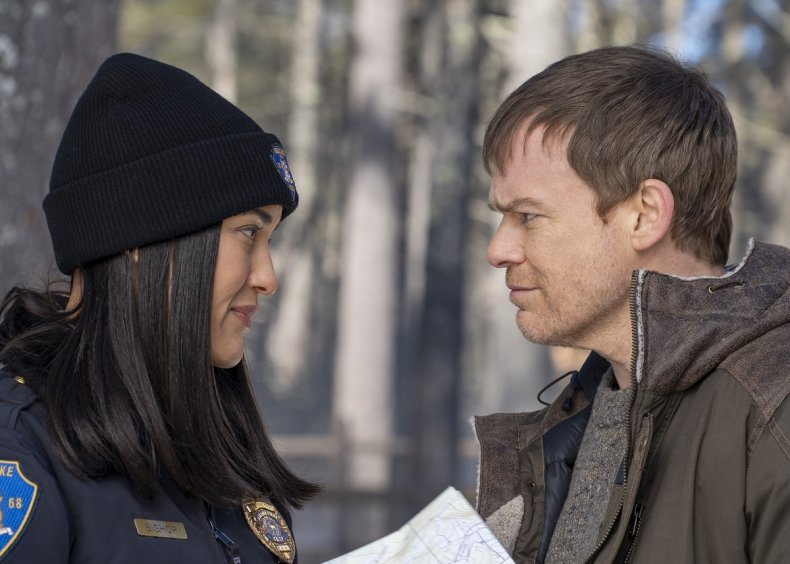 Angela - Julia Jones
Who is Angela: Iron Lake's chief of police, and the first Native American to hold the role. She is the first to notice a series of possibly linked crimes in the area—but also has a romance with Dexter, meaning she may have literally let the prime suspect into her bed.
Who plays her: Probably best known as Leah Clearwater from the Twilight franchise of films, more recently Julia Jones has had recurring roles in Longmire, Goliath and Rutherford Falls. She also appeared in an episode of The Mandalorian.
Audrey - Johnny Sequoyah
Who is Audrey: Angela's daughter, a high school student who is popular with her classmates—but is not afraid to cause trouble for a cause she believes in.
Who plays her: Johnny Sequoyah, who first found fame as a lead in the canceled after one season NBC drama Believe. Since then, she has starred in the film Wind Walkers and an episode of American Housewife.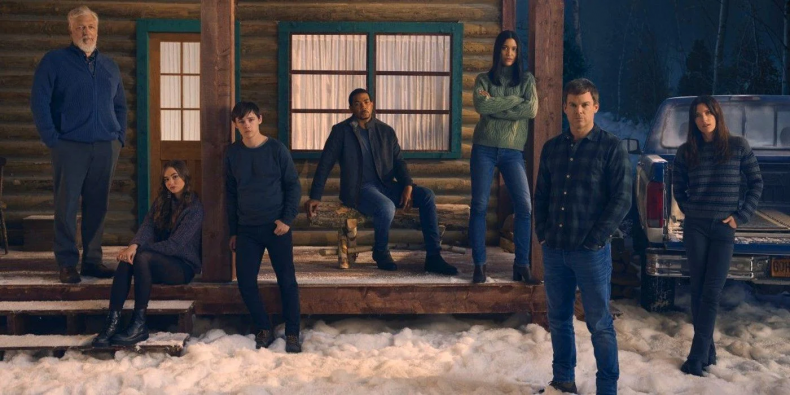 Kurt - Clancy Brown
Who is Kurt: The town's "unofficial mayor" (per Showtime), respected by the residents of Iron Lake. He owns the town's truck stop.
Who plays him: A cult character actor, Clancy Brown has over 300 credits on IMDb. Among many other roles, he has appeared in The Shawshank Redemption, Billions, The Flash and Starship Troopers. He is also the voice of Mr. Krabs in Spongebob Squarepants.
Logan - Alano Miller
Who is Logan: A police sergeant who works with Angela, and is also the wrestling coach at the local high school.
Who plays him: Best known for playing twins Aaron and Roman Zazo in Season 1 of Jane the Virgin, Alano Miller has also starred in Underground, Halt and Catch Fire and the Amazon Prime Video movie Sylvie's Love.
Also starring in Dexter: New Blood are:
Michael Cyril Creighton (Only Murders in the Building) as Fred, the owner of the local general store
Steve M. Robertson (Channel Zero) as Matt, Kurt's son with whom Dexter has an encounter in Episode 1.
David Magidoff (The Morning Show) as Teddy, Angela's co-worker at the police station.
Dexter: New Blood airs Sundays at 9 p.m. ET / 8 p.m. CT on Showtime.