Dharmesh Patel Charged With Attempted Murder of Family Over Cliff Crash
A California man accused of purposefully driving his family over a cliff in an attempt to kill them has reportedly been charged with attempted murder.
Dharmesh Patel, 40, allegedly intentionally drove a Tesla off a 250-foot cliff near Devil's Slide in San Mateo County on January 2 with his wife and two children inside the vehicle. All family members survived the crash, though they reportedly suffered some injuries and were taken to a hospital after they were rescued.
The San Francisco Chronicle, citing court records, reported Monday that Patel has now been charged with three counts of attempted murder. Enhancements for domestic violence and causing great bodily injury were included in the charges as well, according to the Chronicle.
The San Mateo County sheriff's office released pictures of the aftermath of the crash showing vehicle wreckage in the rocks at the bottom of the cliff. Brian Pottenger, a battalion chief for Coastside Fire Protection District/Cal Fire, provided additional details about the crash and rescue effort in a video on Twitter the day the incident occurred.
"We were actually very shocked when we found survivable victims in the vehicle. So that actually was a hopeful moment for us," Pottenger said.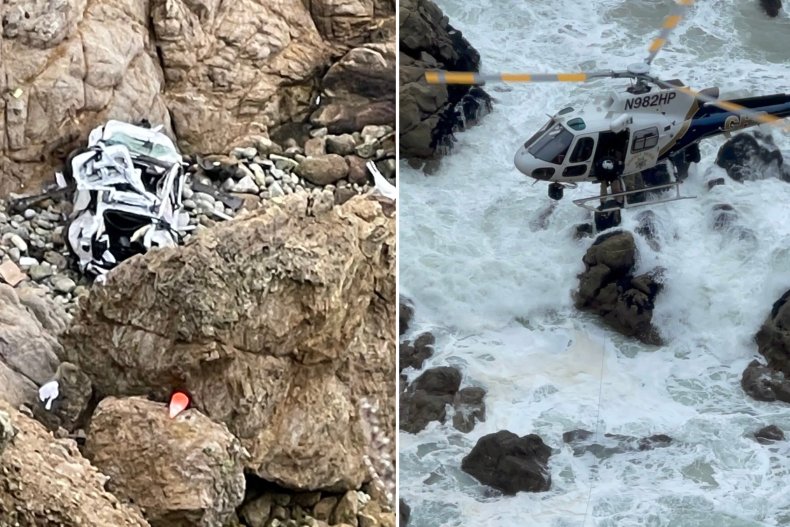 California Highway Patrol (CHP), which had been looking into the incident, released a statement earlier this month saying that its investigators gathered evidence from the scene of the crash and interviewed witnesses. CHP investigators "developed probable cause to believe this incident was an intentional act" based on the evidence they gathered.
Prosecutors reportedly sought to rule out other potential causes for the crash. San Mateo County District Attorney Steve Wagstaffe told the Los Angeles Times in an interview last week that his office was also looking into whether an issue with the car itself had caused the crash.
"Did the brakes fail? Were the brakes working? Were there any other mechanical malfunctions that would have led to him not being able to stop the vehicle?" Wagstaffe told the Times. "We're having the car looked at from top to bottom."
After an initial investigation, California Highway Patrol officer Mark Andrews said that the agency did not believe the Tesla was operating in Autopilot or Full Self-Driving mode when the crash occurred, according to the Associated Press.
Prior to filing the charges, the San Mateo district attorney's office said Friday that Patel was released from the hospital and jailed on suspicion of attempted murder and child abuse, according to the AP.
Newsweek reached out to the San Mateo County district attorney's office for comment. It was not immediately clear if Patel has a lawyer who can be contacted for comment.