With tensions between the U.S. and Canada on the rise, the Department of Homeland Security (DHS) has announced a "strengthened" Northern Border Strategy that it claims will help "combat terrorism" and "help facilitate travel and trade" at its border with Canada.
In a press release published Tuesday, the DHS said its new strategy "establishes a clear vision and concrete actions that will improve DHS's efforts to safeguard our northern border against terrorist and criminal threats, facilitate the safe and efficient flow of lawful cross-border trade and travel and strengthen cross-border critical infrastructure protection and community resilience."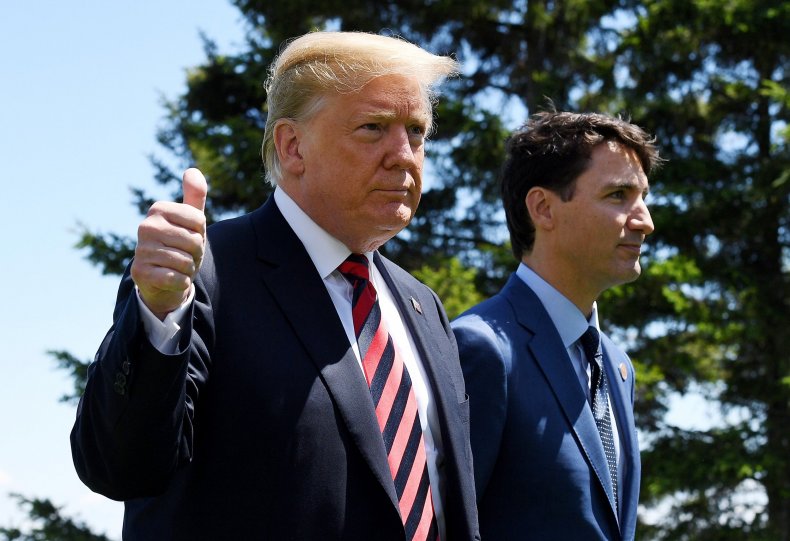 While the new border strategy opens with a summary calling the U.S. and Canada "two friendly nations with a long history of social, cultural and economic ties," tensions between the countries have increased.
The strategy's release comes just days after President Donald Trump announced steel, aluminum and auto tariffs on its northern ally, citing a "national security" threat. Trump also attacked Canadian Prime Minister Justin Trudeau, calling him "meek and mild" after a turbulent G-7 summit in Quebec.
Trump launched his attack after Trudeau on June 9 called the president's tariffs "insulting" and vowed to move forward with retaliatory measures on July 1. Canada would apply tariffs equivalent to the ones that Americans have "unjustly applied to us," Trudeau said.
"I have made it very clear to the president that it is not something we relish doing, but it is something that we absolutely will do," Trudeau said. "As Canadians, we are polite, we're reasonable, but also we will not be pushed around."
The Canadian leader received a swift response from the president, who abruptly withdrew U.S. support for a joint G-7 communiqué he had backed just hours earlier "based on Justin's false statements at his news conference and the fact that Canada is charging massive tariffs to our U.S. farmers, workers and companies."
The DHS said the updated Northern Border Strategy, which "supersedes" the 2012 DHS strategy, draws upon the findings from a Northern Border Threat Analysis Report delivered to Congress in the summer of 2017.
According to the DHS, the report concluded that while the Northern border "remains an area of limited threat in comparison to the U.S. Southern border, safeguarding and securing the Northern border presents unique challenges."
According to the updated strategy, "The most common threat to U.S. public safety along the Northern border continues to be the bi-directional flow of illicit drugs."
"Transnational criminal organizations are also active along the border and they continually adapt their drug production, smuggling methods, and routes to avoid detection by U.S. and Canadian law enforcement," the document states.
It adds that the U.S. also faces "potential terror threats...primarily from homegrown violent extremists in Canada who are not included in the U.S. Government's consolidated terrorist watch list and could therefore enter the U.S. legally at the Northern Border ports of entry without suspicion."
Despite identifying similar goals, including "deterring and preventing terrorism and smuggling, trafficking and illegal immigration," the 2018 border strategy appears to be markedly stronger in its language than that used in the 2012 plan. That document was introduced as the "first unified DHS strategy" for the northern border under the Obama administration, when former Canadian Prime Minister Stephen Harper was in office.
The DHS has said it will engage with "key state, local, tribal and Canadian partners" to implement the new strategy and plans to "develop the Northern Border Strategy Implementation Plan within 180 days of the Strategy's approval."
The department said the strategy would be reviewed and updated every five years.