The Department of Homeland Security has prevented congressional staffers from the House Oversight Committee from visiting additional migrant detention facilities along the southern border after allegedly making troubling discoveries in recent weeks at other detention centers, according to a letter sent to DHS Acting Secretary Kevin McAleenan on Thursday.
The chairman of the panel, Democrat Elijah Cummings, wrote that in the past two weeks, a bipartisan group of committee staffers made visits to several facilities housing adults and children accused of illegally crossing the U.S.-Mexico border and heard concerning allegations from detainees. Afrer those visits, they were barred from conducting a second trip to see 11 additional facilities — a move that only creates further tension between the Trump administration and the committee as it continues to investigate the president's immigration policies.
Migrant detainees told the committee staffers that toddlers, including an infant, held at U.S. Customs and Border Patrol (CBP) facilities were being fed burritos — as opposed to age-appropriate food — and a child was told by a CBP agent to drink spilled soup off the floor before receiving more food. Additionally, the detainees said children were held in cold rooms without the appropriate clothing, parents weren't given enough diapers for young children and they were pressured into signing documents in English without translation, according to Cummings' letter.
Detainees at Immigration and Customs Enforcement (ICE) facilities, Cummings continued, allegedly told staffers there was rotten food and inadequate access to medical care, a "voluntary work program" that afforded migrants with less than $2 per day for household work and that some detainees had been held for more than one year.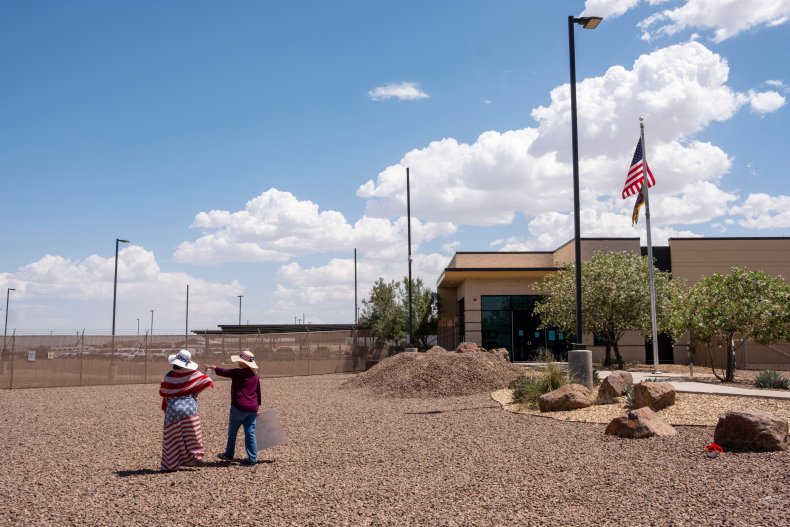 "It appears that the Administration expects Congress to be satisfied with receiving agency tours of facilities — in some cases without the ability to photograph conditions or interview detainees — and not to question the policies or decisions that agency officials make," the Maryland congressman wrote to McAleenan. "That is not the way effective oversight works. Congress has an independent responsibility under the Constitution to determine whether federal programs are operating as they should be — not merely to accept the Administration's word for it."
But in a Tuesday letter to Cummings that was obtained by Newsweek, Representative Jim Jordan, the top Republican on Oversight, wrote that claims of mistreatment by detainees were false, based on what his staffers on the trip told him. Jordan claimed Cummings' staffers had been "rude" and "dismissive" toward law enforcement and immigration officials, thus resulting in the inability to tour more facilities.
"No detainees expressed to us any serious mistreatment — although some complained the facilities' air conditioning was too cold — and our staff observed no unsafe or unsanitary conditions," the Ohio lawmaker wrote, adding his belief that Cummings has "a history of releasing cherry-picked information that results in a misleading narrative."
In his letter to McAleenan, Cummings acknowledged there were rules and guidelines — though they allegedly differed at each detention center — that are established by DHS for committee staffers to abide by, such as advanced notice and restrictions on pictures and the duration of visits. Cummings denied the notion by Jordan that his staffers disobeyed any of the agreed-upon rules, and he accused immigration officials at both CBP and ICE facilities of not adhering to said guidelines. Despite this, Cummings said his staff complied, "contrary to claims" by Jordan, and that they "never once refused to abide by instructions from agency officials."
While en route to 11 additional migrant detention centers in Texas on Monday, DHS informed the bipartisan group of committee staffers that they'd no longer be allowed to visit, according to Cummings, and that ICE instituted new restrictions going forward, such as prohibiting staff from local lawmakers' offices to accompany congressional committee staffers and two-hour time limits on visits.
DHS did not immediately respond to Newsweek's request for comment about the allegations from Cummings' staffers.
Reports by the DHS inspector general's office, the government agency's internal watchdog, has painted similar troubling pictures of "dangerous overcrowding" and prolonged stays at migrant detention centers, including a lack of access to proper bedding, clothing, showers, food and hygiene products. Acting IG Jennifer Castello testified about the matter to the Oversight Committee in July, followed days later by the testimony of McAleenan, who stated he was "willing to work with any [Congress] member who wants to have a serious dialogue on these issues."
Cummings asked McAleenan in his letter to reverse course on the new restrictions and "provide meaningful access" to all immigration facilities to committee staffers.
"The Department's last-minute denial of access to CBP facilities and unwarranted restrictions at ICE facilities are unacceptable and impair the Committee's ability to conduct its oversight responsibilities in an effective manner," Cummings wrote.