DHS Faces Backlash for Plan to Send 'SWAT' Teams Out to 'Knock on Doors' Across Sanctuary Cities
The Department of Homeland Security (DHS) is moving ahead with a plan to send Border Patrol "SWAT" teams out to sanctuary cities in an effort to track down undocumented immigrants that benefit from policies barring local law enforcement from assisting the U.S. Immigration and Customs Enforcement (ICE) agency.
Speaking with Greta Van Susteren on Full Court Press in an episode published online on Sunday, DHS acting Secretary Chad Wolf said Border Patrol Tactical Unit (BORTAC) teams would be deployed to a number of sanctuary cities across the country.
"Their SWAT job is not their only job," he said in the Sunday interview. "These are Border Patrol agents, CBP [Customs and Border Protection] agents that are specially trained to do additional duties above and beyond what they do every day."
Wolf claimed that the elite tactical units were necessary in sanctuary cities to help track down undocumented immigrants with final orders for removal after they are released from the custody of local law enforcement.
ICE will typically try to place a "detainer," or a request for local law enforcement to hold arrested individuals with removal orders in custody, until the immigration agency can detain them and oversee their deportation.
However, cities with sanctuary policies obstruct ICE's efforts by barring local law enforcement bodies from turning undocumented immigrants in their custody over to ICE.
"The issue that we have with sanctuary cities is instead of having one officer going in a jail setting and picking up an illegal alien who has a final order of removal, sanctuary cities don't allow us to do that," Wolf said. "They release that alien into the community and now we have to send a team of agents to go into the community, to knock on doors, and try to locate an individual or a set of individuals."
"So, we need more than one or two officers to do that," he continued. "So, as sanctuary cities continue to pop up, we continue to need more resources to go into these communities."
Wolf asserted that the DHS "wouldn't have to bring these folks [Border Patrol tactical units] in if the jurisdictions would cooperate with ICE."
"If they would let local law enforcement honor a detainer, if they would provide resources to help ICE go in these communities [and] pick up the individuals who have a final order of removal," he said.
According to a CBP fact sheet published on the agency's website, BORTAC teams are meant to provide "an immediate-response capability to emergent and high-risk incidents requiring specialized skills and tactics."
Initially created in 1984 to serve as a "civil disturbance" response unit following rioting at legacy Immigration and Naturalization Service detention facilities, the BORTAC unit has evolved in the years since to fulfill a range of duties, including providing a "high-risk warrant service; intelligence, reconnaissance and surveillance; foreign law enforcement."
The BORTAC teams, which "can be called upon to deploy immediately when needed" are also meant to have a "global response capability," having conducted training and operations with foreign and domestic law enforcement, as well as military entities throughout the U.S. and around the world, according to CBP. Among the initiatives BORTAC has been involved in are Operation Iraqi Freedom and Operation Enduring Freedom.
Among the "intense training" BORTAC team members are meant to undergo are "operational planning, advanced weapon skills, defensive tactics and airmobile operations."
While the unit's training has stoked fears that the DHS is seeking to ramp up its enforcement tactics, in a statement sent to Newsweek, acting ICE Director Matthew Albence suggested that the decision to bring in the BORTAC unit had more to do with addressing a lack of resources.
"ICE is utilizing CBP to supplement enforcement activity in response to the resource challenges stemming from sanctuary city policies," Albence said.
"As we have noted for years, in jurisdictions where we are not allowed to assume custody of aliens from jails, our officers are forced to make at-large arrests of criminal aliens who have been released into communities. This effort requires a significant amount of additional time and resources," he said, adding: "When sanctuary cities release these criminals back to the street, it increases the occurrence of preventable crimes, and more importantly, preventable victims."
In a separate statement, a DHS spokesperson said "the crisis at the border affects communities throughout the United States and has a huge impact on ICE."
"The crisis at the border led to a significant increase in the number of non-detained cases which surpassed 3.2 million in FY19, up from 2.6 million in FY18 and 2.4 million in FY17," they explained.
The DHS spokesperson echoed Albence's claim that the deployment is pinned on a lack of resources, asserting: "With 5,300 [ICE Enforcement and Removal Operations] law enforcement officers—some of whom were detailed to the border—ICE does not have sufficient resources to effectively manage the sustained increase in non-detained cases which is exacerbated by the rise of sanctuary jurisdictions."
"The CBP agents and officers who are being detailed to help ICE come from a number of different sectors and job positions," they further explained. "While some of them are trained in tactical operations, that is one of the many areas of training. These officers have also been trained in routine immigration enforcement actions which is what they have been asked to do."
Asked whether the DHS had any safety concerns about sending tactical teams out to do routine law enforcement, the DHS spokesperson said they had "no concerns."
While the DHS has sought to defend plans to deploy specialized teams to "knock on doors" in sanctuary cities in the U.S., Democrats have been quick to condemn the plan.
Both Massachusetts Sens. Elizabeth Warren, who is running in the 2020 Democratic presidential race, and Ed Markey have called on the CBP agency, which oversees the Border Patrol, to pull the plug on the plans.
In a letter addressed to CBP, ICE and DHS leadership, Warren and Markey brand the plan "unnecessary, unwelcome, dangerous, menacing, retaliatory and unlikely to achieve its stated goal."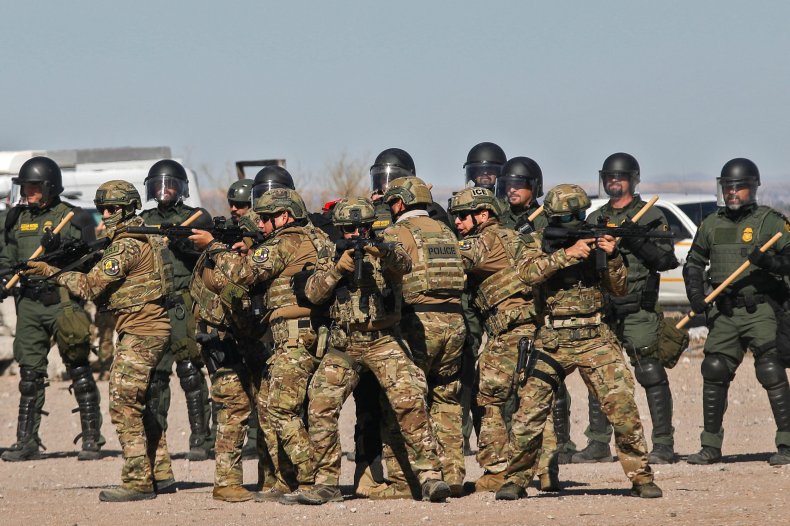 BORTAC teams, they note, are meant to be called upon to address dangerous situations that run outside of the field of duties that Border Patrol and ICE agents are able to handle—not for "run-of-the-mill immigration arrests."
If the plan does move forward, Warren and Markey have outlined a list of questions that they have asked federal officials to respond to by February 24. The senators are demanding to know how many CBP personnel who would be deployed to assist ICE are BORTAC members, which communities BORTAC members would be deployed to and what specific orders BORTAC teams are being given.
Newsweek has repeated those questions to CBP, ICE and the DHS in addition to asking further questions on the deployment plans. Newsweek has also contacted Warren's and Markey's offices.
In the meantime, BORTAC agents are expected to be deployed across a number of cities including Chicago, New York, Newark, New Jersey, Detroit, San Francisco, Los Angeles, Houston, Boston, Atlanta and New Orleans, according to The New York Times, which cited two unnamed officials who are familiar with the operation. Some of the cities are known as sanctuary cities, while others, like Houston, for example, are technically barred from enforcing sanctuary laws due to state legislation.
A spokesperson for CBP told The Times the agents would help "enhance the integrity of the immigration system, protect public safety, and strengthen our national security."
This article has been updated with statements from ICE and the DHS.