An intelligence report from the Department of Homeland Security (DHS) states that anti-fascist activists (Antifa) are being investigated as possible terrorists with affiliations to Syria, even though no self-identified members of the loosely-affiliated Antifa protest movement have either been proven to commit any murders or carry out any terrorist attacks.
The July 14 report, entitled "The Syrian Conflict and its Nexus to the U.S.-based Antifascist Movement," states "ANTIFA is being analyzed under the 2019 DHS Strategic Framework for Countering Terrorism and Targeted Violence," according to a copy of the document obtained by the progressive political magazine The Nation. It received a copy from someone who previously worked on DHS intelligence.
The report details more than half a dozen people identified with various far-left causes who have personally visited Syria to fight alongside Kurdish factions. The factions include the YPG, the People's Defense Unit; the PKK, the Kurdistan Workers' Party; and the Peshmerga, military forces that provide security for Iraq's autonomous Kurdistan Region. None of these organizations are currently listed by the U.S. as terrorist groups.
"There appears to be a clear connection ... between ANTIFA ideology and Kurdish democratic federalism teachings and ideology," the report stated. "(U.S. Customs and Border Protection) concern about and interest in these individuals stems from the types of skills and motivations that may have developed during their time overseas engaged in foreign conflicts."
While the report said that Antifa and the Kurdish factions share some "Marxist, socialist, communist and anti-fascist" ideologies that are sometimes "far-left" and "utopian," the report also concluded that, "apart from a single instance derived from open-source reporting," there's no evidence of centralized-foreign efforts to command Antifa-affiliated U.S. citizens once they return to the U.S. after fighting abroad.
One person named in the report, Bruce Belden, said, "I am not now nor have I ever been a member of any Antifa organization."
Steven Aftergood, director of the Federation of American Scientists Project on Government Secrecy, told The Nation that he fears that by labeling Antifa as a foreign-supported terrorist organization, the federal government may be making it easy to subject protesters affiliated with the movement to warrantless searches and surveillance that would otherwise be illegal and unconstitutional against U.S. citizens.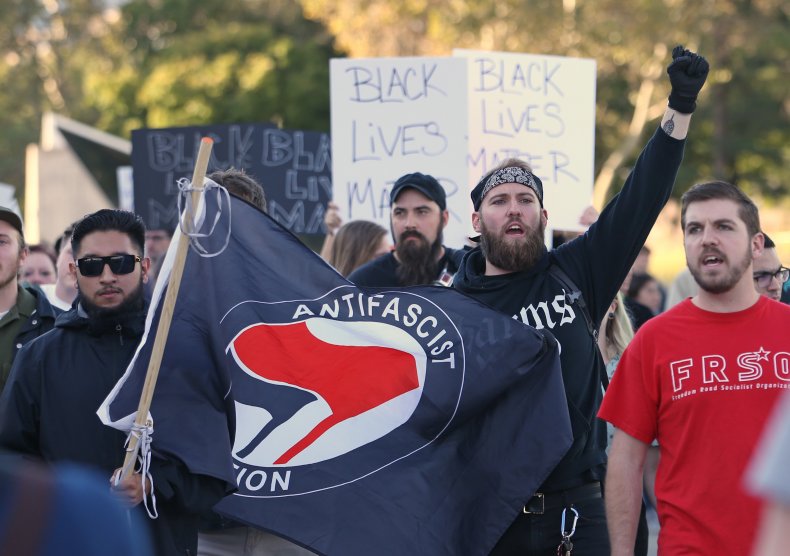 On July 27, President Donald Trump said that he wanted to declare Antifa as a "terrorist organization" even though they've never been proven to have killed anyone or carried out a terrorist attack.
A terrorist attack, according to the Patriot Act, must be "dangerous to human life" and "a violation of the criminal laws of the U.S." in seeking to "intimidate or coerce a civilian population," "influence the policy of a government" or "affect the conduct of a government."
The autonomous groups that make up the Antifa movement generally oppose neo-Nazis, fascism, white supremacists, racism and other types of extreme right-wing ideology.
While some Antifa members have engaged in vandalism and physical violence, they have not yet been linked to any killings in the U.S., according to the Center for Strategic and International Studies. Other known hate groups that have committed murders in the 21st century haven't been designated as terrorist organizations by the United States either.