DHS' McAleenan Praises Trump Tariff Threat, Says Mexico Brought 'Real Proposals' Because of President's Power Move
Fox News anchor Bret Baier pushed acting Homeland Security Secretary Kevin McAleenan to describe anything "new" in President Donald Trump's deal with Mexico, which led him to brag that Trump's tariff threats brought Mexican officials to the table within hours.
Speaking with Fox News' Bret Baier Sunday, McAleenan pushed back on a New York Times report that described Trump's deal as consisting "largely of actions that Mexico had already promised to take."
Baier asked McAleenan to describe anything new from Trump's deal and to explain why Trump bragged Sunday morning that no previous administration has been able to get Mexico to agree to talks.
McAleenan praised Trump's tariff threats, citing the move as the power move which forced Mexico to come with "real proposals."
"How much of this is new?" Baier asked McAleenan.
"All of it is new," McAleenan claimed Sunday. "I mean, we've heard commitments before from Mexico to do more on their southern border. The last time they deployed down there, it's about four or five hundred officers. This is a more than tenfold commitment to increase their security in Chiapas. That's where people are entering from Guatemala in southern Mexico."
After being pressed by Baier to lay out specifics, McAleenan continued, "It's very different. The president put a charge on this whole dialogue with the tariff threat [and that] brought them to the table, the foreign minister form Mexico arrived within hours — he arrived the next day with real proposals on the table."
"This is the first time we've heard anything like this kind of law enforcement being deployed in Mexico to address migration, not just at their southern border but also on their transportation routes to the northern border," McAleenan said.
He noted a State Department announcement that there will be additional actions and further dialogue with Mexico on immigration. The two countries are hoping to "manage this asylum flow in the region, which is a small percentage of the total flow."
Earlier this month, McAleenan beat the drum of tariff threats in an interview with CNN's Jake Tapper. "We need Mexico to step up and do more. We need them at the table looking at new strategies that we can aggressively move out on."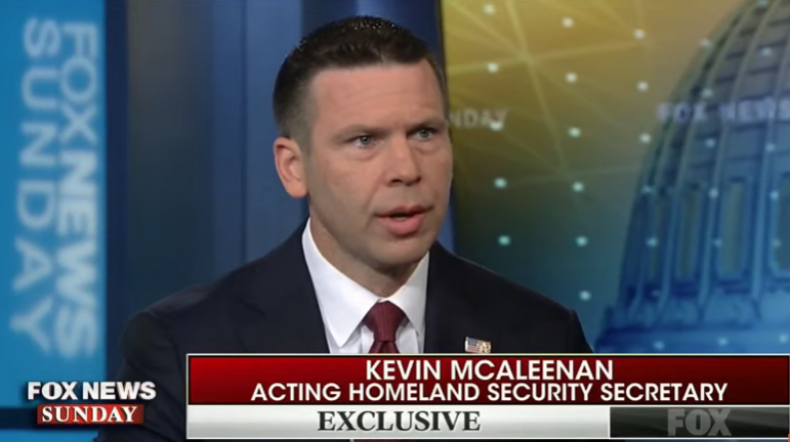 On Sunday morning, Trump railed against "another false report in the failing" New York Times, reiterating that Mexico is only being cooperative because of his hardball tactics. He then floated his own importance in what he described as a historical piece of cooperation between the neighboring countries.
"There is now going to be great cooperation between Mexico & the USA, something that didn't exist for decades," Trump tweeted Sunday. However, if for some unknown reason there is not, we can always go back to our previous, very profitable, position of Tariffs - But I don't believe that will be necessary. The Failing @nytimes, & ratings challenged @CNN, will do anything possible to see our Country fail! They are truly The Enemy of the People!"
Mexican Ambassador to the U.S. Martha Bárcen appeared on CBS' Face the Nation Sunday to provide some detail on how quickly America could expect to see reductions in migration, and what sort of reductions would satisfy the Trump administration.
"What we talked [about] was that the numbers have to go down back to previous levels that we had maybe last year," explained the ambassador. "What we are seeing is that this surge of migrants was totally unexpected, both for Mexico and the U.S. If you think that almost one percent of the Honduran population has left the country in the last five months, and the same for Guatemala, then you have to realize that we are really in front of a humanitarian tragedy."
Bárcena said the expanded deployment of state police in Mexico to combat this migration should start seeing results in the next month to month-and-a-half.