DHS Official Says Hanukkah Stabbing Suspect Lacked 'American Values' As Dad Was Once Undocumented Immigrant in Deleted Tweet
In a Monday tweet that has since been deleted, acting Deputy Secretary of the Department of Homeland Security (DHS) Ken Cuccinelli seemed to imply that the suspect in a hate crime committed the act because his father had been an undocumented immigrant.
"The attacker is the US Citizen son of an illegal alien who got amnesty under the 1986 amnesty law for illegal immigrants," Cuccinelli tweeted. "Apparently, American values did not take hold among this entire family, at least this one violent, and apparently bigoted, son."
Newsweek reached out to DHS for comment regarding Cuccinelli's tweet but did not receive a response in time for publication.
Cuccinelli is known for his hard line towards immigration policies saying that legal immigrants who receive government benefits could face deportation in an August interview with NPR.
Cuccinelli said that the U.S. would welcome "All immigrants who can stand on their own two feet, be self-sufficient, pull themselves up by their bootstraps."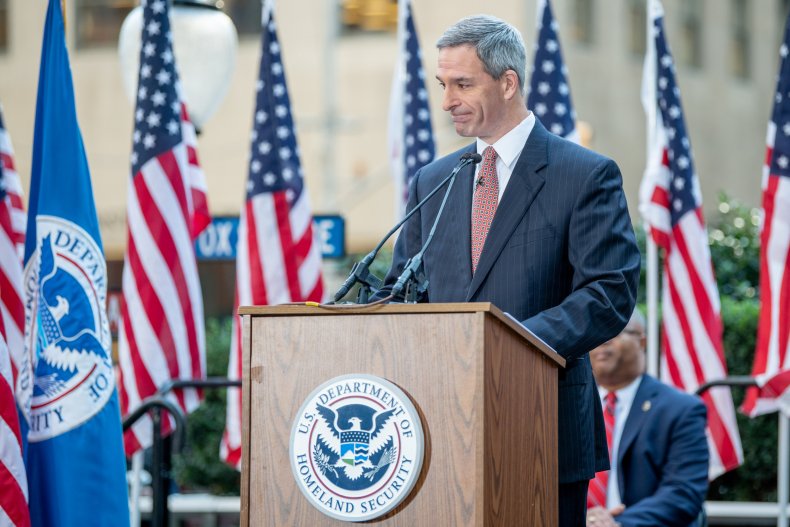 The attacker referenced in Cuccinelli's tweet was Grafton Thomas, who stands accused of breaking into the Monsey, New York home of a rabbi and stabbing five Hasidic Jews who were celebrating Hanukkah with an 18-inch long machete Saturday night. There were nearly 100 people in attendance at the celebration.
Thomas has pleaded not guilty to five counts of attempted murder and one count of first-degree burglary. His bail was set at $5 million.
According to a statement released on behalf of Thomas's family, Thomas was not involved with any known hate groups.
"Grafton Thomas has a long history of mental illness and hospitalizations," the statement read. "He has no history of like violent acts and no convictions for any crime. He has no known history of anti-Semitism and was raised in a home which embraced and respected all religions and races."
However, a news release issued by the Southern District of New York says that investigators found journals in Thomas's home with "several pages of anti-Semitic references."
"Thomas's cellphone contained Internet searches dating back to at least November 2019 for terms such as 'Zionist Temples' in Staten Island and New Jersey," the statement continued, "as well as a webpage visit on the day of the attack to an article titled 'New York To Increase Police Presence After Anti-Semitic Attacks.'"
"In this instance, the local community was engaged, and their actions were essential to saving lives and led directly to Mr. Thomas's capture," said FBI Assistant Director William F. Sweeney Jr. "It's the rest of our community's joint responsibility to step up and engage as well—don't give hate a platform to propagate and don't dismiss this type of behavior as someone else's problem, address it and immediately report suspicious activity to authorities."