DHS Secretary Kirstjen Nielsen Says U.S. Has No Plans 'Right Now' to Shoot at Caravan
Department of Homeland Security (DHS) Secretary Kirstjen Nielsen said that the U.S. was prepared to bring "everything we can" to protect its ports of entry at the southern border "and the people who work at them," as a caravan of thousands of Central American migrants makes its way to the U.S. border to seek asylum.
Speaking with Fox News anchor Martha MacCallum on Thursday, the DHS chief said her department would be working closely with the Department of Defense to organize its strategy, adding, "We're waiting to see what the caravan's gonna do, what numbers are looking like, where they're headed."
Asked by MacCallum if she could see any interaction between migrants and military troops turning violent, the DHS chief said, "We do not have any intention right now to shoot at people. They will be apprehended, however.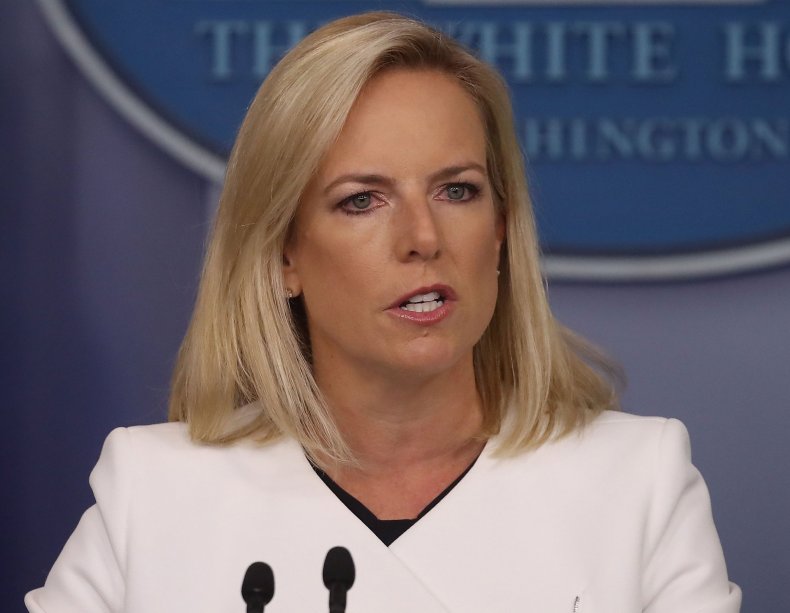 "But I also take my officers and agents, their own personal safety, extraordinarily seriously. They do have the ability, of course, to defend themselves."
"So, if shot at, they would shoot back?" MacCallum asked Nielsen, who quickly responded, "No, I just think we'd have to work through that, but I want to make it very clear we will absolutely not tolerate violence against Border Patrol in this situation.
"These are dedicated men and women risking their lives every day," she said. "I will not tolerate Mexicans or anybody else acting in a violent way towards our men and women on the border."
The DHS secretary said the Trump administration hoped to avoid a standoff similar to the one that occurred at the Guatemala-Mexico border, where caravan members clashed with Mexican police in riot gear.
Nielsen's comments were made as the Trump administration was reported to be sending as many as 800 troops south to fortify the U.S.-Mexico border, according to The New York Times.
The DHS chief said her department was still working out what the "rules of engagement" would be around the Department of Defense's involvement, adding that those plans would largely be left to its secretary, James Mattis.
Read more: Migrant caravan map: Asylum seekers move north through Mexico toward U.S. in 'mass exodus'
President Donald Trump has repeatedly railed against the caravan of migrants currently traveling through Mexico toward the U.S. border, urging asylum seekers to turn back.
He has also vowed to punish countries that fail to stop the caravan from making its way toward the U.S., asserting that his administration would begin cutting, or at least significantly reducing, U.S. aid to Honduras, El Salvador and Guatemala, the three countries that most of the migrants traveling with the caravan are fleeing.
Many asylum seekers have fled their countries in search of refuge from threats of violence and political and economic instability.
Before the Trump administration's crackdown on immigration, illegal border crossings in the U.S. had been on the decline since record highs documented in the early 2000s.
The latest figures from the U.S. Customs and Border Protection agency showed that 396,579 undocumented immigrants were apprehended after entering the country illegally in 2018, with another 124,511 people presenting themselves at ports of entry to make asylum claims.
Comparatively, in 2000, more than 1.6 million people were apprehended crossing the border illegally, with the number dropping to 1.3 million 2001.