DHS Secretary Nielsen Denies Democrat's Accusation She Refused to Testify on Border Security: 'We Have Much to Discuss'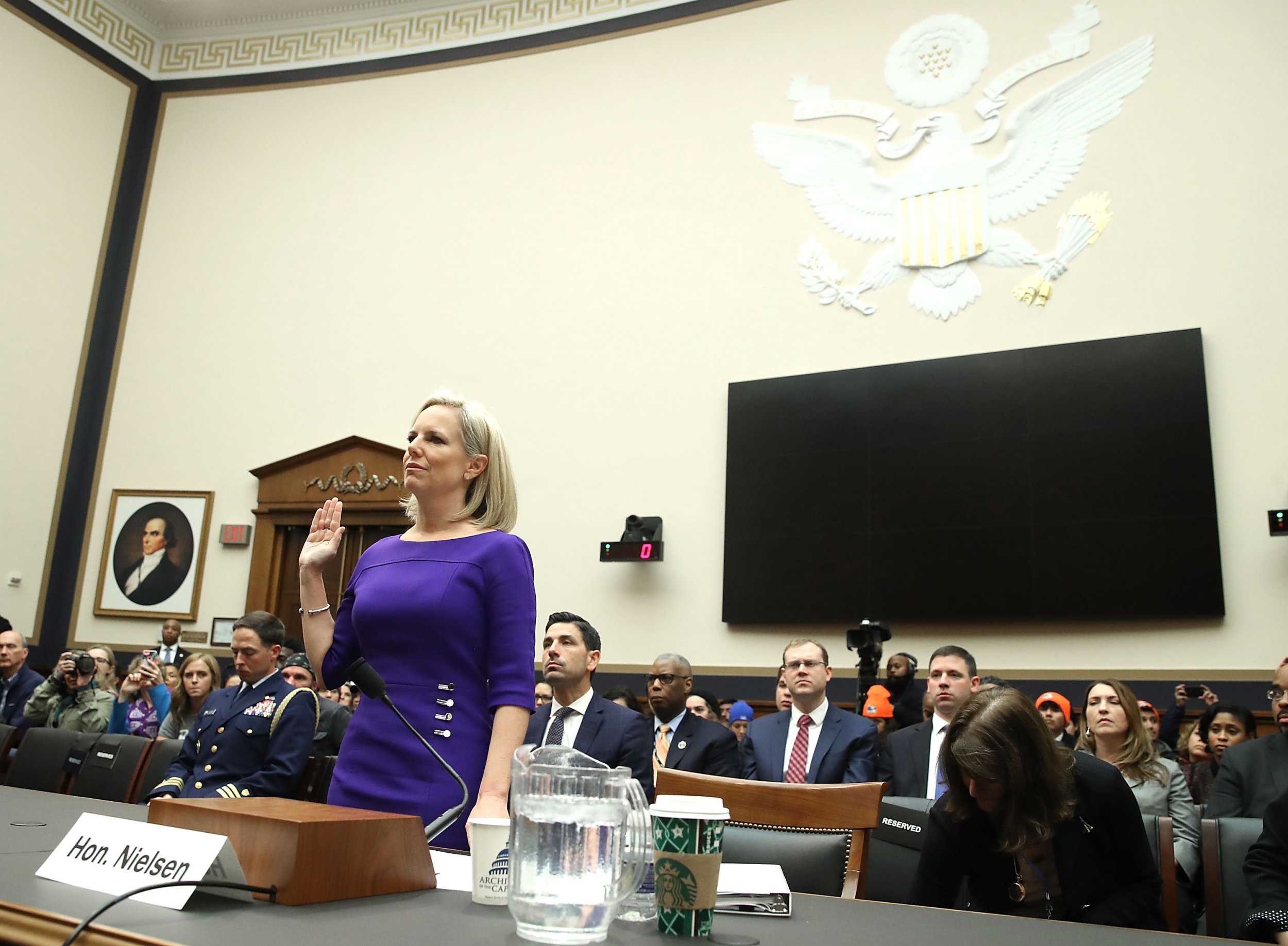 Department of Homeland Security Secretary Kirstjen Nielsen sent a letter to DHS House Committee Chairman Bennie Thompson on Wednesday, denying his previous claim that she refused to testify before the committee next week about border security, according to a letter obtained by Newsweek.
Thompson previously requested that Nielsen testify on border security matters before the February 15 deadline for Congress to appropiate additional funding, which Nielsen said in her letter she will not be able to do. If lawmakers fail to strike a border security deal, including a compromise on Trump's wall, the president has said he will allow another government shutdown to ensue.
"I have never refused to testify before the Committee," Nielsen said in her letter to the Democrat, which was obtained on Thursday. It can be read in full at the bottom of this article.
Nielsen said her and the committee's office "have been attempting to find a mutually agreeable date to meet," something not mentioned by a spokesperson for Thompson in a previous statement. DHS did deny Thompson's claims earlier, but the secretary's response directly to the chairman was unknown.
"To avoid any further confusion, I would like to reiterate that, although I am not available on February 6, 2019, I am available as early as the week of February 18 and I look forward to appearing before the Committee to discuss important border challenges and the statutory changes, authorities, tools and resources DHS needs to execute its border security mission," Nielsen said.
In response to Newsweek's inquiry regarding Nielsen's letter, a spokesman for the DHS Committee said "our staff should communicate shortly and hopefully come to a mutually agreed upon date in February." In a scathing letter sent to the secretary on Tuesday and that was made public, Thompson alleged Nielsen was refusing to testify before the committee on February 6. He called it "unreasonable," "unacceptable" and "outrageous."
"Your attempt to use the President's recent shutdown as an excuse not to testify before Congress prior to the impending shutdown is outrageous," Thompson wrote. "As Secretary of Homeland Security, you should be prepared to testify on border security, the very issue that caused the recent shutdown, at any time and certainly prior to the potential February 15 lapse in appropriations."
Nielsen, in her response, told Thompson she was "surprised to hear your assertion in the press that I canceled a meeting with you."
"As I was out of town and traveling to the border on January 29, the proposed date offered by your office did not work and our staffs were still in the process of finding a mutually workable date," Nielsen continued. "I look forward to sitting down with you in the near future. We have much to discuss."
This story has been updated to include comment from a DHS Committee spokesman.