DHS Suspends Horse Patrols Amid Backlash Into Treatment of Haitian Migrants in Texas
The Department of Homeland Security (DHS) has temporarily suspended the use of horse patrol in Del Rio, Texas, a DHS spokesperson told Newsweek on Thursday.
"We have ceased the use of the horse patrol in Del Rio temporarily. We'll prioritize other methods for identifying individuals who might be in medical distress," the spokesperson said. They did not provide any further details.
A DHS official told reporters on Thursday that the department didn't have the information that should indicate the overflow of migrants into the sector over the past week, CNN reported.
The decision comes after a video showing Border Patrol officers' hostile confrontations with Haitian migrants circulated this week. The video prompted an ongoing investigation into the incident.
The footage that surfaced on social media this week showed a border patrol officer riding on a horse and apparently lashing Haitian migrants using a leather rein. The agents were reportedly attempting to block migrants' movements.
Homeland Security Secretary Alejandro Mayorkas said he was "horrified" by the images. In an interview earlier with CNN, he said that "The pictures that I've observed troubled me profoundly. Any mistreatment or abuse of a migrant is unacceptable."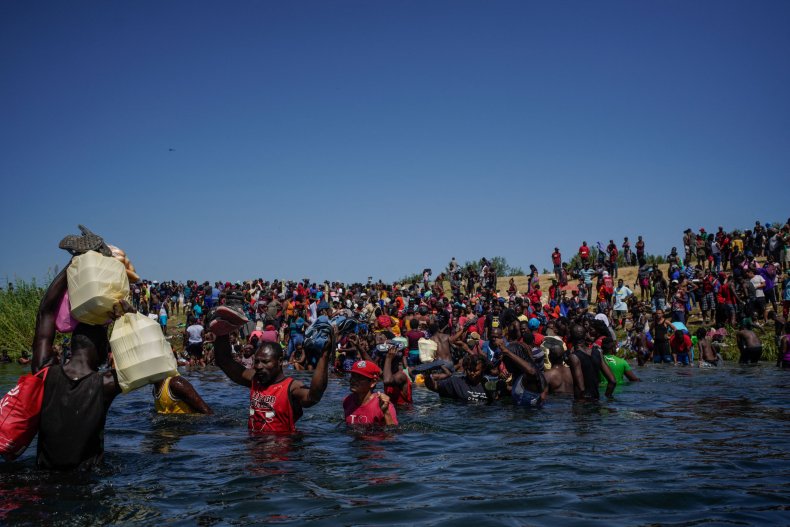 The footage sparked outrage with Democrats, with Representative Bennie Thompson of Mississippi, chairman of the House Homeland Security Committee, urging Mayorkas to "take immediate action to hold those responsible accountable."
Additionally, House Speaker Nancy Pelosi said that the "use of what appear to be whips" was "deeply troubling" and echoed calls for an investigation. "All migrants seeking asylum must be treated in accordance with the law and with basic decency," she said.
Vice President Kamala Harris told reporters Tuesday that she would be discussing the incident with Mayorkas.
"What I saw depicted about those individuals on horseback treating human beings the way they were was horrible," she said. "And I fully support what is happening right now, which is a thorough investigation into exactly what is going on there. But human beings should never be treated that way. And I'm deeply troubled about it."
On Monday, the DHS announced that the horse patrol incident will be investigated. The announcement came shortly after Mayorkas appeared alongside Border Patrol Chief Raul Ortiz to discuss efforts to handle the encampment of thousands of Haitian migrants in and around the small city of Del Rio.
As of Thursday, thousands of migrants are currently staying in overcrowded makeshift camps under the Del Rio bridge as they wait to be processed by the Border Patrol, according to the outlet.
Update, 9/23/21 at 3:43 p.m. ET: This story has been updated with a statement made to Newsweek by a Department of Homeland Security spokesperson.