'Diablo 3' Switch Port Leaked, Includes Special 'Zelda' Items
It looks like Diablo 3 is coming to the Nintendo Switch. This information, a rumor for now, comes from a Forbes article that has since been taken down. Thankfully, members of the Nintendo Switch subreddit took screenshots of the article, so we know exactly what it says.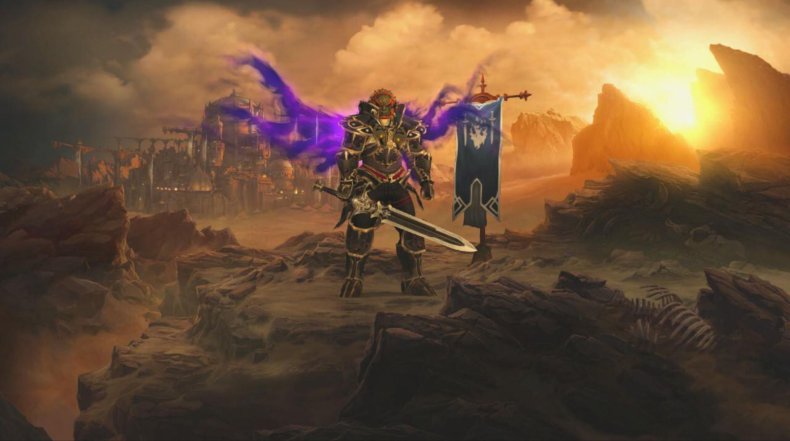 The Forbes article doesn't include a release date, but does have a bunch of info on the Diablo 3 Switch port. Up to four players can join in a single game on one Switch. Similarly, up to four players can join together wirelessly (without an internet connection) on separate Switch consoles to play together. Like any other console, Switch gamers can also use the Nintendo Switch Online service once it is launched to play with friends.
It was also confirmed in the Forbes article that special Nintendo-themed items are included in the Diablo 3 Switch port. These include the Legend of Ganondorf cosmetic aromor set, a chicken pet, Echoes of the Mask cosmetic wings and a Tri-Force portrait frame.
The Nintendo Switch release of Diablo 3 will include all previously-released bonus content, according to the leak. This includes the Reaper of Souls and Rise of the Necromancer DLC.
This isn't the first time we've heard about Diablo 3 on the Switch. A post from the official Blizzard Twitter account back in February prompted a minor swirl of rumors, but company officials were quick to point out the tweet was intended as a joke.
A second rumor popped up back in March, and was reported on by Eurogamer. This rumor now seems like it is accurate, given the odd article from Forbes. To see the screenshots from the Forbes article for yourself, they can be found right here: 1, 2, 3.
So what do you think? Are you excited to see Diablo 3 make the jump to the Nintendo Switch? What other games would you like to see ported to Nintendo's console/handheld hybrid? Let us know your thoughts in the comments section below.