Diagon Alley: Exploring the 'Harry Potter' World's Famous Wizarding Street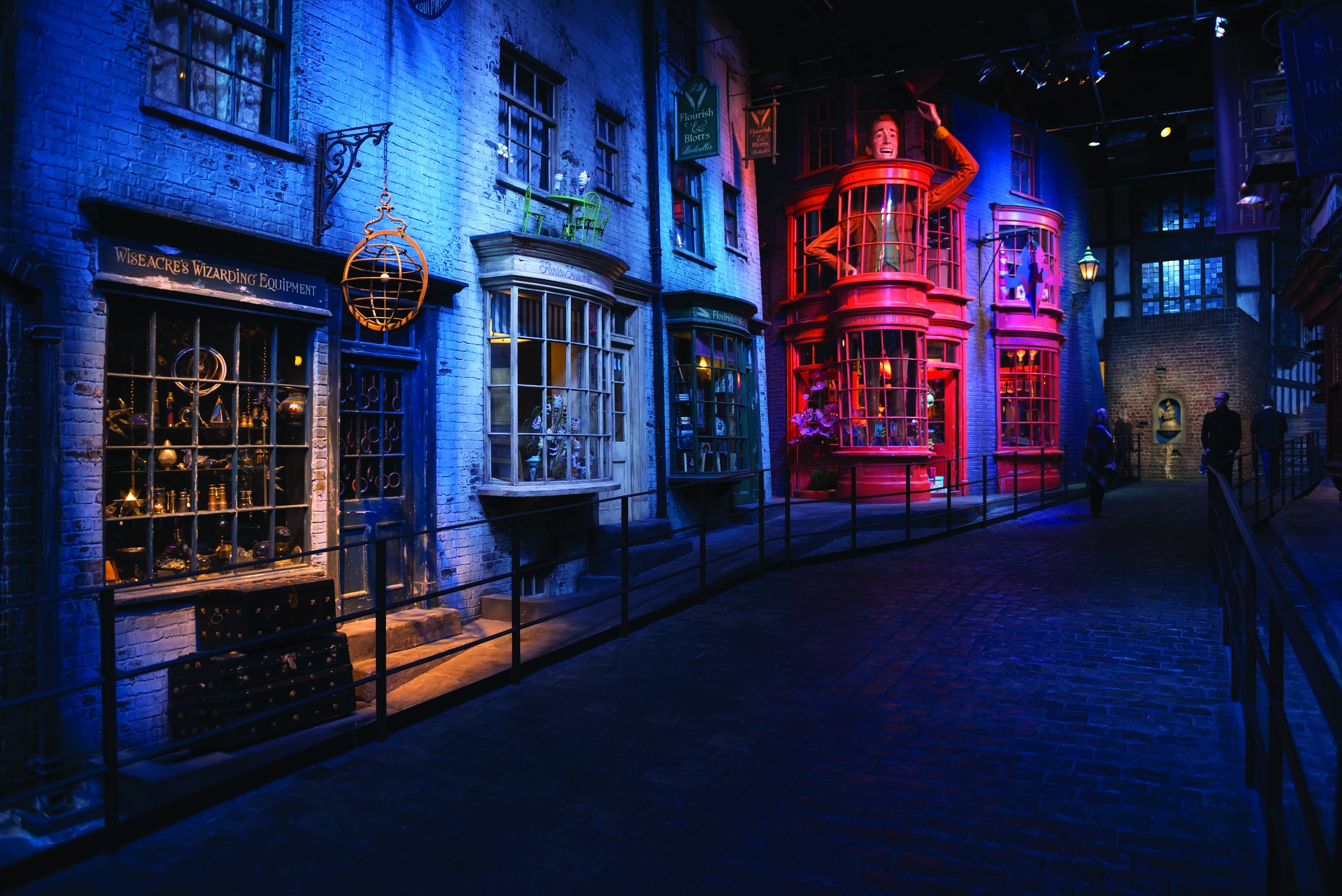 This article, and others exploring every room, shack and alley from the Harry Potter books, films and more, is found in Newsweek's Special Edition: Harry Potter—Exploring the Wizarding World.
The most famous wizarding street in the world, Diagon Alley has been accessed through the Leaky Cauldron since the Statute of Secrecy in the 17th century. By tapping a brick in the pub's courtyard, witches and wizards can access the most important shops in wizarding Britain, including Fred and George's joke shop and the massive Gringotts Wizarding Bank, where Harry, Ron and Hermione prove the legend of a guard dragon to be true.
Ollivander's
The most mysterious shop in Diagon Alley, Ollivander's is where Britain's witches and Ollivander's wizards go to be chosen by their wands.
The Leaky Cauldron
Though muggles claim other pubs across London as the city's oldest, wizardkind know that the oldest such establishment is, in fact, the Leaky Cauldron.
Obscurus Books
The publishers of such classics of the magical library as Fantastic Beasts and Where to Find Them.
Florean Fortescue's Ice Cream Parlour
Owned by a historically minded wizard, this ice cream parlor is a hangout of Harry Potter's during the time he spends living at the Leaky Cauldron.
Madam Malkin's Robes for All Occasions
The shop where students can expect to find their official Hogwarts robes is also where Harry Potter meets Draco Malfoy for the first time, though Malfoy doesn't know it's him yet.
Eelops Owl Emporium
This whimsically named shop is where Hagrid occupies himself while Harry is busy learning about Wizarding World snobbery from Draco Malfoy in Madam Malkin's. When he emerges, he has Hedwig in tow—giving Harry another loyal friend in the Wizarding World.
Weasleys' Wizard Wheezes
Anyone who knew Fred and George Weasley knew they would eventually go on to be professional jokesters, but right out of Hogwarts they become the most successful in their family by establishing their shop.
Gringotts
The safest place on Earth, apart from perhaps Hogwarts, Gringotts is the Wizarding World's banking institution.
Quality Quidditch Supplies
This emporium of wizard world sporting goods is the place where Harry Potter sees his first flying broomstick since infancy, when Sirius Black sent him a toy version.
Flourish and Blotts
The spot where Hogwarts students go to find their books at the beginning of each year and where smitten witches stock up on Gilderoy Lockhart books, Flourish and Blotts is an institution.
Diagon Alley was built sometime in the early 1500s.
For the first 200 years, Diagon Alley was visible to muggles. Muggles could even sit with wizards side by side and swap tales in the Leaky Cauldron. In 1692, this would all change when the International Statute of Secrecy was enacted, and the worlds separated.
J.K. Rowling decided to place Diagon Alley near Charing Cross Road because of its famed rows of modern and antique bookshops.
The Leaky Cauldron was almost destroyed with the creation of Charing Cross Road in the 1800s, only to be saved by a rallying of the wizarding community and, according to J.K. Rowling, the possible use of the Imperius curse on muggle city planners.
At the Wizarding World of Harry Potter in Orlando, Florida, the Leaky Cauldron sign perpetually leaks.
If you visit Borgin and Burkes at the Wizarding World of Harry Potter, you'll hear a chirping noise coming from a certain vanishing cabinet.
Mr. Mulpepper's Apothecary, a Diagon Alley store created just for the films, featured shelves 24 feet high that needed to be stocked via cherry picker.
Exclusive Mugglenet Insight
Florean Fortescue, who owned an ice cream parlor in Diagon Alley, was key to a ghost plot for Deathly Hallows. It saw Fortescue tell Harry about the Elder Wand and Ravenclaw's diadem, after being rescued from Death Eaters. In the end, Rowling didn't use this plot line and has since admitted she feels a little guilty for kidnapping Fortescue for no reason.
This article, written by Senior Editor Tim Baker, was excerpted from Newsweek's Special Edition: Harry Potter—Exploring the Wizarding World. For more on the vast world created by J.K. Rowling, pick up a copy today.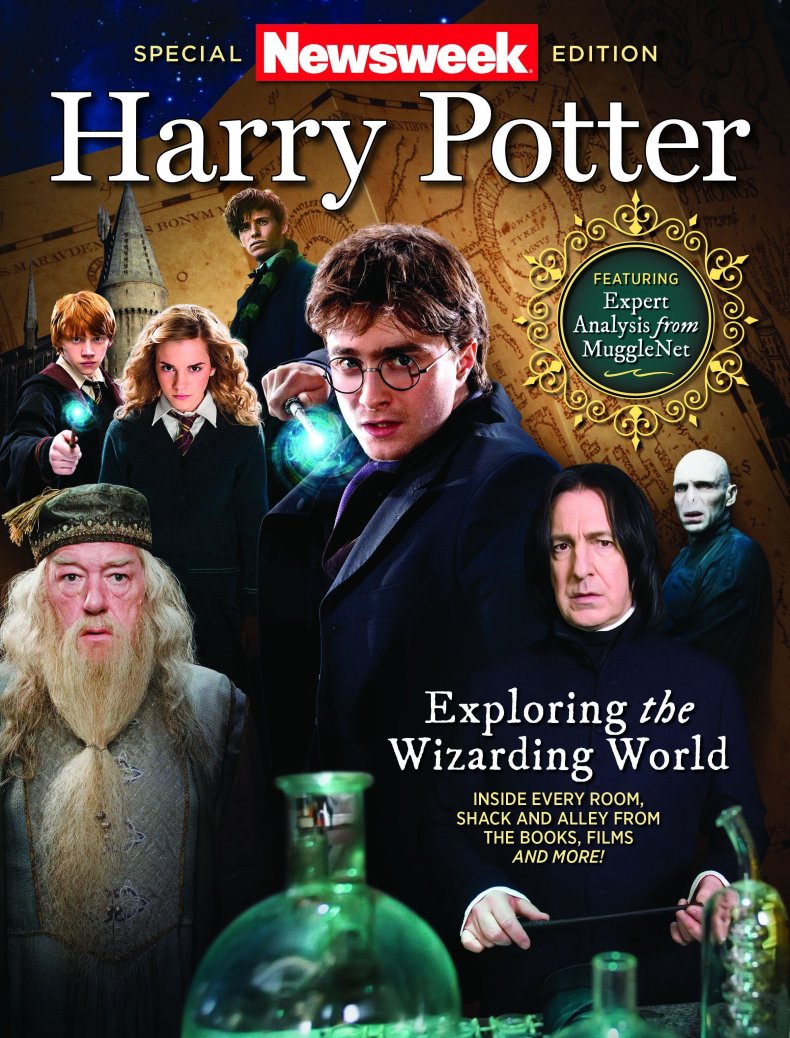 SaveSave