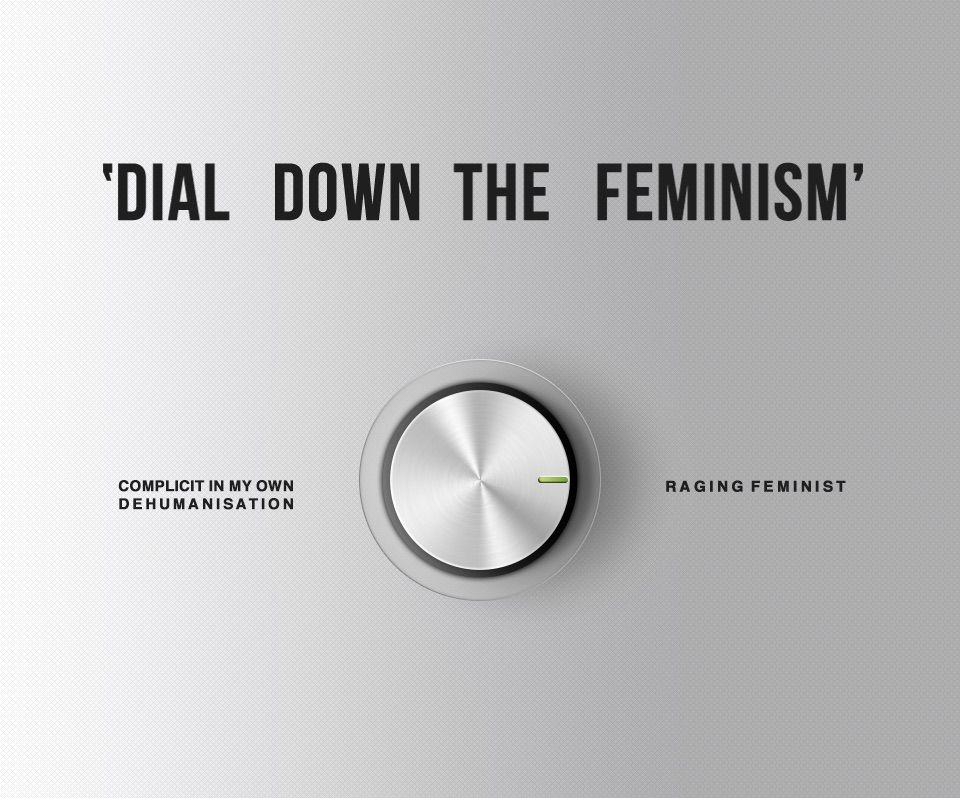 Last week, Alex Ruth Bertulis-Fernandes, a 23-year-old art student from London, got a word of advice from a male instructor: "Dial down the feminism."
She responded as any good artist would: with art. A week after her teacher's comment, Bertulis-Fernandes presented him a mock-up of a new piece titled—you guessed it—"Dial Down The Feminism." The digitally edited photo is clean, simple and straightforward. It's a single, gleaming dial set to "Raging Feminist," with the only other setting being "Complicit in My Own Dehumanisation."
On Wednesday, Bertulis-Fernandes shared the piece on Twitter. Two days later, it had received more than 300,000 likes and more than 90,000 retweets.
Bertulis-Fernandes spoke to Newsweek about the piece and the comment that led to its creation.
For the final term of her art class, students were asked to pitch a project concerning a subject they felt personally connected with. Bertulis-Fernandes chose the #MeToo and Time's Up campaigns, specifically how they have impacted Hollywood. Her teacher, however, wasn't into it and suggested she "dial back the feminism" instead.
"I was exasperated with the idea that feminism is just something you can dial down to the most appropriate setting," Bertulis-Fernandes said. "Feminism is relevant and important to everyone, but men are much more likely to think, 'I can afford not to engage.'"
The artist said she considered heeding her teacher's advice, at first. "I kept thinking, 'Is my art too feminist?'" But after a few days of self-doubt, Bertulis-Fernandes considered a different question: "What makes art too feminist?" That, combined with the artist's fascination with word-play, led to the mock-up that earned her viral status.
She declined to name her teacher or the school she attends, saying she never intended to shame him or the institution.
"Even though it shouldn't be, being a feminist can still be a controversial thing," Bertulis-Fernandes acknowledged. "And the thing is, it is something you can dial down. That's what the piece was about to me, to what extent we articulate those feelings in response to sexism every day."
The piece is not yet finished, and Bertulis-Fernandes hopes to turn the mock-up into an installation with a physical dial that people can turn. "It'd be interesting to see how much people are willing to turn the dial and whether age, gender or other factors affect how they identify with the two ends of the spectrum."
She's also considering selling prints and t-shirts of the piece, but she's hesitant to capitalize monetarily on a political movement. Still, she's already got plenty of requests from Twitter users to make the piece purchasable.
The young artist found the overwhelmingly positive response "wonderful."
"Whether it's sexism, racism or transphobia—these things can make people feel very isolated. Anything that makes you feel less alone—just sharing your experience—probably means you've made someone else feel less alone, too."
And the retweets aren't bad, either. "This kind of thing doesn't happen to me," she laughed. "Mark Ruffalo retweeted me!"
Luckily, Bertulis-Fernandes said, her instructor took it "really well" when she showed him the piece. "He looked a bit sheepish, but he said he was pleased that he inspired it. I think he appreciated that I stuck up for myself." She also gave him credit for creating an atmosphere where she felt comfortable making the piece in the first place. "I never felt like I'd be penalized. At the end of the day, he'll express his opinion, I'll express mine. It's a dialogue."
And don't worry: that original pitch on women in Hollywood is still happening. Bertulis-Fernandes already posted a mock-up of it—a riff on a seminal piece created by the feminist artist activists the Guerilla Girls in 1988—on her Instagram.
Find more work from Bertulis-Fernandes—including writing, animation, and Miss Piggy videos inspired by Taylor Swift—on her website.