Updated | After lawmakers highlighted their case during Mark Zuckerberg's much-anticipated appearances before Congress, two North Carolina sisters whose support for President Donald Trump has gained them notoriety hit back at what they have called Facebook's censorship.
The claim by Lynette Hardaway and Rochelle Richardson, who go by Diamond and Silk, first surfaced during a congressional hearing on Tuesday, with Senator Ted Cruz mentioning to Facebook CEO Zuckerberg that the company "blocked" their page in what "appears to be a pervasive pattern of political bias."
Zuckerberg responded in part, "I think it is a fair concern that people would at least wonder about." The topic came up again when Zuckerberg returned to testify before a new committee on Wednesday. The executive responded, "In that specific case, our team made an enforcement error and we have already gotten in touch with them to reverse it."
The sisters told Newsweek on Wednesday that they are grateful to Cruz for mentioning them during the hearing. "He's a big voice speaking for the little small voices, so we really appreciated it," Diamond said.
Related: Trump's loud, proud and pissed off female supporters
But Cruz didn't get their allegation quite right. "Diamond and Silk never said that our page was actually 'blocked,'" Silk said. "We said our page was 'censored.'"
According to the duo, last September, their Facebook page disappeared.
"When we contacted Facebook, they brought it back up" after around eight hours, Diamond said. But the issues apparently continued. Their followers complained that they were having trouble viewing the sisters' page, content or receiving notifications about their posts, according to the pair.
"We'd been back and forth with Facebook, about what's going on," Diamond said. "They just kept stringing us along."
Then on April 5, the sisters said, they received an email response from Facebook that stated, "The Policy team has came to the conclusion that your content and your brand has been determined unsafe to the community…. This decision is final and it is not appeal-able in any way."
"They deemed us, our brand—because Diamond and Silk is the brand, we're two women, we are the brand—unsafe to the community," Diamond said.
In a statement to Newsweek, a Facebook spokesperson seemed to confirm the email, saying, "We have communicated directly with Diamond And Silk about this issue. The message they received last week was inaccurate and not reflective of the way we communicate with our community and the people who run Pages on our platform. We have provided them with more information about our policies and the tools that are applicable to their Page and look forward to the opportunity to speak with them."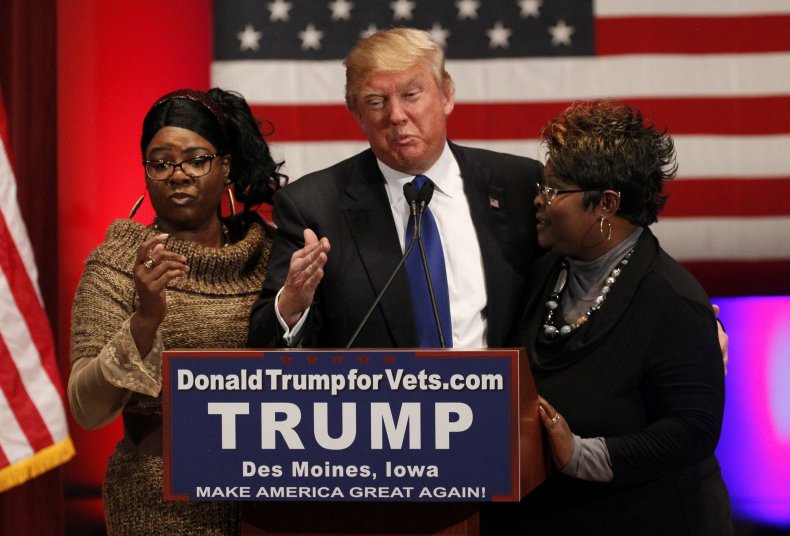 During the 2016 election, the sisters became popular Trump supporters, appearing on stage at rallies for the candidate in Des Moines, Iowa, and Fort Lauderdale, Florida. They also hosted Women United for Trump events.
In recent days, Diamond and Silk have appeared on Fox News to speak about the ordeal, and actress and comedian Roseanne Barr tweeted about them on Wednesday.
"We love Roseanne Barr," Diamond said. Silk added, "We love her so much."
As Cruz pointed out during Tuesday's hearing, people on the political right have previously complained about what they believe is censorship on social media. In November and December, Trump supporters expressed fear that Twitter would purge their accounts because of a new rule mandating that users "may not affiliate with organizations that—whether by their own statements or activity both on and off the platform—use or promote violence against civilians to further their causes." And in May 2016, Gizmodo reported that Facebook employees responsible for posting "trending" news stories were suppressing articles featuring conservative topics.
Diamond and Silk take particular issue with the claim that their content is "unsafe." "What is so unsafe about two black women supporting our president?" Silk said. "We feel like we're here to educate people."
"Our brand is two black chicks who's down with politics, that's patriotic, that's conservative, that love our country and loves our president and his agenda," Diamond said. "We are not terrorists. We're not doing anything. We ain't doing no foolishness. All we're doing is talking about our president, how we love this country and how we really want to make this country great."
Though Diamond said she believes Facebook's alleged actions constitute "discrimination, a violation of our civil rights, defamation of our character and censorship," she indicated that they have no immediate plans to take legal action. They just want Facebook to make their page, which has more than 1.4 million Facebook followers, as accessible as it once was.
"We want Facebook, Mark Zuckerberg, to remove these algorithms from everybody's pages, especially these conservative pages that are being silenced," Diamond said, "and go back [to] before our president got elected, go back to that way, because people weren't having all of these here complaints."
This article has been updated to clarify a comment about legal action and to include a response from a Facebook spokesperson.