Mammoth, 552-Carat Diamond, Largest Discovered in North America, Unearthed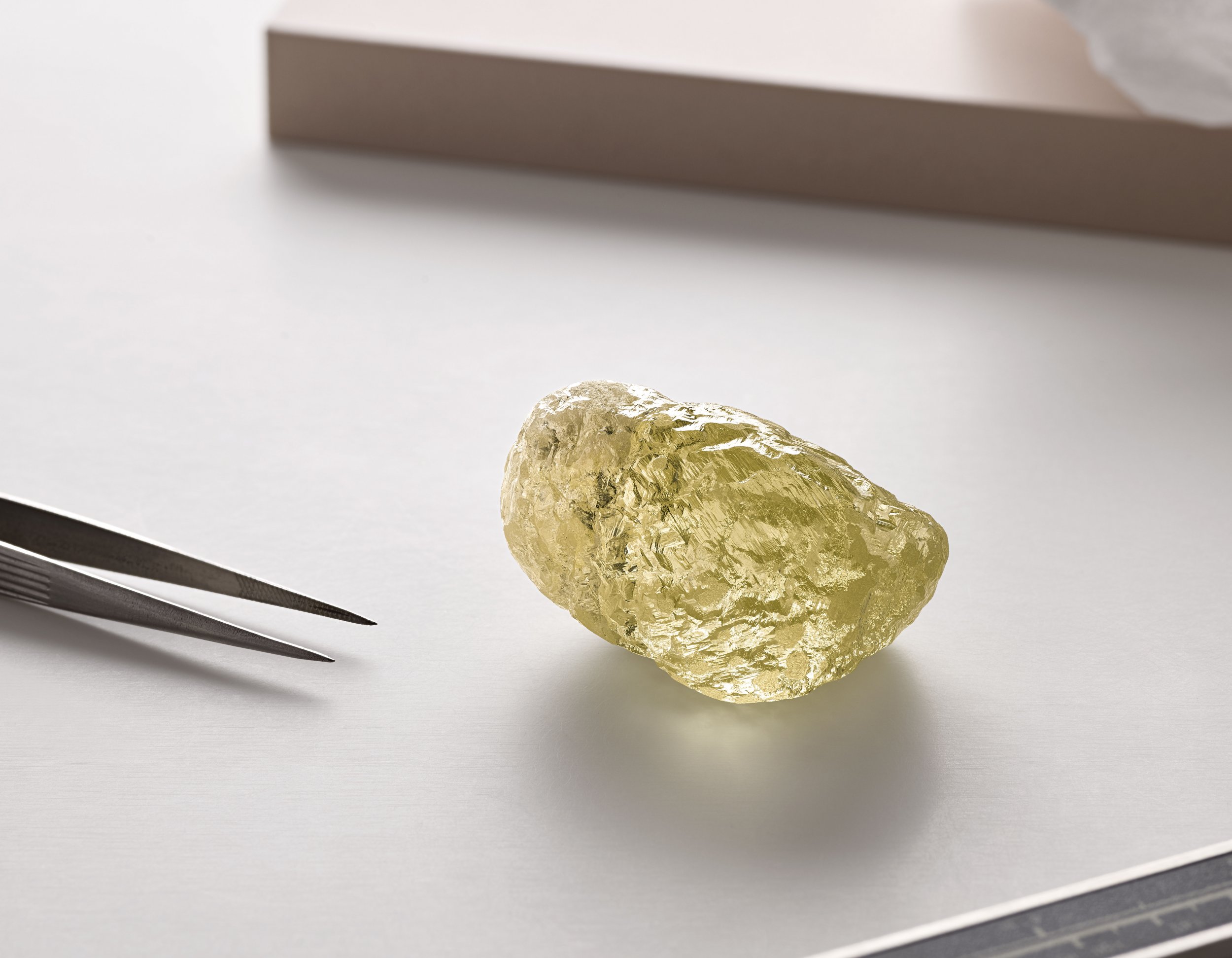 A mammoth 552-carat yellow diamond found in the Northwestern Territories of Canada was revealed by a mining company Friday.
Dominion Diamond Mines said the diamond - which is roughly the size of a hen's egg - is likely the largest ever unearthed in North America.
The mammoth rock was discovered deep in the Diavik mine, which lies some 135 miles south of the Arctic Circle. The mine is operated by the Rio Tinto Group and Dominion Diamond Corporation.
The diamond measures about 1.2 inches by 2.2 and shines a cool yellow. "The color and texture of the diamond are a unique example of the journey that natural diamonds take from their formation until we unearth them," said Kyle Washington, Chairman of Dominion Diamond Mines, in a press release.
The diamond won't be sold in its current form, but will be cut and polished by experts in the near future, the release stated.
Large diamonds like this are incredibly rare for the region. Back in 2015, the Diavik mine yielded its then-largest diamond, a 187.7 carat gem known as Foxfire, industry publication Mining.com previously reported. At 552.74 carats, the latest find is "completely unexpected," Dominion reported.
A 71-year-old grandmother recently stumbled upon a near-three carat ice-white diamond at Arkansas's Crater of Diamonds State Park. Initially mistaking the diamond as a piece of glass, the incredible find was revealed at the park's Diamond Discovery Center.
"This white diamond is about the size of a pinto bean and is shaped somewhat like a fingernail. Several brownish, freckle-like marks along the surface give the gem a unique, one-of-a-kind appearance," said park official Waymon Cox in a statement.
At the time of its September discovery, the gem was the largest uncovered at the site so far in 2018.
Back in June, researchers reported something like a quadrillion tons of diamond could be hiding below the surface of the Earth. Analyses of seismic data revealed the potential abundance of the sought-after mineral.
"This shows that diamond is not perhaps this exotic mineral, but on the [geological] scale of things, it's relatively common," study author Ulrich Faul said at the time.
Back in 1982, The Atlantic revealed the diamond owes much of its enduring popularity to an ad campaign for De Beers Consolidated Mines (now De Beers), which reinforced the notion of a diamond-studded engagement ring into popular culture by influencing media coverage of celebrity couplings and fashion trends, and by the company's practice of limiting supply of the gemstones.