Diamonds Are Robert Mugabe's New Best Friends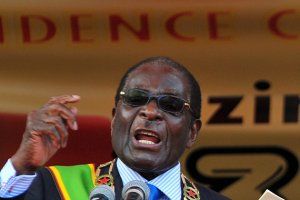 President Robert Mugabe sees a newly mined diamond deposit in Zimbabwe—so rich it is described in The New York Times as "a freak of nature"—as the key to extending his 30-year rule over the country.
Mugabe, 86, is now part of a delicate power-sharing agreement with his rivals. But in 2008, unfettered by any semblance of democracy, he sent his troops to seize control of the same Marange diamond fields. Those troops killed hundreds in what, by many accounts, was a brutal assault in which amateur miners were set upon by dogs and strafed from helicopters. Hundreds are reported to have been assaulted and raped, and as many as 200 died.
The Kimberley Process, a body that tries to ensure diamonds do not fund war or human-rights abuses, is meeting in Israel this week to decide whether Zimbabwe's diamonds should be allowed to trade on the world market. A watchdog official recommended earlier this month that they be given the green light to begin moving an estimated $1 billion to $1.7 billion in stones per year. Human Rights Watch warned that the Kimberley Process might collapse, stripped of credibility, if trade was allowed.
The New York Times reports today that Mugabe sees the diamonds as salvation for his dictatorship and the fortunes of his party, ZANU-PF. The party controls the ministry that oversees the diamond fields. And Mugabe's traditional stronghold has been through the military, who guard the mines.
A source cited as "one of Mr. Mugabe's closest confidants" admitted that diamonds are already being sold on the black market. A story in The Australian newspaper says that some in the diamond trade report a secret viewing and bidding for $150 million of diamonds, held by state-linked companies, just last month.
During his 30 years in power, Mugabe has systematically stripped a once thriving country. A U.N. report released today says the proportion of the population living in extreme poverty has risen. It seems unlikely that the bounty in the Marange fields will help feed those people.