Trump Falsely Accuses 'Sneaky' Dianne Feinstein of Possibly Breaking the Law, Calls for Democrat to Face 'Tough Primary'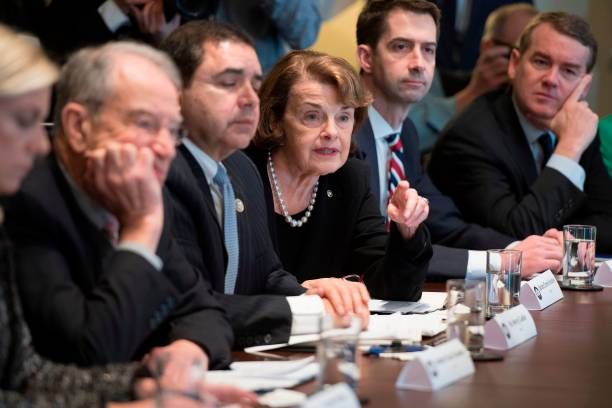 President Donald Trump lashed out at Democratic Senator Dianne Feinstein on Twitter on Wednesday, in response to her release of an interview transcript related to the Russia investigation. The transcript detailed the conversation between congressional investigators and Glenn Simpson, founder of the research firm that commissioned the famous dossier on Trump and Russia during the 2016 presidential campaign.
Related: Trump Campaign Source Backed Up Russian Dossier Claims, Said Fusion GPS Co-Founder
"The fact that Sneaky Dianne Feinstein, who has on numerous occasions stated that collusion between Trump/Russia has not been found, would release testimony in such an underhanded and possibly illegal way, totally without authorization, is a disgrace," wrote Trump. "Must have tough Primary!"
Feinstein released the transcript on Tuesday, breaking with Senate decorum to debunk the Republican theory that the dossier is what sparked the investigation of potential links between the Trump campaign and Russian officials. The release of the transcript does not, however, break any laws, as Trump suggests it might.
Because Simpson, founder of Fusion GPS, wasn't a government official discussing classified information, Feinstein did not need authorization to release the document, which says that the FBI had other intelligence that indicated a possible need for investigation. Simpson had called for the release of his testimony to the public.
The dossier is important in the investigation: some Democrats believe it will point investigators in the right direction to uncover alleged collusion, while many Republicans claim that it is unverifiable and full of false claims that are being used to rationalize an unwarranted investigation.
The transcript shows that Simpson testified to comment on information from Christopher Steele, the former British spy who authored the dossier. In the interview, which was with the Senate Judiciary Committee regarding the investigation, Simpson says that Steele found that the FBI had a "voluntary source" inside the Trump campaign who sparked the probe. Joshua Levy, a Fusion GPS attorney who also spoke to the committee, claimed that the publication of the dossier led to somebody's death.
"Somebody's already been killed as a result of the publication of this dossier," said Levy, according to the transcript, "and no harm should come to anybody related to this honest work."
Describing the California Senator as "sneaky" for publishing the full transcript, Trump called for Feinstein to face a primary challenge when seeking reelection this year. Feinstein has been in office since 1992.