Dick Cheney Told Mike Pence That Trump Administration 'Looks a Lot More Like Barack Obama Than Ronald Reagan' on Foreign Policy: Report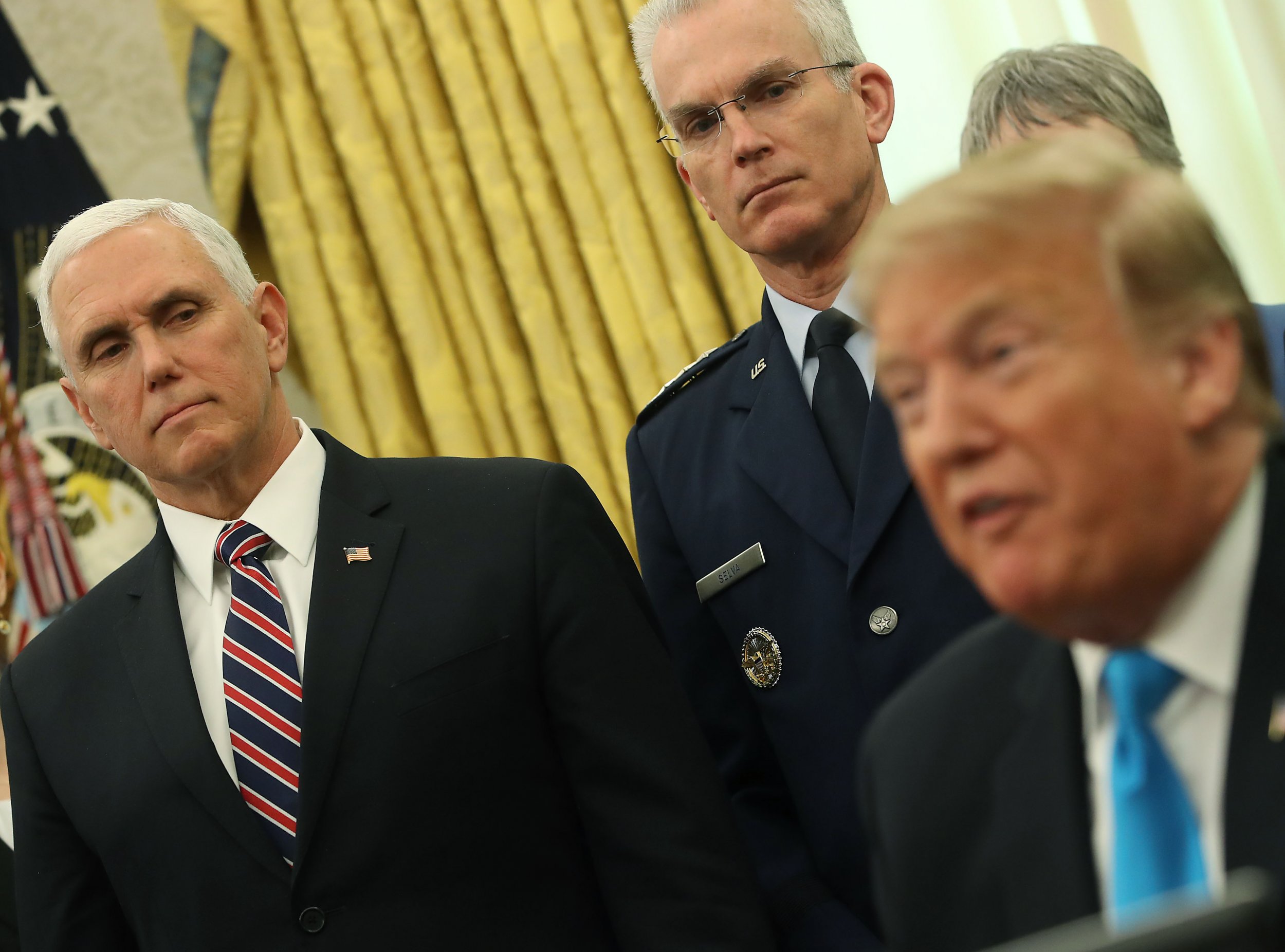 Former Vice President Dick Cheney challenged Vice President Mike Pence over Donald Trump's foreign policy decisions during a private gathering on Saturday, where Cheney compared President Donald Trump's isolationist tactics to those of former President Barack Obama's.
The exchange, which reportedly took place on March 9 in Sea Island, Georgia, during a retreat hosted by American Enterprise Institute, began when Cheney pressed Pence on several of the Trump administration's foreign policy decisions, including the president's hardline approach toward America's NATO allies, and his decision to withdraw troops from Syria.
"We're getting into a situation when our friends and allies around the world that we depend upon are going to lack confidence in us," Cheney said to Pence, according to The Washington Post's transcript of the discussion. "I worry that the bottom line of that kind of an approach is we have an administration that looks a lot more like Barack Obama than Ronald Reagan."
Cheney continued the chat by hammering Pence with questions about Trump's nationalistic foreign policies, to which the unwavering Trump ally reportedly responded firmly and with care. At one point, the initially lighthearted catch-up descended into such a heated confrontation that Pence jokingly asked Cheney, "Well, who wrote these softball questions?"
Throughout their discussion, Cheney expressed concerns over reports that Trump "supposedly doesn't spend that much time with the intel people, or doesn't agree with them, frequently."
Cheney then moved on to give his opinions on America's situation with North Korea, telling the vice president that he was worried about Trump's decision to end the U.S. and South Korea's military exercises, a decades-long tradition.
Pence defended the move, telling the former vice president that the Defense Department was certain it would "not affect our readiness in South Korea.
"We're going to continue [to] train," Pence said. "We're going to continue to work closely with South Korea. We have a tremendous alliance there."
In response to Cheney's questions about Trump's hardline attitudes toward NATO allies— whom he has repeatedly asked to devote a minimum of 2 percent of their GDP to defense spending as per Article 5 of the treaty—Pence argued that the president could demand U.S. allies to spend more on defense and still uphold good relations with them.
"I think there is a tendency by critics of the president and our administration to conflate the demand that our allies live up to their word and their commitments and an erosion in our commitment to the post-World War II order," Pence said.
"But we think it's possible to demand that your allies do more to provide for the common defense of all of our nations and, at the same time, reaffirm our strong commitment— whether it be to the trans-Atlantic Alliance or to our allies across the Indo-Pacific."
Cheney served as the 46th vice president of the United States, from 2001 to 2009, under President George W. Bush. Although he was widely considered the most powerful VP in U.S. history, his approval rating was at 13 percent when he left office.
Pence's representatives confirmed the discussion took place to The Post. Pence did not immediately respond to Newsweek's request for further comment.