Dick Cheney Wants to Restart Torture Program, Suggests He Doesn't Consider Waterboarding Torture
The United States should bring back enhanced interrogation techniques and "go back and study them and learn," according to former vice president Dick Cheney on Thursday. Cheney's comments came as President Donald Trump's nominee for CIA director, Gina Haspel, faced questions over her integral role in a program many believed was torture of suspected terrorists.
Cheney, who served under President George W. Bush and created an unprecedented outsized role for himself in the administration, pushed for the interrogation programs to return during an interview with Fox Business.
"If it were my call, I would not discontinue those programs," Cheney said. "I'd have them active and ready to go, and I'd go back and study them and learn."
The Republican Cheney also denied the programs were torture and said critics of the programs were attempting to "rewrite history." The program was carried out at secret prisons around the world by the CIA between 2002 and 2008, and included tactics such as waterboarding.
"I think the techniques we used were not torture. A lot of people try to call it that, but it wasn't deemed torture at the time," Cheney said. "People want to go back and try to rewrite history, but if it were my call, I'd do it again."
While Cheney might disagree, the United Nations stated in January 2017 that waterboarding indeed amounted to torture.
Cheney also endorsed Haspel, who faced her first confirmation hearing Wednesday.
"I think she'd be a great CIA director," Cheney said. "I think she's done a great job in terms of the career she's built, and the people I know at the agency are very enthusiastic about having one of their own, so to speak, in the driver's seat at the CIA."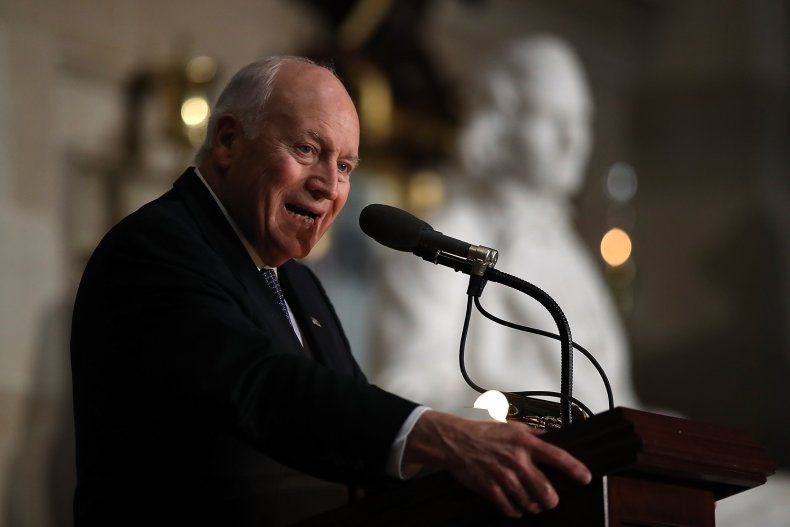 During five hours of testimony, Haspel, who reportedly headed up a CIA "black site" in Thailand where one detainee was subjected to the interrogation program, was grilled by senators over her role in the program and the destruction of 92 videotapes that documented how the program was carried out.
In one instance, Haspel was asked by Democratic Senator Kamala Harris whether she thought torture was "immoral," but Haspel appeared to dodge the question.
"Senator, I believe that CIA did extraordinary work to prevent an attack on this country given the legal tools that were authorized to use," Haspel said.
Haspel did also state during the hearing that she would not bring back the program if Trump ordered her to do so.