Senate Democratic Whip Dick Durbin (Ill.) on Sunday praised former Acting Attorney General Jeffrey Rosen for withstanding pressure from Donald Trump after Rosen's testimony about the former administration's efforts to interfere in the 2020 election.
Rosen testified before the Senate Judiciary Committee, which is chaired by Durbin, for seven hours on Saturday as part of the panel's investigation into efforts by Trump and his allies to interfere in the election results. Rosen also reportedly spoke with the Justice Department's office of the inspector general for several hours on Friday, according to The New York Times.
On CNN's State of the Union Sunday, Durbin said Rosen "told us a lot" and commended him for being "very open," during the testimony. Durbin added that the most shocking part of the testimony was "just how directly personally involved the president was, the pressure he was putting on Jeffrey Rosen."
"The former president is not subtle when he wants something, and I think it's a good thing for America that we had a person like Rosen in that position who stood, withstood the pressure," the Illinois Democratic senator said.
Though Durbin declined to specifically outline the type of pressure Rosen faced, he did reveal that Trump asked his then-acting attorney general "to do certain things related to states' election returns." Durbin also acknowledged that the "pressure was on" after Rosen replaced then-Attorney General Bill Barr, who resigned in December.
"To think that Bill Barr left, resigned after he had announced he didn't see irregularities in the election, and then his replacement was under extraordinary pressure from the president the United States, even to the point where they were talking about replacing him... that pressure was on," Durbin said.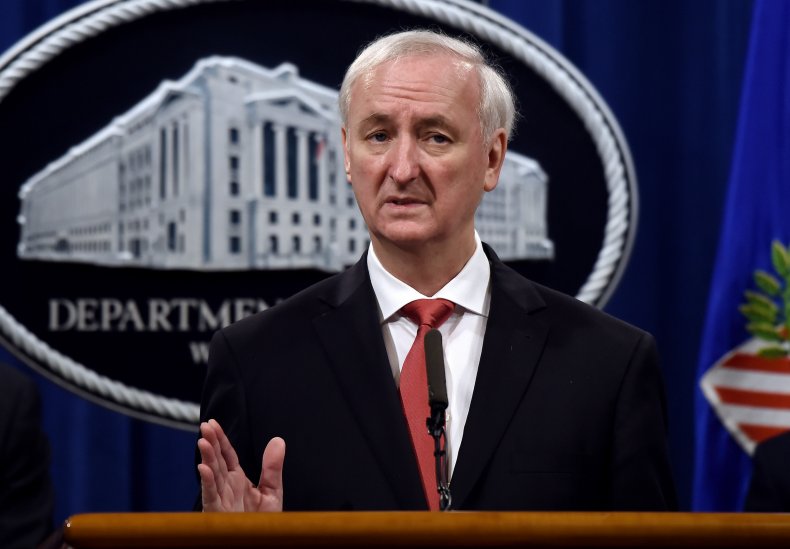 During the testimony Friday, Rosen detailed efforts by Jeffrey Clark, the former acting head of the Justice Department's civil division, to help Trump and his allies subvert the results of the 2020 election. The former attorney general spoke of numerous interactions with Clark, but much of the focus of his testimony was on five occasions where Clark went out of the chain of command to push election fraud claims, according to CNN.
On Sunday, Durbin said the information shared during Rosen's testimony revealed that what was going on under Trump's Department of Justice was "frightening." He added that "history is going to be very kind to Mr. Rosen when it's all over," after listening to his testimony. "And I -- when he was initially appointed, I didn't think that was the case. I was wrong."
Newsweek contacted representatives for Trump for additional comment, but did not hear back in time for publication.