Dick Durbin Says It's 'Very Difficult' to Pass Massive Immigration Reform Even With Dem Majority
Democrats may have the upper hand in Congress, but that still may not be enough to pass comprehensive immigration reform.
Speaking to reporters on Tuesday, Senator Dick Durbin said that what House Speaker Nancy Pelosi has experienced with previous immigration reform, as well as the two bills currently being considered in the lower chamber, is "evidence that even with a majority, this comprehensive [legislation] is still a very difficult thing to achieve."
The Illinois Democrat said Monday that he didn't believe there was enough support in this Congress to pass a full-blown immigration bill, pointing to the House's decision to move on two specific pieces of immigration reform—a pathway to citizenship for the Dreamers and protections for farm workers—in separate bills.
"I think Speaker Pelosi has discovered that she doesn't have support for the comprehensive bill in the House," Durbin, the Senate's second-ranking Democrat, said. "And it indicates where it is in the Senate as well."
The House will vote Thursday on the two pieces of legislation, Majority Leader Steny Hoyer told reporters Tuesday.
One bill, the American Dream and Promise Act, would eventually create a path to citizenship for millions of immigrants living in the U.S. illegally after entering the country as children, who are known as "Dreamers." The bill would also grant citizenship for immigrants granted Temporary Protected Status for humanitarian reasons.
The second bill, the Farm Workforce Modernization Act, would establish a path to legal status for immigrant agricultural workers. The bill could legalize up to about 325,000 immigrants working in agriculture who do not have legal status.
Both bills passed the lower chamber in 2019 and even garnered some support from conservative members, but they were never taken up in the then Republican-led Senate
"These two bills are not the fix, but they are fixes to part of the problem," Hoyer said. "But we need to pass comprehensive immigration reform, and we're going to do so in the coming months."
Democrats have a slight majority in the House and an even slimmer advantage in the Senate—where Vice President Kamala Harris acts as a tiebreaker in the 50-50 split chamber. To enact any immigration reform, the Senate would need 60 votes to overcome a Republican filibuster.
A House Democratic leadership aide told Newsweek, "House Democrats will vote on two bills this week that would provide a pathway to citizenship for nearly 4 million people and will continue to build support for President Biden's immigration reform bill, which will have a markup in the Judiciary Committee in the upcoming weeks."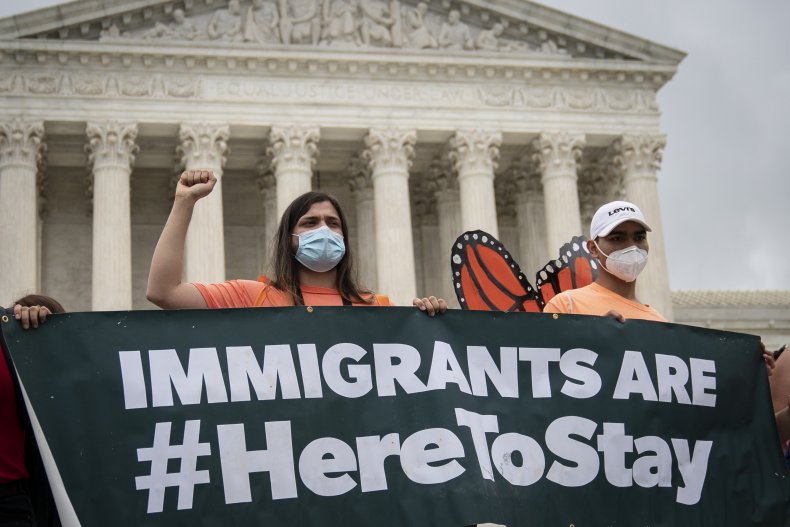 Democrats formally introduced Biden's sweeping immigration overhaul in Congress last month. The president's plan would provide a path to citizenship for most of the 11 million immigrants estimated to be living in the country illegally.
The push for immigration reform comes as the Biden administration grapples with a record-breaking surge of unaccompanied minors on the southern border with Mexico. The administration ordered the Federal Emergency Management Agency to help shelter and transfer the children over the weekend.
Republicans slammed the Biden administration after visiting the border on Monday, arguing it was "more than a crisis. This is a human heartbreak." The White House, meanwhile, has declined to call the situation a crisis and has pointed the finger at the Trump administration for leaving it with an "unworking system."
Durbin told reporters Tuesday that he "wouldn't call it a crisis, but it certainly is a challenge."
This story was updated to include a comment from a House Democratic leadership aide.