Dick Durbin Says Trump's 'Process' to Interfere in 2020 Election 'Leading Up' to a Coup
Senate Majority Whip Dick Durbin said Sunday that an ongoing congressional probe into former President Donald Trump's efforts to undermine the 2020 election found the president's actions in his last days in office were "leading up" to an attempted coup.
Durbin, who chairs the Senate Judiciary Committee, appeared on CNN's State of the Union after former Acting Attorney General Jeffrey Rosen testified before a closed congressional panel about pressure from Trump to respond to unverified claims of voter fraud.
Durbin said he learned that top officials within the Department of Justice (DOJ) were "threatening to resign" if Trump "had his way."
"These are moments in history that you never want to see repeated and with Donald Trump they were," the Illinois Democrat said. "The thought that we've come to accept this president and his bizarre conduct over four years as normal. It's outrageous."
Asked by host Dana Bash if he was "describing an attempted coup," Durbin said "well it was—they were going through the ordinary process."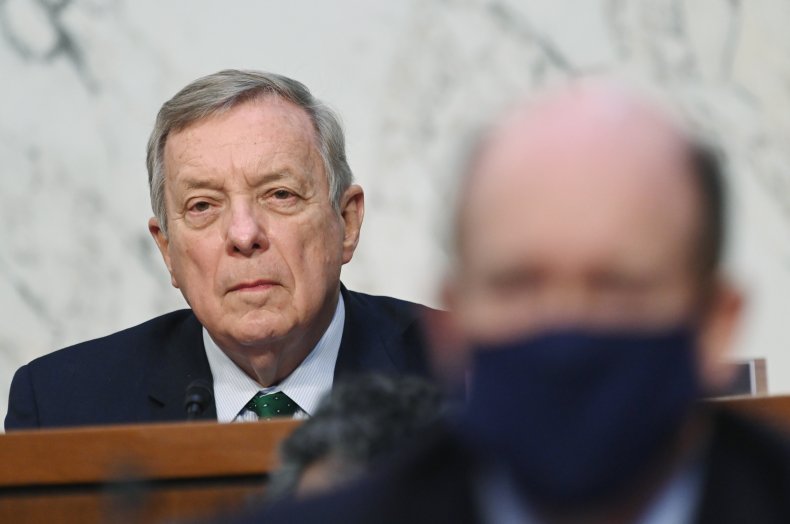 "It wasn't as if the president was removing the attorney general and making pronouncements, which would happen in a coup I suppose by classic definition. But it was leading up to that kind of process," he added.
Rosen testified before the Senate Judiciary Committee for seven hours Saturday after he spoke with the DOJ's office of the inspector general for several hours Friday.
Durbin said the most shocking part of the testimony was "how directly personally involved the president was, the pressure he was putting on Jeffrey Rosen" after former Attorney General Bill Barr's resignation in December.
"To think that Bill Barr left, resigned after he had announced he didn't see irregularities in the election, and then his replacement was under extraordinary pressure from the president ... It was real, very real. And it was very specific," Durbin said, though he declined to describe the pressure Rosen faced.
"The former president is not subtle when he wants something and I think it's a good thing for America that we had a person like Rosen in that position, who stood—withstood the pressure," he said, adding that Rosen's account of "what was going on in the Department of Justice was frightening, from a constitutional point of view."
Senator Richard Blumenthal, who also attended the closed Saturday session with Rosen, said he was "stuck by how close the country came to total catastrophe."
"There were some very relevant and important facts," the Connecticut Democrat said, "and equally important some good leads about where the investigation can go."
Newsweek reached out to Trump representatives for comment. This story will be updated with any response.