'Dickinson' on Apple TV Is a 'Humorous and Wild' Depiction of Emily Dickinson's Unapologetic Creative Freedom, Hailee Steinfield Says
Long before Emily Dickinson was heralded as a prolific poet, she was merely a teenage girl living in Massachusetts with her prominent, well-to-do family in the mid-1800s. She spent most of her days confined in her bedroom where her vivid imagination took her to colorful worlds far beyond the walls surrounding her.
It was in that room where she penned the words that would stir the hearts of readers all across the globe more than a century later, and it's where her story, as told in the new Apple TV+ show Dickinson, begins.
Starring Hailee Steinfield as the rambunctious and headstrong poet, Dickinson captures the angsty youth of an unapologetic young woman who was creatively free and expressive regardless of her parents' rules and regulations and the many societal standards against her. It's the story of a girl undeterred despite others' expectations.
"In a world where we have so much access, there are still standards and expectations that people try to push on women," Steinfield, 22, told Newsweek during a recent phone interview. "I think in regards to the time that our show takes place, we've come a very long way. But it still happens. I love that Emily never saw that as a no. She continued to break down barriers and fight these constraints she was faced with."
Presented in a modernized context, Dickinson brings the words and world of the author to the forefront while exposing the drama ambitious teens still face: Attempting to live life for themselves while fulfilling parents' wishes and adhering to social constructs.
Dickinson's contentious relationship with her mother, played by Jane Krakowski, is a focal point as is her problematic romance with best friend and supporter Sue Gilbert (Ella Hunt), and barely anyone is supportive of her aspirations to become a writer. Overall, though, the series glorifies the creative right we all have to shamelessly express ourselves, according to Steinfield.
See Newsweek's full interview with Steinfield below.
This interview was condensed for purposes of editing and length.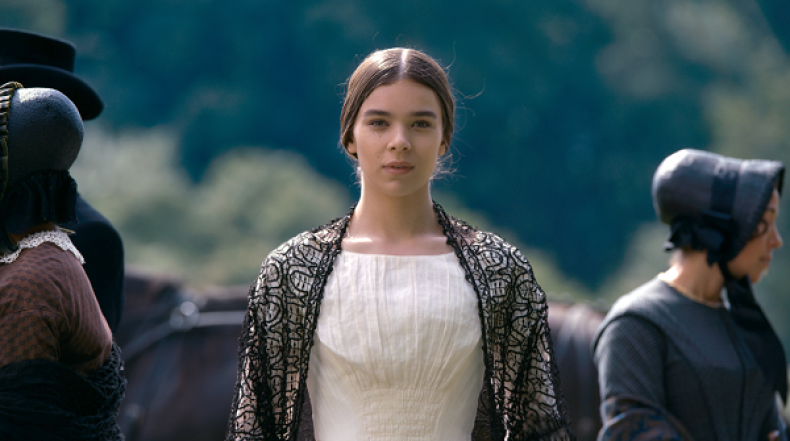 How familiar were you with Emily Dickinson's poems before landing the role?
I didn't know much about her work. I didn't know much about her. So diving into this world was a lot of fun. I know people who are fans of her and love her are very moved by her work. I was very intrigued and excited to find out why.
Did you read a lot of her poems while preparing?
Yes, of course. It's great that we have so much on her and about her—that may or may not be true—but her poetry is truly the driving force of the show. To have that alone was enough. Doing a deep dive into that was great.
What did you come to admire the most about Emily Dickinson?
I loved that she was so unapologetically herself. She knew she was different. She thought differently than the others around her. She was an artist, and she had ways of expressing herself that people found weird or obnoxious. She was rebellious. She was all of these things, but more importantly, she was a creative mind. I love that she would go through extremes just to feel creatively alive.
As someone who also identifies as a creative, what aspects of Emily's life and work will you be taking with you throughout the next chapters of your life and career?
I admire her ability to not hold back. Her level of vulnerability is so apparent in every single poem that she did whether it's one line or more. It's all there. You can feel her pain. You can feel her sense of humor. You can feel her love and the heartbreak and the desire. You can feel all of that. As an artist, I can only hope that my work comes across the same way as my audience. She would go through and do whatever she felt she needed to do to feel creatively fulfilled. I love that about her and I am inspired by that.
How was your experience working with Jane Krakowski?
She is amazing. I loved working with her so much. We had so much fun together finding exactly the dynamic of this mother-daughter relationship that's so complicated. It's funny, and it's complex and interesting and heartbreaking at times. They're constantly disagreeing with each other, yet [Emily's] mother always has her best interest and is always looking out for her, but in ways that Emily doesn't agree with. It's a really interesting relationship, how it unfolds throughout the season. But Jane personally is so wonderful.
What can be learned about the parent-child dynamic from watching Emily and Ms. Dickinson?
I think in general, [kids] want to be like [their parents] until they realize that they want to be their own person and their own human. It's this constant battle that people go through. You want to impress and please and fit into every expectation that a parent has for you, but you also want to live your life the way you want to live your life. Sometimes it's difficult to see that our parents genuinely, hopefully, want the best for us. In this case with Emily and her mother, Mrs. Dickinson trying to marry [Emily] off was her way of trying to push her daughter to the next level of life. But in Emily's eyes, [Mrs. Dickinson] is just trying to get rid of her.
After stepping into Emily's shoes for the show, how do you think she'd view the role of women and the way we express ourselves today?
I hope she would feel proud in a sense. I think she, in many ways, paved a way for women today. I feel so lucky to be a part of what feels like more women in power and, specifically in this case, women in film. To make a show about this female voice who fought to be heard and understood—it's written and created by a female, it's produced by females, half of the season is directed by a female—it's so incredible. I hope she would see that and feel very proud. It's kind of amazing when you think about the idea that these billboards [promoting the show] are about a woman who sat in her room for the majority of her life writing poems. She never knew [her work] would be published and so greatly appreciated around the world. It's so exciting to think that she made such an impact with her life after she died. It's pretty incredible to see it all come full circle.
If there's one takeaway from Dickinson, what would it be?
This show is about not putting people in a box. It's about not putting labels on people because of who or what they are or what they're interested in. One of her more famous poems, I'm Nobody! Who Are You?, speaks volumes in that sense that we are all equal. We are all humans with beating hearts and want to be seen, understood and loved. That's what this show ultimately is. I also hope people and young women especially take away her sense of independence. She says what is on her mind and doesn't apologize for it. I think that is so cool and I hope that inspires people.
Describe the show in three words.
Dangerous, humorous and wild.