On Monday, Merriam-Webster announced via Twitter that it had embiggened its dictionary by 850 new words. Some are obvious and timely inclusions: "cryptocurrency" makes its dictionary debut, along with "dumpster fire," "Antifa" and "glamping," or "glamorous camping." Others, meanwhile, seem destined to make people angry. "Wordie," for instance, refers to "foodies" who are more passionate about etymology than cuisine.
But perhaps the most exciting is the addition of "embiggen," a goofy-sounding word meaning "to make larger." Marvel comic book fans may recognize "embiggen" as the word Kamala Khan—aka Ms. Marvel—uses to describe her size-changing powers. As a nervous, witty teenager, she picks the word when she first discovers she can grow or shrink on command.
Kamala Khan first appeared in September 2013 in Captain Marvel number 14. (The heroine in that comic, Carol Danvers, will be portrayed for the first time onscreen by Brie Larson in 2019.) In February 2014, Kamala debuted as Ms. Marvel in her own comic, led by G. Willow Wilson.
Raised in Jersey City, the Pakistani-American teenager Khan is Marvel's foremost Muslim superhero. She has become a major player in the comics universe, at one point even joining the Avengers. Kamala's Ms. Marvel, voiced by Kathreen Khavari, has also appeared in the animated series Avengers Assemble (later called Avengers: Ultron Revolution), the animated film Marvel Rising: Secret Warriors and numerous video games.
She's overdue for a cinematic counterpart, and now that her catchphrase is in the Merriam-Webster dictionary, it's possible that Khan has found a slightly larger space in the zeitgeist. Next stop, live-action Netflix series?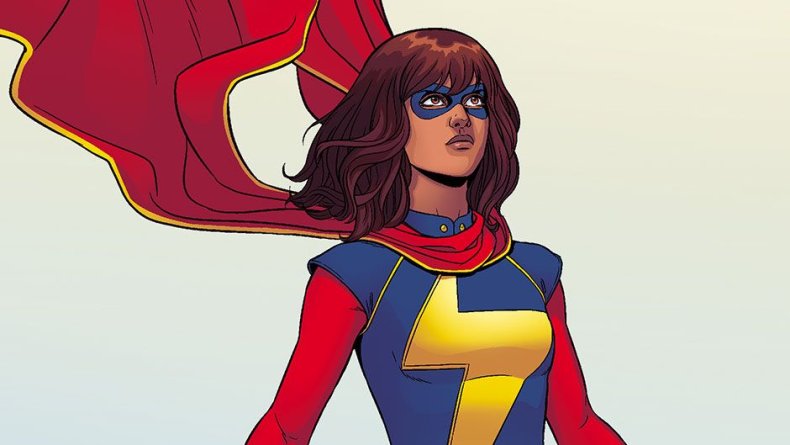 Merriam-Webster has also carved out a space in the zeitgeist thanks to some deft Twitter use. The dictionary's editors have amassed a devoted following on social media by tweeting out passive-aggressive definitions in response to President Donald Trump's policies and speeches. The brand has found its pop culture niche—when was the last time you could say that about a dictionary?—so naturally it introduced "embiggen" using a Ms. Marvel gif.
The rest of the 850 words added to the dictionary this month are available on Merriam-Webster's website.